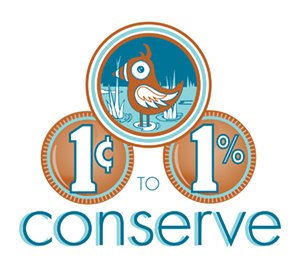 By Terry Card
First, let's talk about "What is 1% To Conserve Galveston Island?" It is an avenue by which everyone can make a difference in keeping Galveston clean and beautiful! In fact, by committing to 1% Conserve when you want, and if you want, parents and children can improve the cleanliness and beauty over the entire island. Improving the environs for wildlife, plant diversity and public access to wildlife and plant life are a very important part of the overall program.
Second, let's discuss what is it not. It is not government alone, either local, State or Federal governments. The private sector plays the leading role, working in conjunction with government.
Now, the fun part, how does it work? Business partners collect contributions from their customers to provide funding which is used by 1% To Conserve to help an owner conserve his private land and support private projects which provide public access to more conservation areas, or to help fund new projects that help beautify the island and are either created in conjunction with building projects such as hotels, or simply beautifying through tree planting and enhancing green space and wetlands throughout the city and on the island as a whole.
Businesses that have partnered with the 1% To Conserve cause add an option for customers to contribute 1% of their bill. It is the customer who decides whether or not to contribute. Businesses and customers also have the option to make direct contributions to 1% To Conserve Galveston Island.
As an example of how the money could be put to use, a well known private group on the island that is heavily involved in the conservation movement is Artist Boat. Having already purchased 367 acres from Marquette Galveston Investment Ltd. and creating the Coastal Heritage Preserve, they will need funding for future projects including habitat preservation, a launching platform for public kayak adventures, development of trails, boardwalks, viewing platforms and a building, integrated with the entire development.
Knowing that further fundraising would be needed in the future, Karla Klay, the Executive Director and Founder of Artist Boat spent three years researching ways that the private sector and individuals could contribute to a cause of great importance to the island. Out of her research was born 1% To Conserve Galveston Island. What was needed was an entrepreneurial go-getter to lead the movement.
That go-getter is Brenda Lee, an environmental engineer, who was hired as the Director of 1% To Conserve. Brenda was born in Sidney, N.Y. and comes from an entrepreneurial family. Her father and his brothers started and owned four restaurants in upstate New York with pooled money, a lot of hard work, and long hours. With that same drive, Brenda earned a Master's Degree in Environmental Engineering, and an MBA. Over many years with large oil corporations, she integrated oil projects into natural environments. This required great knowledge, and careful planning to ensure the viability of both.
In 2002, she started her own environmental engineering company and has travelled throughout the world integrating many construction projects into the environment all over the U.S. and Canada, both onshore and offshore, in Central Asia, the British Isles, and Africa. Offshore in the U.S., she lived and worked on oil rigs, ensuring that during construction, the health of the Gulf of Mexico would be of paramount importance.
However, at some point travelling all the time gets old, and while in Galveston, she met and married one of Galveston's well known characters, George Lee, owner of G. Lee Gallery on Postoffice Street. They met at the Courtyard Café on Market Street eight years ago while George was playing a gig with his band, and after a zealous pursuit by George, they married.
Looking to get into something related to her field, but in a new and different area, Brenda, a people person by her own admission, was selected to become the Director of 1% To Conserve, directly responsible for setting up the fund raising. The money that is collected is used to fund private projects that have been submitted to Brenda, who in turn submits projects she has vetted to the Board of Directors, which is made up of one-third Business Partners, one-third government resource managers, and one-third the community at large, including the City of Galveston, and Neighborhood Associations from all over the island. The Board makes the final decision on whether the project merits funding.
The framework of the projects the board considers could embrace everything from beach restoration and improvement, to butterfly gardens, reforestation, projected wetland development on non-buildable Hotel property, public education programs, birding platforms, and many other future private sector projects.
A very important consideration for funding of private projects will be the sustainability of the projects to survive hurricanes. Equally important is tourism and fishing tourism. Annually, Galveston has 6 million visitors, who contribute approximately $650 million directly and $300 million indirectly to the Galveston economy. Unbelievably, there is $1 million spent on fishing licenses alone. Direct beneficiaries would include hotels, restaurants, and bars. Indirect beneficiaries would include the many businesses that provide rentals such as golf carts, Segways and the like, taxis and limousines, food stores, shop's and many other Galveston businesses, small and large.
The tourism in Galveston is erratic, very busy in summer and then dramatically slowing in winter, resulting in seasonal, rather than permanent jobs. This creates added expense for employers in training costs each year and does not provide career growth for employees. The hope is that by adding facilities in Galveston Island that cater to the public interest in wildlife and conservation, including fish conservation, the expansion of the tourist season can be used to create more stable employment for Galvestonians, while at the same time beautifying the island. The difficulties in creating these facilities is that the limited land is expensive. There is no direct city or county monetary support for public access to conservation areas or for public facilities like restrooms, signage, or education.
The Galveston 1% To Conserve is modeled on 1% To Conserve in Crested Butte, Colorado. Its program has succeeded in raising $5 million and has purchased more than 5,000 acres to ensure that the view surrounding them is maintained and is a very important economic and lifestyle contributor to its citizens.
Galveston, with its dependence on its beaches with the amazing views of the Gulf and the Bay, including sunrises and sunsets, create tourism, which is the lifeblood of the island. Galveston's views have to be protected for economic and lifestyle benefits for islanders and their visitors, in the same manner as 1% To Conserve has done in Crested Butte, Colorado.
So if you as a resident or a homeowner or a visitor, believe that the very important Galveston tourist economy can be made more important through conservation efforts that greatly focus on people's interaction with nature, and is not something that is just out there in the wetlands where you cannot interact with, but is also facilities, boardwalks and the like which bring you up close and personal, then give a tiny amount of your purchase toward that goal, through 1% To Conserve Galveston Island.
Participating business are:
Affaire d'Art Gifts and Gallery
Annette Kinslow Mary Kay Consultant
Blue Water Grill & Ignoble Pizzeria
Bobbin' and Weavin' Apparel
Brax Easterwood Design
Bronco Burrito
Clay Cup Studios
Coronado Palms Coastal Cottage
Cottage on 14th Street
Dr. Detail
Economy Liquor Galveston
Lee Gallery
Galveston Island Park Board of Trustees
Gigi's Pampered Pets
Gulf Coast Renewable Resources
Happy Pretty You
Island Brainworks LLC
Island Flowers
IslandFramed
K&E Klean 4 U
Katie's Seafood Market
Latitude Home Services
Moody Gardens – Round It Up America®
Oasis Juice Bar & Market
Outrageous Boutique
Seasons Gourmet Food and Grocer
ShyKatz Deli & Bakery
Speedy's Printing
Texas Coast Beach House Rental
The Emporium at Eibands
The Kitchen Chick
The Witchery
The Yoga Haven
Upholstery Plus Fabrics
Urban Resort
For more information or to learn more about the program, phone Brenda at (409)770-0219, or go to www.toconservegalvestonisland.org.