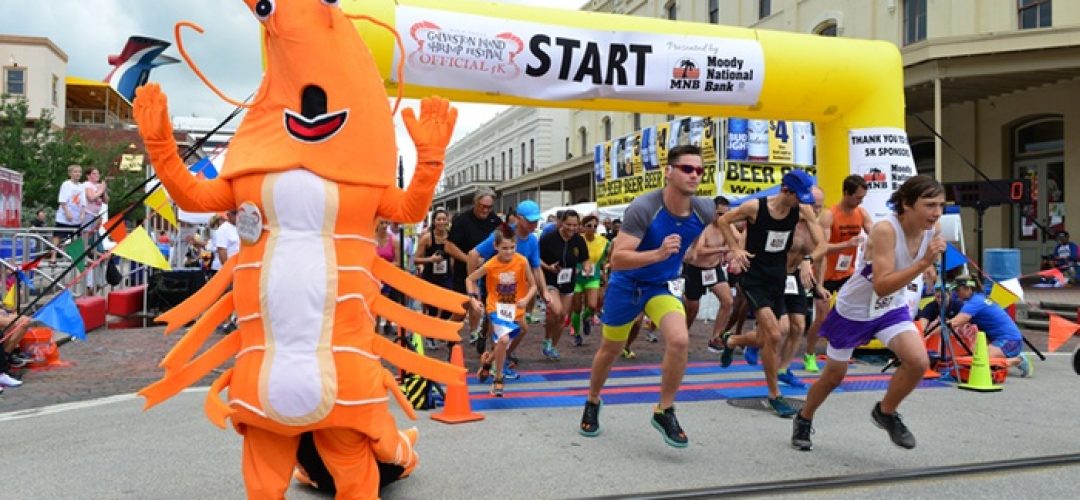 October 21st – The Toughest 10K Galveston – This run is part of The Texas Bridge Series. Run
the Kemah Bridge in September, the Galveston Causeway in October, and the Fred Hartman Bridge in November to get a commemorative special medal. The race will start at 7:30am and will be chip timed. For more info and to register to go toughest10kgalveston.org.
October 28th – 17th Annual D'Feet Breast Cancer Run/Walk – Join in for the 17th Annual D'Feet Breast Cancer Run/Walk at Moody Gardens, 1 Hope Blvd. The D'Feet Breast Cancer 5k Run, 10k Run, 5k Walk, and Kids 1k is truly a Celebration of Life. Register now, and help D'Feet Breast Cancer in Galveston County. For more info and to register go to athlinks.com.
November 10th – World Class Racewalking Clinic – Do you want to learn to Racewalk, or to walk a 5k, half-marathon, or marathon faster? Join U.S. National Racewalk Team member and fifteen-time U.S. National Champion Dave McGovern for this unique racewalking event. Participants will learn techniques used by elite walkers at the U.S. Olympic Training Centers to help you to racewalk faster and more efficiently with fewer injuries. If you don't race, these techniques can help you to lose weight, get fit, and feel great. Registration for this event begins at $175. This event will be held at FIT TRI RUN located at 23rd St., Galveston. For more info and to register go to active.com/galveston-tx.
December 17th – Santa Hustle Half Marathon and 5k – See Galveston unlike ever before as
thousands of Santas race along the streets and the oceanfront path. Jingle all the way through the course with candy and cookies, festive music, creative Christmas images, and so much more, it is all designed to get you in the perfect holiday mood. It is bound to be a Christmas tradition you do with your family and friends year after year. All participants receive a hat and beard. Registration opens June 1st. For more info go to santahustle.com/galveston.
2018
January 20th – Yaga's Beerfooter 5k – Put your BEERFOOT in front of the other in this "brewtiful" Beach 5K Fun Run "hoppening" at Beerfoot Brewery. More details coming soon.
February 3rd – Official Mardi Gras Galveston Jolly Jester Jaunt 5k/10k – Join the 107th celebration of Mardi Gras! Galveston by taking part in the 2018 Jolly Jester Jaunt 5K/10K. This is the perfect opportunity to enjoy a leisurely crawl or an intense run through the beautiful City of Galveston and follow it up with a day of celebrations and libations in Mardi Gras! Galveston's Entertainment District. For more info and to register go to mardigrasgalveston.com/jolly-jester-jaunt.
February 18th (7:30) – 8th Annual Galveston Marathon, Half Marathon, and 5k – Enjoy the fun and party of the 8th Annual Galveston Half and Full Marathon and the 5K. Same new course as 2017. The start/finish will be at Stewart Beach Park, 201 Seawall Blvd., Galveston. The Half Marathon will be a one loop course with the full marathon taking you a second time up and down the seawall. The event is run on the roads, not the beach. Race start times are: Wheelchair/handcyclist will start at 7:15am, Marathon and Half Marathon will start at 7:30am, and Cupid 5k will start at 7:45am. The Kids Mile will start after the 5k. For more info and to register go to galvestonmarathon.com.
April 8th – Memorial Hermann Ironman 70.3 Texas – Athletes begin their day with a 1.2-mile, one-loop saltwater swim in Offats Bayou, staged at Moody Gardens' Palm Beach Hotel. The 56-mile bike course takes cyclists on a one-loop ride along the Texas Gulf Coast, known for its gusty winds. The 13.1-mile, three-loop run is fast and flat, taking athletes through Moody Gardens and along Offats Bayou. Originally from ironman.com/triathlon/events/americas/ironman-70.3/texas.aspx#ixzz4nmAoALO3.
April 3rd – Divas Half Marathon & 5k – This scenic course will begin and finish at Moody Gardens. Runners will experience the Seawall's long beaches, historic piers, and some angry waves hitting the rocks just beneath the beach-walk. Runners also go through a beautiful residential community with amazing architecture. Finally, Schlitterbahn Park is visible within the last two miles, where runners will see the adventurous and thrilling attractions. Along the way, runners will enjoy "Diva stations," including the famous Boa and Tiara station. You will end your Diva run with the most impressive medal ever and a beautiful view of the best of Galveston, bubbly toast, and many other Diva touches. For more info go to runlikeadiva.com.