February 18th (7:30) – 8th Annual Galveston Marathon, Half Marathon, and 5k – Enjoy the fun and party of the 8th Annual Galveston Half and Full Marathon and the 5K. Same new course as 2017. The start/finish will be at Stewart Beach Park, 201 Seawall Blvd., Galveston. The Half Marathon will be a one loop course with the full marathon taking you a second time up and down the seawall. The event is run on the roads, not the beach. Race start times are: Wheelchair/handcyclist will start at 7:15am, Marathon and Half Marathon will start at 7:30am, and Cupid 5k will start at 7:45am. The Kids Mile will start after the 5k. For more info and to register go to galvestonmarathon.com.
February 24th – Surfside Beach Marathon, Half Marathon, 5K, and 1K – At this race, all races are 100% pavement free on the beautiful stretch of beach between Surfside Beach and the San Luis Pass. All events begin and end at Stahlman Park in Surfside. Register at surfsidebeachmarathon.com.
March 3rd – Galveston Causeway FunD Run – Ever thought of taking in the view standing on top of the Galveston Causeway? Now you can! UTMB Health and the School of Health Professions is once again hosting this event that benefits SHP student scholarships and represents a powerful investment in the future of healthcare for our region and state. By participating in this event you will help provide scholarships for the many talented students in the School of Health Professions. This run starts at the Galveston County Daily News Building parking lot. For more information, call the SHP Causeway FunD Run Hotline at (409)772-3006 or shpevents@utmb.edu.
April 7th – Galveston Beach Wicked Wine Run – Race through the beautiful and scenic oceanside at East Beach. The start time for the 5k Wicked Run begins at 5:30pm, and the 1k Wicked Tasting Walk begins at 7pm. Start your race like any other, but that's where the ordinary stops. You'll celebrate your run unlike any event you've run before – wine after your race or during! Stay, play and rock out with a live band, food trucks and more wine from these award-winning vineyards and wineries. Wear your most wicked costumes, funky hats, masquerade masks and bring your blankets to lay out and listen to great music, enjoy a wine tasting, take a tour or kick back as the sunsets on our picturesque venues. 5k participants are required to finish in one hour or less. Register at active.com.
April 8th – Memorial Hermann Ironman 70.3 Texas – Athletes begin their day with a 1.2-mile, one-loop saltwater swim in Offats Bayou, staged at Moody Gardens' Palm Beach Hotel. The 56-mile bike course takes cyclists on a one-loop ride along the Texas Gulf Coast, known for its gusty winds. The 13.1-mile, three-loop run is fast and flat, taking athletes through Moody Gardens and along Offats Bayou. Originally from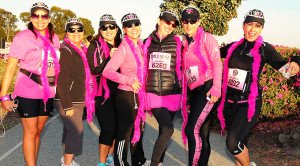 ironman.com/triathlon/events/americas/ironman-70.3/texas.aspx#ixzz4nmAoALO3.
April 22nd – Divas Half Marathon & 5k – This scenic course will begin and finish at Moody Gardens. Runners will experience the Seawall's long beaches, historic piers, and some angry waves hitting the rocks just beneath the beach-walk. Runners also go through a beautiful residential community with amazing architecture. Finally, Schlitterbahn Park is visible within the last two miles, where runners will see the adventurous and thrilling attractions. Along the way, runners will enjoy "Diva stations," including the famous Boa and Tiara station. You will end your Diva run with the most impressive medal ever and a beautiful view of the best of Galveston, bubbly toast, and many other Diva touches. For more info go to runlikeadiva.com.
More