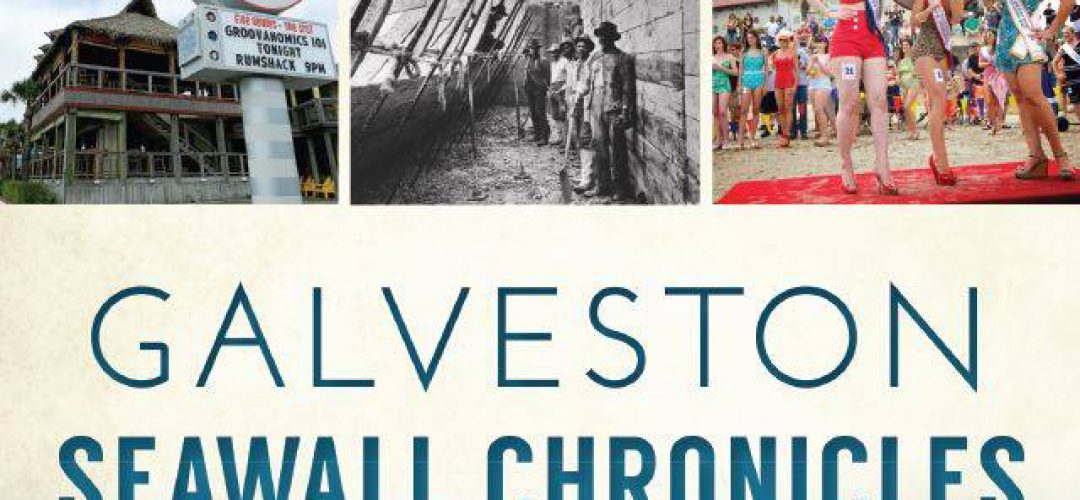 Kimber Fountain has just released a new book, "Galveston Seawall Chronicles" from The History Press and will be hosting several book signings and release parties this month.
Along Galveston's Gulf Coast runs a seventeen-foot-high, ten-mile-long protective barrier – a response to the nation's all-time deadliest natural disaster. The seawall remains a stoic protector more than a century later, shielding the island from much more than physical destruction. As the foundation of Seawall Boulevard, this structure created an entirely new tourism industry that buoyed the city's economy through war, the Great Depression, and hurricanes. Adapting to the cultural trends and political movements that defined the past century, the seawall represents the unbreakable spirit of Galveston's resilient population and provides a fascinating glimpse into bygone times.
Kimber Fountain grew up on the Texas Gulf Coast and was a frequent visitor to Galveston as a child and teen. After receiving a Bachelor of Arts degree in Theatre and Dance from the University of Texas at Austin, she spent many years in Chicago before returning to Texas and making her present home on the island. Kimber has spent the past five years intently studying Galveston history within her work as a writer for several local publications and through her former position as a historical tour guide. She is currently the editor-in-chief and feature writer of "Galveston Monthly" magazine and serves as chairperson of the Arts and Historic Preservation Advisory Board to the Galveston City Council. Occasionally, Kimber can also be seen on stage at the Island East-End Theatre Company in downtown Galveston.
Book signings and release parties will take place:
May 13th (6-9pm) – "Galveston Seawall Chronicles" Book Signing & Release Party, The Proletariat, 2221 Market Street. Light appetizers, complimentary drinks, and books for purchase will be available.
May 20th (3-4pm) – Galveston Island Beach Revue Book Signing will take place at the Merchandise Tent on Beach Central 21st & Seawall.
May 27th (1-5pm) – Gracie's, 2228 Strand St.
June 3rd (2-5pm) – Rosenberg Library Book signing will take place with a brief lecture and Q&A session beginning at 3pm. Rosenberg Library is located at 2310 Sealy Street. Books will be available for purchase and all proceeds will be donated to the Galveston & Texas History Center. This will take place in the Fox Room on the 3rd floor.
June 17th (2-4pm) – The Admiralty, 2221 Strand St.
July 15th (3-5pm) – Galveston Bookshop, 317 23rd St.
All book signings are free to attend and books will be available for signing and purchasing.