August 4th is the annual OkraFest, held this year at 1880 Garten Verein, 2704 Ave. O, 7-10pm. OkraFest is the annual party where you eat, drink, and make merry – all in the name of community, local agriculture and good food for all.
This year, it is an epicurean feast with local foods sourced from nearby farms and food artisans, prepared by five different local restaurants that GOFM feels deserve the spotlight. The night rounds off with a silent auction, raffle prizes, live music, and plenty of drinks and food to share.
Join the fun as they revel in this coastal region's year-long growing season and enjoy a well-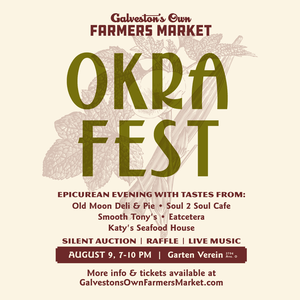 deserved midweek celebration benefiting a good cause, the Galveston's Own Farmers Market. Your support will strengthen the local food community and helps expand its benefits to all within our Galveston community. OkraFest proceeds fund the operations of Food Access Programs like SNAP/FreshBucks and the distribution of WIC Vouchers, the expansion of our Young Gardeners Program which turns GISD schoolyards into vegetable-producing mini-farms and students into mini-farmers, and the continued sustainable expansion of the farmers marketplace that has become a beloved fixture of Galveston Island.
Your ticket allows you to taste true local summer flavors with a small plates epicurean menu featuring dishes from Old Moon Deli & Pie, Soul 2 Soul Cafe, EATcetera, Smooth Tony's, and Katie's Seafood House. There will be local craft beers served up by Galveston Island Brewing.
"After the fun and success of the last 3 years, we're thrilled and humbled to host this summer event once more. The funds raised will support us as we continue our work towards bettering this community through connecting folks to better food, to better health, and to one another," said GOFM's Executive Director Casey McAuliffe.
Tickets are $40 before August 9th, $50 day of and at the door. If you have questions or concerns, please contact at casey@gofarmersmarket.com. For more info go to facebook.com/GalvestonsOwnFarmersMarket.