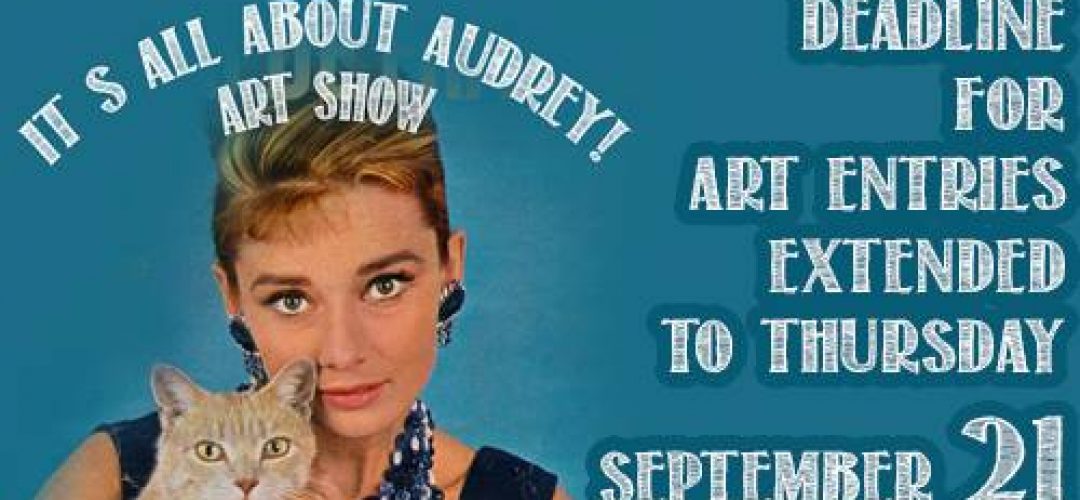 **** DEADLINE FOR ART ENTRIES EXTENDED TO ****
**** THURSDAY SEPTEMBER 21 ****
IT'S ALL ABOUT AUDREY!
Call for Artists
<3 BRING YOUR ARTWORK IN BY 6PM, SEPTEMBER 21 <3
ALL Mediums welcome
ALL Ages
ALL sizes up to 36"x36"
ALL must be about Audrey Hepburn
and ALL must be 100% vegan and crualty free!
From the HeART Gallery is a vegan establishment, so we cause no harm to any animal for any reason. Please keep this in mind while creating your fabulous artwork… NO leather, silk, wool, animal hair, animal fur, horns, tusks, teeth, pearls, real feathers ( fake or found objects permitted), store bought seashells (farmed shells not permitted but any unharmed found objects are allowed). Thank you very much for respecting our lifestyle to make this gallery a harmless environment made with love <3
Let's all come together to honor the amazingly beautiful human by creating a gallery full of art representing her kindness, beauty, energy, talent, and truly selfless life.
This show will be on display at From the HeART Gallery from Sept 23-Oct 14
Artists may submit up to 3 pieces of artwork. For all accepted artwork, there will be an entry fee of $10 per entry and 25% commission on sales.
DEADLINE for Entries: September 17, 6pm
Other Important Dates:
Sept 21: drop off entries by 6pm
Sept 23, 7-10pm: Art Show Opening to view and purchase the
accepted works and meet the artists
Oct 14, 6-9pm: ArtWalk
Oct 15 12-6pm: Pick up artwork
The beauty of a woman must be seen from in her eyes, because that is the doorway to her heart, the place where love resides.
-Audrey Hepburn