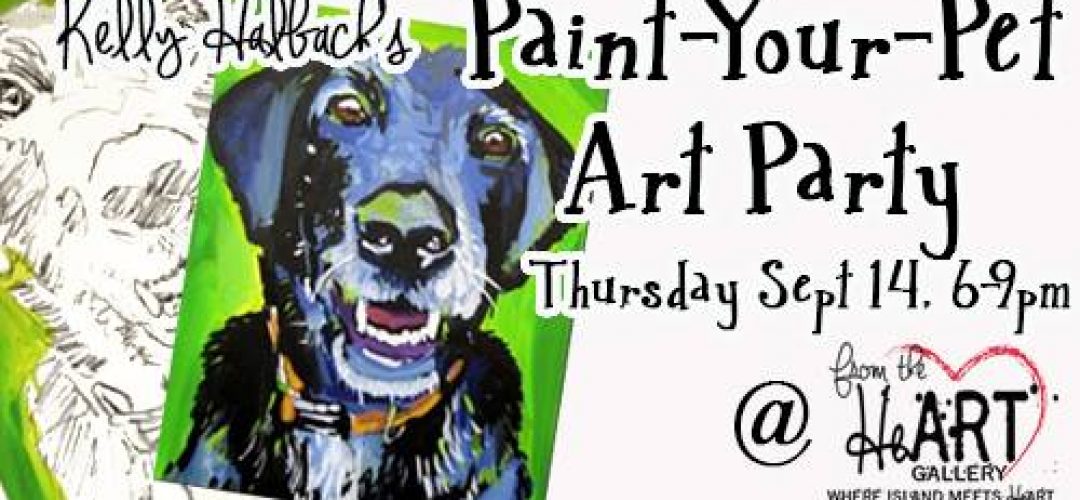 :O THIS CLASS IS SOLD OUT, NO MORE AVAILABILITIES :O
CHECK BACK FOR ANOTHER PAINT YOUR PET CLASS COMING SOON <3
PAINT-YOUR-PET Art Party with award winning artist Kelly Halbach!!!
Come down to From the HeART Gallery on September 14, 6-9pm, and paint a masterpiece of your favorite furry (or not so furry) friend! <3
Email your favorite pet pick to sje@fromtheheart.gallery. Kelly and Samitha will prepare the basic outlines and contours for you in advance… but it's all up to YOU to bring it to life!
Please make sure your pet photos are clear, bright and of the face only. Pet photos must be emailed in by September 12 to get then ready in time 🙂 Email all pet photos to sje@fromtheheart.gallery
Classes are $45 which includes ALL the art supplies you will need… along with a little wine to get this party started!!! All you need to bring is your creative mind <3
Tickets must be purchased in advance by Sept 12, before you send us your pet photo. Only 12 spots available so be sure to register today!
Click the link below to purchase your tickets, or stop by the gallery Tue-Sun 12-6pm to pay:
https://squareup.com/store/fromtheheartgallery
From the HeART Gallery
511 23rd St
409-300-3009
Can't get a babysitter??? Well bring your kids with you and let our gallery Children's Art Teacher Samitha Edwards help them make some artistic creations of their own! This art class will be 1/2 price for all that register for thsi party…. that's ONLY $10 per child!!!
Payment for the children's class can be paid when you arrive for the party 🙂