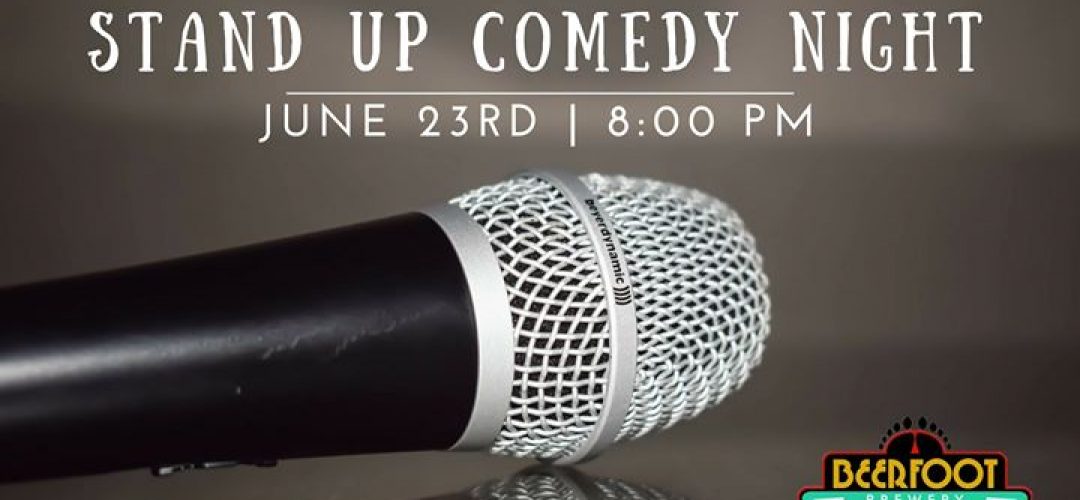 Come one, come all to Beerfoot's Stand Up Comedy Night!
We will be featuring comedians Ku Egenti, Mike Rao, Tressa Eleby, Mike Sanchez & Improv!
There will be top-notch drinks, a great location and lots of laughs!
Best of all, tickets are ONLY $5!
Check out the bios for some of our featured comedians:
Ku Egenti:
Ku Egenti has self proclaimed himself " Your Favorite African" for those who don't have one and definitely need one. He was born and raised in Lagos, Nigeria, but started his comedy career in Memphis, Tennessee and now resides in Houston, Texas. His comedic skills consist of family, Nigerian traditions, bad relationships and observational humor. He is a regular at the Joke Joint Comedy Showcase and Houston Improv, performed in many Comedy festivals around the country. And also recently opened up for Todd Barry, Ali Siddiq, Darryl Lennox, Norm McDonald, Paul Rodriguez, John Wessling, Darryl Lenox, Jose Sarduy and many more. He has started headlining comedy clubs across the country. He hosted the first Houston Caribbean Achievement Awards in 2013 and also an accredited writer for the African Oscars in 2015. Ku Egenti is too legit to quit.
Mike Rao:
Mike has recently come out of retirement and you can catch him in Houston and on the road throughout the US and Canada.
Once you hear him speak the voice will probably sound familiar. Mike frequently comments about technology on local and national television and radio shows. Mike has performed his stand up act all over the northeast and across the country. He has performed with several top comedians including Saturday Night Live's Colin Quinn. You may have also seen Mike performing in various dinner theater shows throughout the Northeast. (All comedies, of course). Mike is currently based in Houston Texas and happy to be missing the New York weather (and economy). Mike's 36 year marriage, (and still going strong!), his Italian heritage and 3 children and 4 grandchildren provide him with a "target rich" environment for material. Mike's style of comedy appeals to all age groups but those over 30 will identify with his observations on life. Mike would classify his material as clean but adult.
Tressa Eleby:
Tressa Eleby is an Entrepreneur and Comedienne from Chicago,IL and now resides in Houston,TX where she began performing stand up in July,2014. She has since headlined at Cafe Instanbul in New Orleans and The Joke Joint Comedy Showcase in Houston.
Tressa has been a cosmetologist for 20 years and is the Vice President and Co- Owner for the only Hair and Beauty vending distribution company in the world called The Mane Vendor and also Manages the Houston location of Events and Adventures, Social Club for Singles.
Mike Sanchez:
Mike Sanchez is a new up and coming comedian in the Houston. He has performed in many sold out showcases through out southern Texas including the Joke joint in Houston, TX and Comics Live in Corpus Christi, TX. Mike draws on his life as a middle aged, single, obese father and his need to be socially accepted by his judgmental children. Mike will keep you entertained with his relatable and sometimes risqué comedy material. Mike's comedy is a mixture of Clean as well as adult themed.