By Lauren Elizabeth Ware
On a scorching hot Friday afternoon, I am graced with the feel-good vibes of 50's rock and roll emanating within From the HeArt Gallery. Upon entering, I am greeted by co-owner, Samitha Hess Edwards; warm, charming, all smiles, and art extraordinaire. I confess I have yet to hear of this place, and she is more than happy to show me around and answer any questions.
While under the care of the previous owners, Samitha was a contributor to the gallery and has even helped run other galleries here and there. In December of 2016, her husband and co-owner, Scott Edwards surprised her with the very gallery she was a huge part of. It has always been a dream of hers, and now owning one, she has admitted it is a completely different ball game and wouldn't trade it for the world.
In a little over 3,000 square feet, From the HeArt showcases the work of 52 artists; most are local, two are from Dallas, and one is all the way from Ohio. Some art includes the work of painters and photographers such as Susie Smith Phillips, Jessica Von Braun, David Lambert, and Catherine Stroud. Samitha herself, does mixed media arts such as painting and making cigar box purses. Her husband is also a photographer, and the both of them have their work on display in their own corners of the gallery.
As we make our rounds, I'm face to face with what's called an "appetizer wall" at the front of the gallery. It's one piece from each of their hanging artists in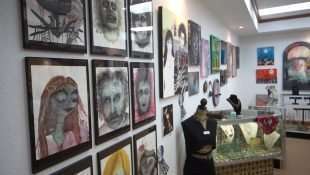 the gallery. The concept of the wall allows visitors and buyers to become aware of what to look forward to throughout the rest of the gallery. I am taken to a room in the back where they hold a Children's Art Class every Friday 3-5pm and 5-7pm as well as 3-5pm on Saturdays. Ages range mostly from 6-14. Instantly a smile is brought to my face at the thought of children having a loving and supportive environment to bring forth their creative energy.
On the first Thursday of every month, From the HeArt hosts an Acoustic Jam & Vegan Potluck, 7-10pm. This event is free to the public and is kid and pet friendly, with Tex Renner as host. Everyone is encouraged to come hungry and bring their instruments. November 11th, Samitha's wonderful mother, Catherine Hess, will be teaching a Silk Floral Design class, 3-6pm. November 16th is a flashback to the 70's with a Macrame class starting at 7pm, and a Wire Wrapping class November 18th at 3pm. For those mothers (daddies, too) looking for something to do with your little ones, From the HeArt hosts a Mommy & Me painting class on the first Sunday of every month at 3-5pm. For $20, you can have plenty of food, supplies, drinks, and a fun time. The age range for these classes are 0-4.
During my talks with Samitha, something I had picked up on was her use of the word "creating." She respectfully acknowledges that we are not simply doing, making, or putting together, but rather, something much more transcendental: creating. She expressed to me that she and Scott try to incorporate every form of art rather than just painting. They want photography, sculpting, pottery, jewelry, floral, and home decor. The best part: no animal products are used anywhere in the gallery. They are 100% vegan. Everything must be handmade from the artist. The best art is in it's most organic form, and I praise Samitha and Scott for achieving this for their gallery. I have been thoroughly blown away by every piece of artwork and overcome with an emotional sense of community and passion exuding from the both of them, the artists, and the gallery itself.
For more info and a list of upcoming events go to fromtheheart.gallery or find them on Facebook. From the HeArt is located at 511 23rd St., Downtown Galveston, (409)300-3009.