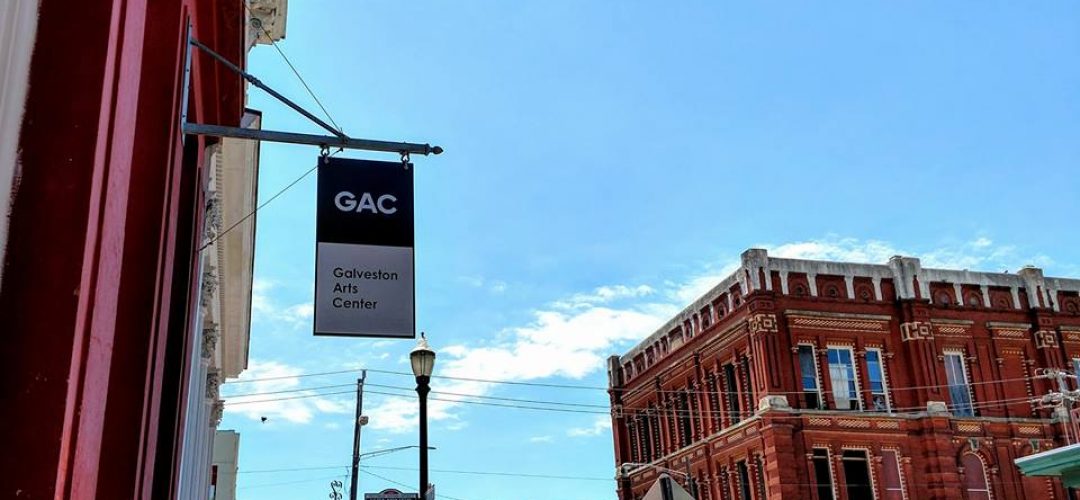 By Terry Card
Every six weeks, in balmy weather on Saturday evenings, throngs of Galvestonians, Houstonians, and visitors from all over Texas and the U.S. amble from art gallery to art gallery and shop to shop where art and art décor are sold. The focus of these evening Art Walk events is Postoffice St., but includes many galleries, shops, and boutiques on the Strand, Kempner, Moody, Mitchell, and Tremont St., and many other streets in various locations tied to Galveston's burgeoning art district.
People from all walks of life, view the art while enjoying refreshments and food provided by the galleries, shops, and boutiques. For Galvestonians, it is a night where one can barely walk 100 yards without being hailed by friends and acquaintances. Often this leads to sitting and listening to music while having a drink, with everybody gathering around any available tables, enjoying good conversation, before heading off to see more of the offerings in many different mediums created by the multi-talented artists of Galveston and the surrounding area.
It is to bring together the artists from more than eight surrounding counties and the people who live within those counties, that the Galveston Art Center organizes and sponsors this wonderful and engaging Saturday night events known as Art Walk. Galvestonians all look forward to, and ensure that ART WALK is marked on their calendars. It is one of the dominant questions in Galveston, "Are you guys going to Art Walk Saturday night?" Somehow, all of Texas must have heard of Art Walk in Galveston, because it is very common to become engaged in conversation with Texans from all over.
Galveston, a city replete with history and historical buildings, has a very interesting history tied to The Galveston Arts Center. In 1967, a year before the center for contemporary art was formed, the Trueheart Adriance Building 1882, designed by Nicholas Clayton, and the First National Bank Building were purchased and renovated for use by the Center through the generosity of the Moody Foundation, The Kempner Fund, The Houston Endowment, and the Jr. League of Galveston. Today, the Galveston Arts Center is supported through Galveston hotel/motel taxes, the National Endowment for the Arts, The Texas Commission on the Arts, membership fees, and other donations.
From 1971-1986 The Galveston Arts Center, under the umbrella of the Galveston County Cultural Arts Council Inc. offered exhibitions, art education, and public festivals. In 1986, The Galveston Arts Center became a separate non-profit organization.
On an annual basis, more than 50,000 visitors are introduced to contemporary visual art of many different mediums used by the local or guest artists through exhibitions and educational programs provided by The Galveston Arts Center, which is conveniently located for Galvestonians and visitors alike at 2127 The Strand. In addition, on opening nights, the exhibiting artists are invited to speak to visitors to the Center about their work. Entry is free.
The Galveston Arts Center has three galleries: one large gallery on the main floor off The Strand and two smaller galleries upstairs. In addition, there is also a museum store on the main floor that provides a showcase for fine craft artists. The Center introduces new artists from Galveston County and the surrounding regions, many of whom work in a broad expanse of varied media in producing their wide ranging art exhibits.
Eighty-five percent of the visitors to the Center are walk-ins and represent a mix of locals and visitors who are enjoying a day on the Strand, shopping, eating, and drinking, either as a reprieve from the beaches or simply those who are interested in learning what contemporary art is all about.
There are many programs offered by The Galveston Arts Center.
The Ceramics Studio is a new program for adults and teens. They learn hand-building techniques in pottery, figurative sculpting, and glazing using earthenware clay as the medium. In blocks of four weeks following each Art Walk, program participants have their creations kiln fired at least once per block. All materials and supplies are provided, and all levels of experience, or inexperience, as the case may be, are welcomed and indeed encouraged by the Curator Dennis Nance and his friendly staff at the Center.
Yoga in the Gallery is a weekly Wednesday evening class for all levels and is open to the public. The Summer Art Kid's Program is held for 10 weeks every summer on Friday mornings for ages five-eight, and separately for ages nine-twelve. There are also week-long art camps, offered on select weeks only.
The Artist Apprenticeship Program is an opportunity for high school students to work with professional artists on a large work of public art. The Life Drawing Studio gives artists an opportunity to practice drawing or painting their creations from a live model. This program is held on select Mondays, 5:30-7:30pm. It is offered in four week blocks for $40. Artists must bring their own materials, but can work at their own pace.
There are many other programs offered including Adult and family workshops, student art exhibitions, knitting classes, casual open studio nights, school tours, and the popular lecture series Conversations At The Center, held four times per year, with professional artists. This is free and open to the public.
The Galveston Art Center Outreach Program is an assortment of off-site programs that promotes wellness within the community through art by exploring the creative process in a guided and encouraging environment. Partner sites in this program include:
ADA House, for alcohol and drug abuse amongst women. The residential program for these indigent women offers occupational therapy including artistic/creative outlets and life skills training.
Ronald McDonald House, a 'home away from home' for the families of children receiving medical treatment. GAC's weekly art activities encourage both the children and their families to interact, think creatively, and take their minds off the situation they are enduring.
The Sunshine Center, a day habilitation program for adults with developmental disabilities, The UTMB Children's Hospital provides inpatient care to children, The RCC provides shelter and social services for victims of domestic violence, and the TLC which specializes in rehabilitation programs for brain injury victims, all benefit from the Galveston Arts Center Outreach Program.
There are also Guided Tours available for students at the Galveston Arts Center. Group size is a minimum of 10 students. Trained volunteers engage the students in inquiry based conversation.
Self- guided group visits are also available.
Hours are: Tuesday-Saturday, 11am-5pm and Sunday 12 noon-5pm. Closed Monday
Galveston Art Center is located at 2127 Strand St., Galveston. For more info call Reese Darby at (409)763-2403 or go to galvestonartscenter.org.