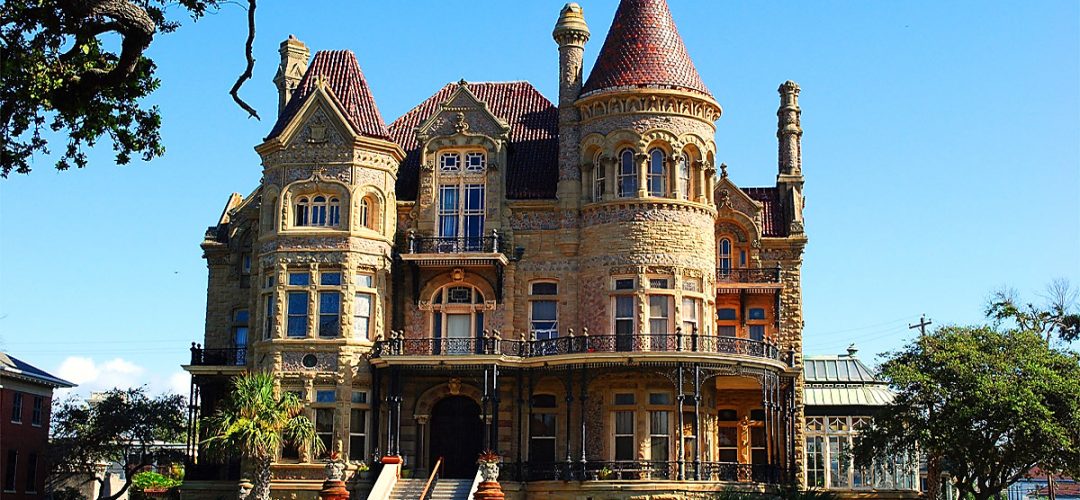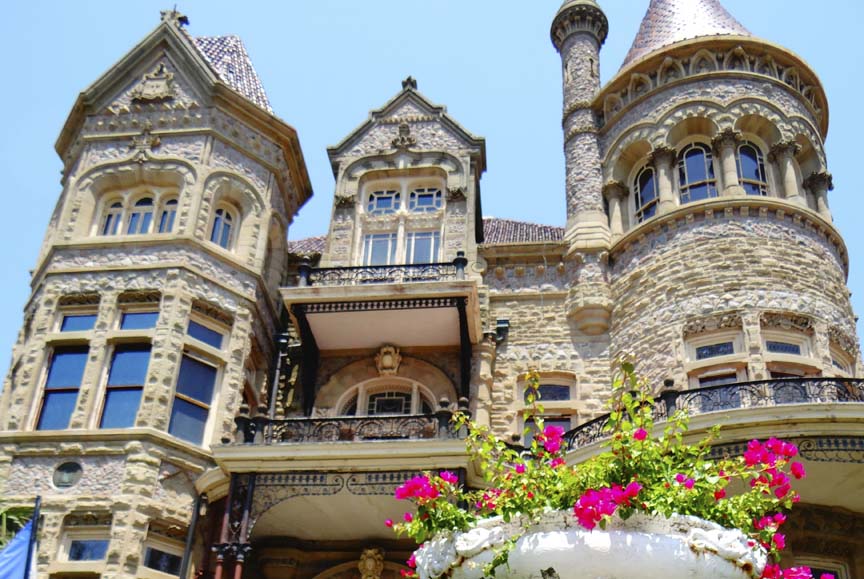 Galveston Historical Foundation offers many events that are open to the public. GHF embraces a broader vision of history and architecture that encompasses advancements in environmental and natural sciences and their intersection with historic buildings and coastal life, and conceives of history as an engaging story of individual lives and experiences on Galveston Island from the 19th century to the present day.
Tickets and reservations can be made online at www.galvestonhistory.org or by calling (409)763-1877.
Bishop's Palace Tours
The Bishop's Palace (a.k.a. Gresham House) is a contributing building in the East End Historic District, a National Historic Landmark. Built of stone and steel for the railroad magnate Walter Gresham and his family, this famous house was designed by Nicholas Clayton, Galveston's premier Victorian-era architect. Bishop's Palace is recognized as one of America's finest examples of Victorian exuberance and Gilded-Age extravagance and is listed by the U.S. Department of the Interior as a National Historic Landmark. Bishop's Palace is located at 1402 Broadway Ave. J, Galveston.
Available Daily (11am-5pm) – Bishop's Palace Audio Tours – Powered by Acoustiguide, the Bishop's Palace Audio Tour allows visitors to see historical images not seen by previous tours on a handheld, high-resolution screen. The Acoustiguide device also features new tour commentary specifically created for the self guided format. Tickets are $6-$11.
April 23rd (2-3pm) – Nibbles and Sips Tour – Enjoy three different varieties of tea and nibbles while learning about the customs of the Gilded Age in this new tour at the 1892 Bishop's Palace. Guests will find food and drink in the rooms of the historic home. Tickets are $30 per person and limited to 30 guests.
Other Events
April 2nd (2-3pm) – St. Joseph's Church Concert – To commemorate Galveston hosting the 1891 Saengerfest, GHF will host local and Houston area choirs in a concert of German choral music at the 1859 St. Joseph's Church, located at 2202 Ave. K.
April 8th (5:30-7:30pm) – Deep Water Jubilee: "El Galeon & Tall Ship Elissa Craft Beer Tasting" History on Tap – Before the Deep Water Jubilee, the US Army Corps of Engineers started constructing the jetties out of gabions (six foot, cylindrical cages woven out of wicker, filled with sand and capped with cement). Ultimately the method was not effective, leading Galveston to lobby for money to use granite blocks instead. At this special edition, visitors will enjoy a drink aboard Elissa and visiting ship El Galeon and weave their own mini-gabion dockside to take home as a souvenir. Tickets are $30 per person and include two complimentary beers.
April 15th and May 13th, 27th (10am-12 noon) – The Marine Biology Tour – The Marine Biology Tour provides participants with a hands-on opportunity to observe dolphins and other species in their natural habitat, trawl for and handle marine organisms, study plankton through microscopic lens, and explore Galveston Bay's rich history. Led by marine biologist Dr. Sid Steffens, the tour lasts one and a half hours. Tickets are $20.
April 23rd (10am-5:30pm) – Free Day at Texas Seaport Museum – In celebration of Henry Fowler Watt's 178th birthday, Galveston Historical Foundation is inviting the public to the Texas Seaport Museum for complimentary admission to the National Historic Landmark. Henry Fowler Watt is known for commissioning the construction of the iron barque, Elissa. In 1877 he contracted with Alexander Hall & Co. to build the iron barque. Today she is part of the museum's permanent exhibit and one of Galveston Island's most popular attractions.
April 29th (5-7pm) – Deep Water Jubilee: Gilded Age Architecture Lecture With Stephen Fox – The always lively and knowledgeable Stephen Fox will give a lecture on "Gilded Age Architecture in Galveston." Tickets are $30.
May 6th, 7th, 13th, and 14th (10am-6pm) – Galveston Historic Homes Tour – This annual event opens the doors to Galveston's architectural history through public tours of privately owned homes during its annual Galveston Historic Homes Tour. This year GHF will feature a house never before on tour and only recently sold out of the family. This East End mansion and the others on tour offer a broad look into Galveston's history and architecture: large, small, and everything in between. The 2017 Historic Homes Tour will give you a little bit of everything.