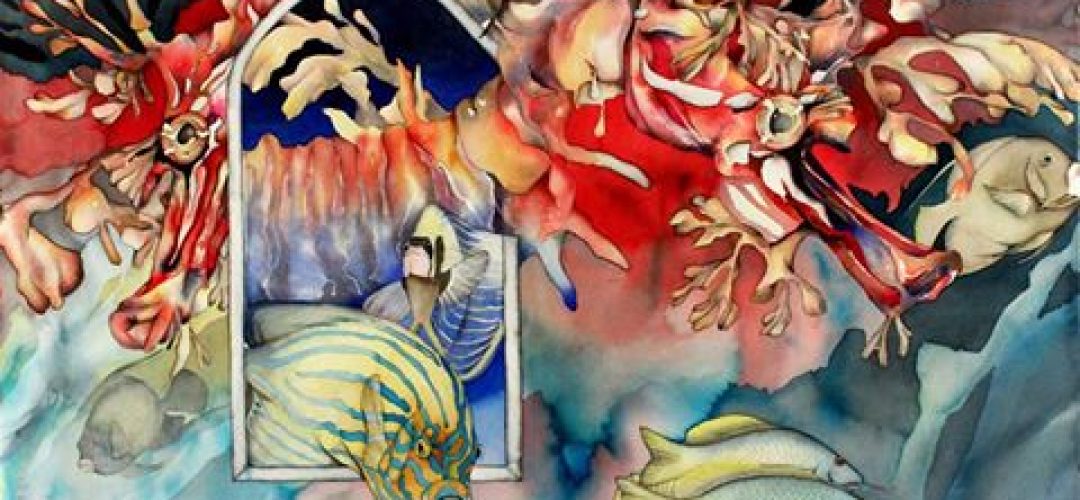 Affaire d'Art (2227 Postoffice St., Suite B, (409)789-0079, affairedart.com) – The Holiday Market opened during ArtWalk where the back of the gallery was turned into a winter wonderland showcasing the many talents of Affaire's artists through handmade jewelry, ornaments, art blocks, candles, and more. Many gifts are under $100. The market will be up through the month of December.
ArtWalk will be held throughout town, ranging in time from 4-10pm. This event is mostly held in the heart of the downtown historic district, and now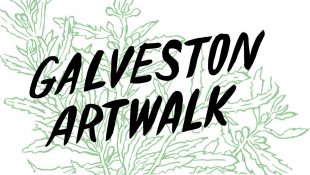 other parts of the Island. ArtWalk is a free event that takes place in existing commercial galleries, non-profit art spaces, and what are called "other walls," restaurants, and retail stores. For a brochure listing all participants, stop by the Galveston Arts Center located at 2127 Strand St. or go to galvestonartscenter.org. All events are free, and there are several Preview Parties on Friday evenings at the galleries. Various artworks will be for sale. Dates in 2018 are January 13th, March 3rd, April 21st, June 2nd, July 14th, August 25th, October 14th, and November 24th.
Beta Gallery Fine Art by Mary K. Farragher (2328 Strand, Ste. 206, (409)370-3707, facebook.com/BetaGalleryMaryKFarragher) – View new work by Mary K Farragher, Robert Dampier, Chalda Maloff, Jussi Tinnemeyer, Jan Arthur Harrell, Edward Drozdik, Ulysses Penfield and Jeffery Piper.
From the HeART Gallery (511 23rd St., (409)300-3009, fromtheheart.gallery) – During December, the gallery will feature the well renowned local painter Catherine Stroud and featured Digital Artist Rebecah Thompson. On January 1st, 2018, From the HeART will be moving to 2111 Postoffice St.
G. Lee Gallery (2215 Postoffice St., (409)370-7350, gleegallery.net) – G. Lee Gallery welcomes local artist Elizabeth Allensworth George as guest artist this month. Ms. George embraces a soft emotional quality through a variety of subjects including portraiture, still life and landscapes. Her oil paintings have been exhibited in Texas, Wyoming, and the Southwest. She was the former resident artist and owner of The Artists' Studio, please join us in welcoming her to G. Lee Gallery. Over twenty-five Brushes By the Beach® Plein Air artist participants have submitted Galveston area landscapes, seascapes, historic buildings, iconic statures and scenes of easy Island living. All the art is available for sale. Proceeds support Artist Boat, a non-profit charitable organization, Eco-Art Adventures for children.
Galveston Arts Center (2127 Strand St., (409)763-2403, galvestonartscenter.org) – Three exhibitions opened November 25th and will remain on
view through January 7th. In the first-floor gallery, Galveston-based artist Dan Schmahl's exhibition, Surfer's Beach, references his favorite surf spot through the re-creation of a life guard stand, photographs, video, and printed materials. In the second-floor 1878 Gallery, the exhibition Entanglement features paintings of the undergrowth of forests and tree knots by Joan Laughlin. In the Brown Foundation Gallery, Motoyuki Noguchi and Toshimichi Minagawa of the Taiguruma Revival Project based in Galveston's sister-city, Niigata, Japan, reintroduce the lost art of Japanese fish cart lanterns through an installation incorporating lanterns and a radio broadcast of messages from visitors to the exhibition Taiguruma Radio Station.
Galveston Art League (2117A Postoffice St., (409)621-1008, galvestonartleague.com) – A retrospective show of the works of Elizabeth "Lise" Darst (1933-2014) will be on view through December 24th. Lise, a fifth generation Galvestonian, was well known for her watercolor paintings of Galveston architecture, but she also painted still lifes and abstracts in both watercolor and oil. She was a popular painting instructor, working out of her home (which had also been her grandmother's home), and many current local artists came under her tutelage at some time in their life. In the 1950's she studied under local artist and medical illustrator George Newman and with New York artist Frederic Taubes during his summer residency in Galveston. She was a popular artist and model at the annual Nathan's Festival of Art and Fashion in the 1960's and 1970's, and won numerous awards locally, regionally, and statewide throughout her career. Lise was a member of the Texas Watercolor Society, and her work was accepted into juried exhibitions in Galveston, El Paso, Houston, New York City, and San Antonio. Lise was active in both the Galveston Art League and the Galveston Arts Center, where she was a Life Member. The works in this show are mostly from the collection of family and friends and are not for sale.
Galveston Artist Residency (2521 Ships Mechanic Row, (409)974-4446, galvestonartistresidency.org) On exhibit through February 10th is "Gregory Amenoff: Paintings and Drawings from Four Decades." Gregory Amenoff is a painter who lives in New York City and Ulster County, New York. He is the recipient of numerous awards from organizations including the American Academy of Arts and Letters, National Endowment for the Arts, New York State Council on the Arts and the Tiffany Foundation. He has had over fifty one-person exhibitions in museums and galleries throughout the United States and Europe. His work is in the permanent collections of more than thirty museums, including the Whitney Museum of American Art, the Museum of Fine Arts in Boston, the Museum of Modern Art in New York and the Metropolitan Museum of Art.
Galveston College (The Fine Arts Gallery, 3rd floor of the GC Fitness and Fine Arts Building, 40th St. and Avenue R, Galveston)
GIANT Art and Design Showroom (2427 Market, (409)392-3331, miltonausherman.com) – Art and design showroom GIANT features archival prints by chimo, an unparalleled arbiter of the visual word. Working lakeside in old West Virginia, she is didactic, dark, and dynamic in filtering wonders of critical insight. Artists O3 and esso are putting together new iterations of their worldview with several sculptures from Kamila Szczesna and Marie LeTerme. Andrea Hunting ushers in new cork, rubber, ceramic, paper, palm, and fabric creations from far away places perched atop the furniture, which comes and goes. This gallery's ambiance is as big as its name—a great place to shop and dream of the world of tomorrow.
Heard Gallery (2217 Postoffice St., (903)357-9073, theheardgallery.com) – The gallery owner and artist Ray Heard, features artwork that incorporates thick brush strokes and even thicker pallet knife applications. This artistic combination is meant to encourage a multi-dimensional experience, giving viewers a sense of walking right into the painting. This work is the second of a new series by Heard entitled "Galveston Yards and Gardens," and he is currently accepting photo submissions of similar scenes to add to this collection. With this offer to participate in this series of paintings, Heard hopes to present to the public a side of Galveston's beauty that is not often seen.
The Old Galveston Trading Company (2115 Postoffice, (409)599-7635, oldgalvestontradingco.com)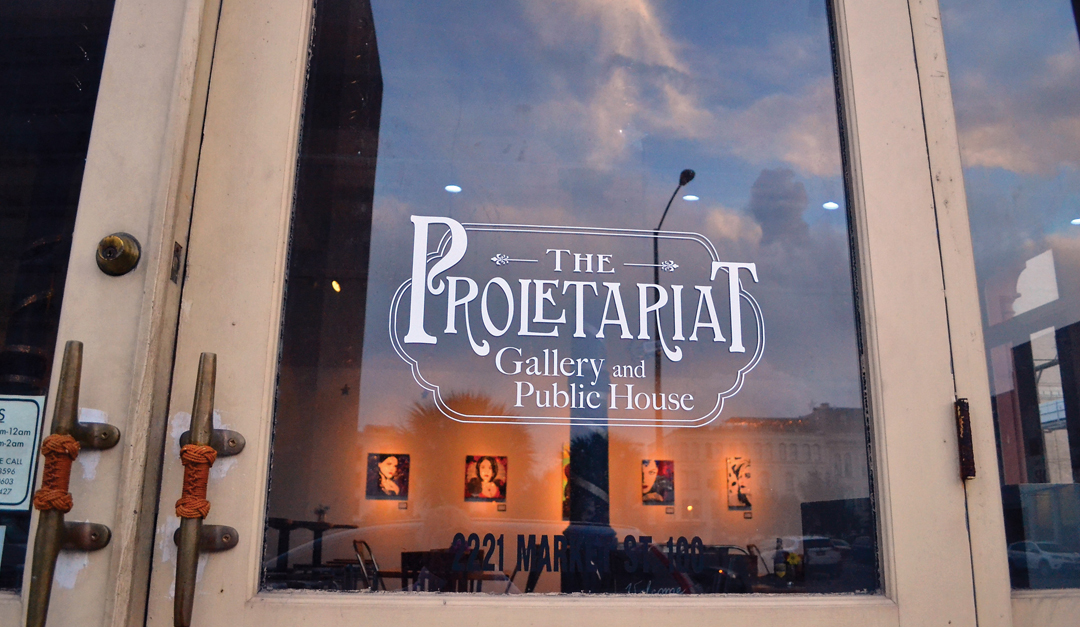 The Proletariat Gallery (2221 Market St., (409)356-9092, proletariatgallery.com) – The Gallery and Public House is a collaborative exhibition space and local hangout dedicated to enhancing the arts in Galveston. This month, the gallery will feature Houston Artist Ben "Catfish" Perez and special guest artist Erica GypsySoul Smith from Galveston. Catfish's tiny brushwork pieces utilize the exceptional quality of rice rolling papers to create striking and whimsical works of art.
Q2 Gallery (2209 Postoffice St., Downtown Galveston, (409)256-0762) – Joey Quiroga is known for his energy as well as his photography. He has now added original paintings to his line, as well as pillows, coasters, and pens with his photography beautifully printed. Rose West also exhibits at Q2, you'll love her small paintings of Joey's photographs. Her usual high style and attention to detail prevails.
René Wiley Gallery (2128 Postoffice St., (409)750-9077, renewileyart.com) – A new exhibition is on exhibit called "Small Things: René Wiley" with gallery artist daughter Samantha Wiley who has beautiful portraits from her exhibition in San Miguel de Allende, Mexico. The gallery also has marine tree sculptures from James Phillips, intricate wooden bowls by Dale Hooks, as well as new hand dyed fabric mosaics by Brenda Bunten-Schloesser and colorful glass sculptures by Bill Meek.
Strand Gallery (2418 Strand St., (409)220-1777) – Check out new and unique art pieces and Martie Terry Custom Jewelry, special Christmas and Patriotic Jewelry; Victoria Tebo's new Alaskan photos, along with shore birds from the Gulf Coast; and Rose West has new Christmas ornaments, each hand-painted and signed. Joey Quiroga has his new paintings as well as photography.
Studio 84 (2315 Mechanic St., Galveston (713)614-1398, 84artgallery.com) – "3 Oceans By Kristina Galytska" is currently on exhibit through December 15th. "Volcanic sand and acrylic with special equipment by Olga Vardar" will be on exhibit December 15th-January 5th.
Third Coast Gallery (2413 Mechanic, (409)974-4661 or (281)900-0444, thirdcoastgalleries.com) – Featuring works on exhibit by local artists Gregory Bergeron, Skynear, Karla Mock and Susie Phillips with three new works by Houston artist, Liz Hill. The gallery also features resident artist Jack Morris' work on a continuing basis.
Vacations on Canvas (2204 Postoffice St., Suite A, (409)974-4066, vacationoncanvas.com) – Life on the Island feels like one big, long weekend, and one of the best ways to experience that feeling firsthand is with a Vacation on Canvas. This gallery houses the visually stunning works of Robert Peterson, whose newest collection of original paintings continues his masterful portrayal of the island environment with vivid colors and a relaxing comfort that have become his trademarks. Along with the original works for sale, reproductions of Peterson's work are available in canvas giclées, cards, paper prints, and one-of-a-kind ceramic tiles.
Water's Edge Studio and Gallery (1302 21st St., (409)762-1925, galvestonwatersedge.com)