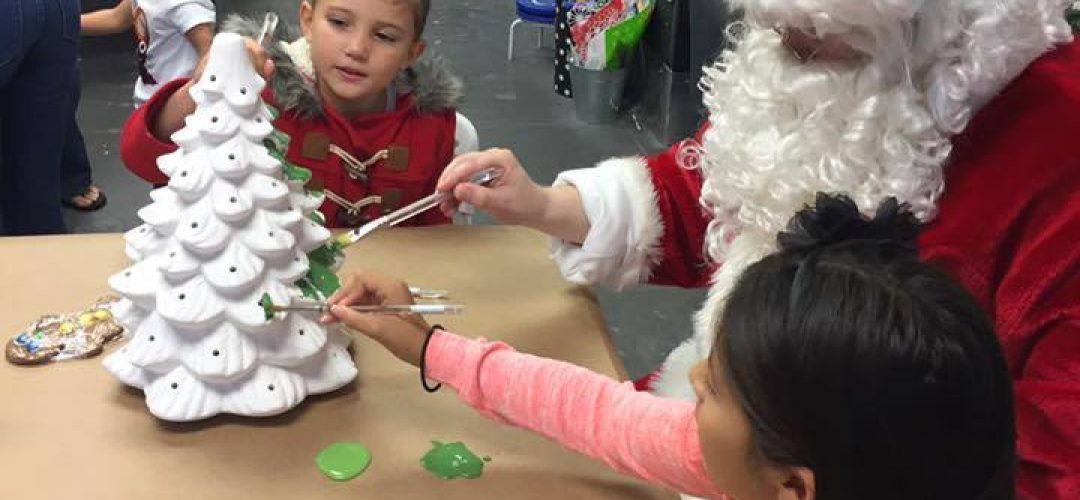 Clay Cups Studio is a paint your own pottery and social canvas studio in Downtown Galveston. It is located at 2201 Market St. To register for a class go to claycupstudios.com or call (409)762-CLAY.
December 16th (10am) – Paint with Santa: Whimsical Tree Plate and More –

Paint a Whimsical Christmas Tree cookie plate with Santa. Each child signed up will get a cookie plate. Additional kiddos can get a plate or they can paint another fun project like a Christmas mug for Santa's milk. The project is $25 and includes Santa, all supplies, and hot cocoa/cookies.

December 14th (6pm) – Ladies Night: Winter Forest Art'tini – This Ladies Night you will be painting a Winter Forest design. Each glass is a large wine glass, so plenty of space for our yummy beverage. There will be step by step instructions for this design, however, if you want to do something different… no worries. Clay Cups will have our Art'tini Idea binder ready to give you some inspiration. Cost is only $20. Feel free to bring your beverage of choice and make sure to tell your friends and family. Let's make this another fun ladies night out!
December 15th (6pm) – Maceo's Handmade for the Holidays – The night of, you will paint this stunning nautilus serving dish while enjoying some of Concetta's famous lasagna and sangria. Not only do you get to make this a fun night out with family and friends, but upon pick up, your nautilus piece will be transformed into a gorgeous gift basket. The perfect gift for the holidays is always handmade.
December 22nd (10am) – Teen Night Hangout Canvas Painting & Pizza – For ages 10-15, Teen Night is about your kids having fun with friends. There will be a painting of a fun and funny holiday-themed canvas. Canvas, dinner, and drinks are included. Drop off is at 6pm and pick up is at 9pm.
December 27th-January 3rd (9am-3pm) – Holiday Break Art Camp – Kids are out of school for the holidays and parents still have to work so Clay Cup Studios will be having there annual Dec/Jan Holiday Art Camps. Drop your kiddos at the studio from 9am- 3pm. You will be working on one large mixed media project that the kids will be able to take home with them at the end of camp. They will learn about using several different art mediums and techniques like paints, glass, inks, image transfer and texture. Both projects will also have twinkle lights as part of the design so they can be a cool and fun night light in the kid's rooms. Aside from art, there will be games and movies. Snacks and drinks will be included. This camp is great for kids 5-12.