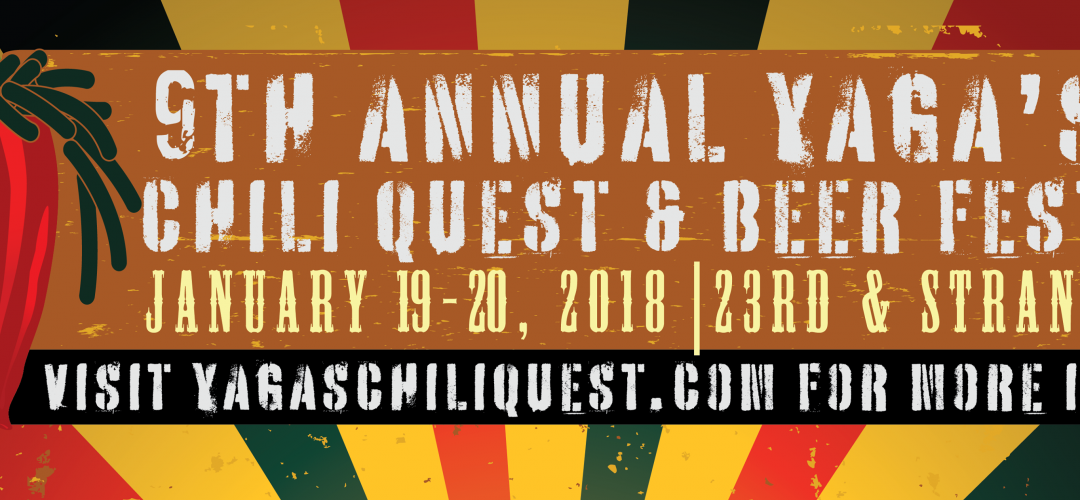 Downtown on the Strand
Not to fear, the Chili & Beer is here – again! For the past eight years Yaga's has brought a diverse crowd of Chili & Beer lovers from all over the nation to Galveston. This year's festival will consist of the ever so popular Chili & Beer tasting with a ton of added perks. Get ready for live music, a 5K Fun Run/Walk, a washer pitching tournament, a jackpot margarita contest, vendors, and a historical Strand merchant walk-about. As if that doesn't fulfill all of your festival needs, returning this year is the expanded Beer Festival.
When you attend the Beer Festival you can sample a variety of more than 100 craft and import beers by purchasing a souvenir beer-tasting mug along with
a punch card ($30 in advance). Not only will you get to taste all the different brews, you will get the chance to chat with expert Brew Masters. Even the ultimate beer fan is promised rare finds and a few surprises at this Beer Fest.
Also, chili teams will be serving their best recipes Saturday, January 20th, 12 noon-3pm. Teams lining the Historical Strand District will dish out a sample to festival attendees who have purchased an official chili-tasting cup. Walk around and try countless samples for the 3-hour span while enjoying the live music and cold refreshments. With the Chili Tasting Ticket ($10 in advance) you can sample award-winning Chili from over 60 cook teams. You're going to want to come early to try them all. The price will increase on January 8th.
And if you want the best of both beer and chili, get the Chili & Beer Tasting Combo ticket for $37 in advance, which includes a chili sampling cup and a 25- 2oz sampling card for the beer fest. The price will increase on January 8th. This ticket is an advance purchase only, and not available day of.
VIP Early Bird Beer Tasting Tickets are $40 in advance. VIP tickets will get you into the Beer Fest an hour early so you don't miss out on the limited stock of exclusive released beer brought to the festival. This ticket includes 25 – 2oz samples. Additional sample cards will be available to purchase at the festival. The price will increase on January 8th. VIP Beer Fest tickets have sold out online five years straight. Don't wait and miss your chance, purchase today.
You can also participate as a cook in the festival. Whip up a batch of your best chili recipe and bring it on down to the Galveston Historical Strand. Your team can compete for the gold and Chili Champion bragging rights. Although every chili has its own unique taste, they can't all be winners. Here is your chance to light up those judges' taste buds and show 'em what you got!
During the festival several bands will play including Max Stalling (1pm) in Saengerfest Park.
2018 Beerfooter 5K: A Beachin' Beer Run Of A Good Time
Put your "Beerfoot" in front of the other in this "brewtiful" Beach 5K Fun Run "hoppening" at Beerfoot Brewery Saturday, January 20th.
The Beerfooter Beach Run is sure to put some pep in your step and beer in your belly. It is being held in conjunction with the 9th Annual Yaga's Chili Quest & Beer Fest. You are invited to get some exercise before devouring warm chili and cold brews. Crazy outfits/Team Uniforms are encouraged. The race starts at 9am at Seawall Blvd. and 28th, directly across the street from Beerfoot Brewery.
Combo Ticket for the 5K and Chili Tasting start at $40 in advance online.
Washer Pitching Tournament
This highly popular competition is for two-person teams to compete in a 15 round (or 10 minutes of play) tournament with double elimination, accumulative scoring, and awards and bragging rights for 1st, 2nd, and 3rd place winners.
Jackpot Margarita Contest
Calling all margarita enthusiasts! Yaga's is looking for your creativity and mixologist skills to create a unique margarita recipe that will take the 'salt' and become the new 2018 Winner of the Patron Jackpot Margarita Contest at the 9th Annual Chili Quest & Beer Fest. If you'd like to compete, download the form at yagaschiliquest.com.
Strand Merchant Walk-About
Take a break from all the tasty chili samples and stop into some of the island's most popular Strand Merchants for a quick browse or some serious shopping. Visit all of the shops on your walk-about card, get a stamp from each one, turn in your card by 4pm, and win. Register for a card online. Your walk-about card will be emailed to you approximately two weeks prior to the festival, and you are required to bring this card to participate in the Merchant Walk-about.
Beneficiary
The 2018 festival benefits the Ronald McDonald House of Galveston. The Ronald McDonald House of Galveston is a "home away from home" for the families of children who are seeking medical treatment at the University of Texas Medical Branch, Shiners Hospital for Children and Transitional Learning Center. The House is more than a place to stay; as an alternative to an isolated hotel room, the families and children enjoy cheerful surroundings and the support of other families, volunteers, and staff. A portion of the proceeds from the 9th Annual Chili Quest & Beer Fest will be donated to the Ronald McDonald House of Galveston.
More Info
Tickets are available at yagaschiliquest.com. The festival itself is free to attend. Public Chili Sampling and Beer Fest tickets may be purchased in advance or the day of at the information booth located at the corner of 23rd St. and Strand St. (while tickets last).