Galveston Island to Host Nightly Fireworks, New 'Boots 'N Eats on the Beach' Event and Beachfront Parade for July 4th Weekend
Catch Fireworks in Galveston Every Night June 30 through July 4 Plus Seawall Parade and Free Concert, Food Truck Event at Stewart Beach
There won't be a lack of excitement in Galveston this Independence Day. The island has festivities planned every night of the holiday weekend – kicking off Friday, June 30 and continuing through Tuesday, July 4 – including beachfront fireworks shows, concerts, a new 'Boots 'N Eats on the Beach' food truck event, an Independence Day parade and more.
If you're not already heading to the island around the 4th of July, here are four big reasons you should:
5 Nights of Fireworks
Beginning the Friday of 4th of July weekend, you can see fireworks every night in Galveston through the Independence Day holiday. Fireworks shows will take place at 9:30 p.m. on Friday, June 30 and Saturday, July 1 over Offatts Bayou at Moody Gardens. In addition, the Galveston Island Convention & Visitors Bureau will sponsor fireworks shows at 9 p.m. Sunday, July 2, Monday, July 3 and Tuesday, July 4 over the Gulf of Mexico near 37th and Seawall Boulevard.
"Boots 'N Eats on the Beach" Featuring Country Music Star Bri Bagwell
Stewart Beach will offer one big party July 4th weekend thanks to the new "Boots 'N Eats on the Beach" concert and food truck event. Boots 'N Eats on the Beach will take place from 6-9 p.m. July 1 next to the Stewart Beach Pavilion, featuring a free concert from award-winning country music star and four-time Texas Female Vocalist of the Year Bri Bagwell. Bagwell will perform from 6:30-8:30 p.m. Six of the region's most popular food trucks will be on hand offering a wide range of international culinary delights. Participating trucks include Cool Runnings Jamaican Grill, Cousins Maine Lobster, D'Lish Curbside Bistro, The Cuban Spot, Nacho Nachos and Pounders. In addition, attendees can enjoy the beach, a kid's bungee trampoline, a water slide and other park amenities. Parking at Stewart Beach is $15 per car. For information, visit www.galvestonbeachinfo.com.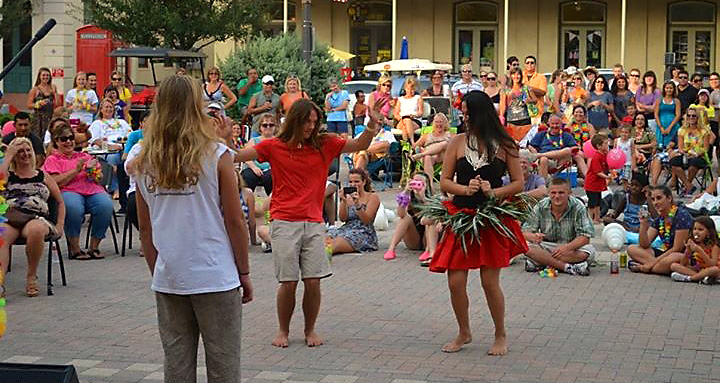 Movie Nite on The Strand
Grab your chairs, blankets and pillows and head to downtown Galveston for a free, family-friendly movie under the stars. Movie Nite on The Strand will take place at 7 p.m. July 1 with a showing of National Lampoon's "Christmas Vacation" at Saengerfest Park, located at the corner of 23rd and Strand streets.
Bands on the Sand Concerts
Moody Gardens will host its popular Bands on the Sand concert series from 6-10 p.m. on Friday, June 30 and Saturday, July 1. Friday night will feature country rock singer Dustin Burt followed by the rock band Velvet Punch on Saturday. Each concert will be followed by a fireworks display over Offatts Bayou. Tickets to Bands on the Sand are $15 per person. For details, visit www.moodygardens.org.
For more information on Galveston Island visit www.galveston.com or call 1-888-GAL-ISLE.
Travel Tip:If you're looking for a way to save on accommodations in Galveston this summer, consider staying mid-week. Rates in Galveston are significantly lower for those choosing to book their overnight stays Sunday through Thursday. For deep discounts on attractions, checkout Galveston Island Pass!