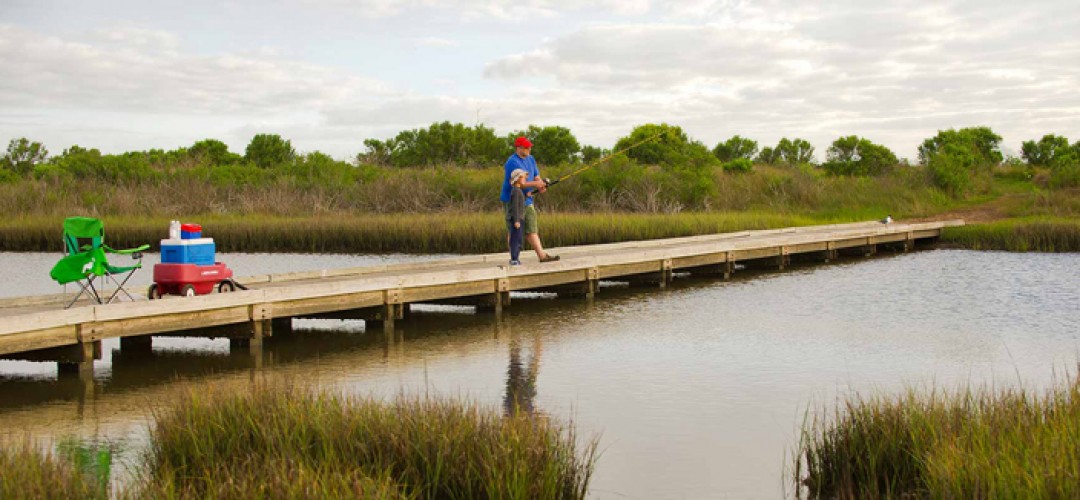 The Galveston State Park has numerous events going on this month. These events are fun for the entire family. Most events are free, however, you must pay $5 to get into the park. Galveston State Park is located on the west end of the Island at 14901 FM 3005, Galveston. For more info call (409)737-1222 or go to tpwd.state.tx.us/state-parks/galveston-island. Events are:
December 8th, 15th, 22nd, 29th, January 5th, 12th, 19th, 26th, February 2nd, 9th, 16th (1-2pm) – Winter Birding 101 – Ranger Lisa leads a great family-friendly course on some of the most common birds during the winter. Binoculars are available to borrow for the program. Get a checklist, find the hotspots, and delve into the best winter birds the island has to offer. Join the group at the Nature Center to get started and seek wildlife in the air, on the ground, and in the water.
December 9th, 16th, 23rd, 30th, January 1st, 13th, 20th, 27th, February 3rd, 10th, 17th, 24th (10-11am) – Beachcombing 101 – Join Ranger Lisa for a great shell hunting workshop, identification, and collecting expedition. Cold winter water makes this the best time for beachcombing, so dress for the weather and be prepared to get your feet wet. Start at the Nature Center for a brief park orientation before caravaning to the beach where you will review the basics, hand out equipment, and use the restroom before treasure hunting.
December 9th, 16th (3-4pm) – Edible Plants Hike – Explore the wonders of foraging in the time of thanks and giving, out in nature, a lovely place where all your food comes from, not wrapped in plastic or homogenized, but blooming flowers, bountiful berries, and edible seeds and leaves. Ranger Lisa will lead a short presentation and prairie hike about edible plants. Relive the journey of natives and early settlers, foraging and celebrating the season.
December 9th, January 13th (1-2pm) – Geocaching 101 – Learn how to find hidden treasure within the park and around the globe with this short, activity-based program about geocaching. "Geo" = Earth, "cache" = something hidden, like treasure or supplies.
December 16th, January 20th, February 17th (6-7pm) – Stargazing 101 – Join Ranger Lisa on a cool evening night hike and learn about the importance of the dark and our connection to the stars overhead. Dress warm and be prepared to be outside.
December 19th-22nd (2:30-3:30pm) – Arts in the Parks: Ocean Ornaments – Create one-of-a-kind island-style holiday ornaments. Join Ranger Lisa in making holiday crafts and create the best park souvenirs with the whole family. The Nature Center will be open and craft supplies will be available to channel your creative energy into gifts, mementos, and keepsakes. Make paper fortune cookies, holiday greeting cards, and sea shell ornaments.
December 23rd (12 noon-1pm) – Fish Printing – Learn basic fish anatomy and create a one-of-a-kind print. This is an easy, quick Ranger program on fish biology and crafts. Great Arts in the Parks craft program for the whole family to join! Bring your old shirts or create a paper fish print with Ranger Lisa at the picnic tables of the Nature Center.
December 25th (2-3pm) – Holiday Beach Stroll – Come out for this easy, mellow beach stroll for treasures. After the eating, drinking, and merriment of the holidays, why don't you take a hike? Join Ranger Lisa for an afternoon stroll down the 1.5 miles of beach available at the park. Begin at the end of the boardwalk at the day-use area and take the lazy route down to the water's edge for some beautiful afternoon pictures and ocean treasure collecting.
December 30th, January 6th, 13th, 20th, 27th, February 3rd, 10th, 17th, 24th (3-4pm) – Bay Tower Hiking – Overlook Galveston Bay and explore the waters below. Discover casting nets, gettin' hands muddy, and tasting edible plants of Galveston Bay on your way to an observation tower.
January 1st (2:30-3:30pm) – First Day Tower Hike – Blaze a trail and start your new year off on the right foot….or left foot by exploring the bay side trails for a 1.5 mile hike up to the far observation tower and back. You will be collecting animals, tasting edible plants, and discovering the beauty of the island on this First Day Hike. After a morning of recovery, join Ranger Lisa at the Clapper Rail Trail parking lot to begin this mellow but energizing tour.
January 1st (5:30-6:30pm) – Full Moon New Year's Hike – Live by the sun, love by the moon! Ranger Lisa will take you on a short, First Day of the Year Hike and help you discover the mysteries of la luna, or the moon, while discovering the nightlife of Galveston Island State Park.
January 6th – The 8th Annual Galveston Island State Park New Year's Fun Run/Walk – Start the new year with some fun, some exercise, and some beautiful nature. The event will be held at the Galveston Island State Park on the bay side of FM 3005, near 13-mile road. There will be 5K and 10K walks and runs. There will also be a 1K for kids under 12. A light breakfast will be provided along with performance t-shirts for all participants. Check-in is at 8:15am. The 1K for Kids under 12 will begin at 9am and the 5K and 10K runs/walks will begin at 9:30am. This event is sponsored by Friends of Galveston Island State Park (FOGISP), an NPO consisting entirely of volunteers, who help with the preservation and enhancement of the park's natural environment. For more info and to register go to: fogisp.wordpress.com/annual-fun-run. Park entry fees are waived for the morning of the event.