---
Written and Photographed by Sharis Roe DeJaynes
Who knew that a little gallery at 217 Tremont (23rd Street) would pack such a punch? Katrina Howarth, Howarth Gallery – Infinitely feminine, pleasingly strong. Playful, whimsical, silky and soft aptly describes paintings by Howarth. I had the opportunity to sit down with her and unearth her story which is a superbly refreshing tale from Scotland and England all the way to our lovely island town here in Galveston.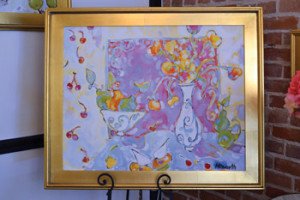 In June of 2012, Galveston was blessed by the opening of Howarth Gallery and all that is inside. Howarth's art is reminiscent of Matisse and spins of simplistic decadence, flowing light and positivity, just as she herself possesses. There is utterly no difference between her art and who she is. She is completely transparent and ultimately feminine! Her art is a rich dichotomy – delicate yet strong and powerful – decisive and very intentional. Take a closer look and you'll see the power in her brush strokes.
Howarth is a lifelong painter from a very early age and paints every day, to this day. She represents dedication and discipline at its finest. She paints her surroundings, and visions from her past. From landscapes to still life to portraits, her imagination and surroundings springs into her art. "My landscapes take me back to my past. I literally go there," she says. "My interiors, still life and portraits are the present…you'll literally see me in my own home, mostly in the kitchen." Even her wardrobe for the day impacts her work, along with the colors in it. "What I'm wearing tends to impact my art directly." Speaking of color, Howarth has a very specific palette of seven, and only seven, oil colors she uses in her works. From just those colors she masters her work. "My paintings are my children and my voice," she says. As it should be, naturally.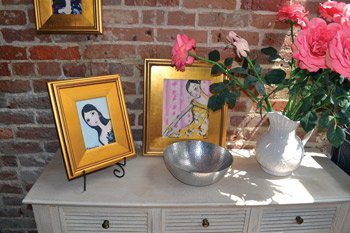 Howarth had her first art show in Scotland at the tender and upcoming age of 18. "At that time, my work was very dark, moody and reminiscent of the weather and landscape around me," she says. Upon attending art school in Cypress and Barcelona, the skies opened up to a sunny and playfully new Howarth, and it's been sunny skies ever since.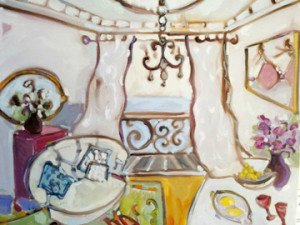 Not only does Howarth have her own gallery here locally, she is also represented by prestigious galleries in Santa Fe and Taos, New Mexico. You can find her works at Alexandra Stevens Fine Art (alexandrastevens.com) and Copper Moon Gallery (coppermoongallerytaos.com), respectively. Also, she most recently signed with Blue Print™, an interior design firm in Dallas, Texas, where they are representing her large format paintings. She is collected internationally and occasionally will do commissioned works as well. "I love having my own gallery here in Galveston. It is my little slice of Heaven. I get to place my own works, from my paintings to printed t-shirts, bags, cards and scarves. There is something here for everyone," she says. She has also recently created three books of sweet, little stories, illustrated with her paintings. Yes, she truly has an exquisite collection of her own here in town.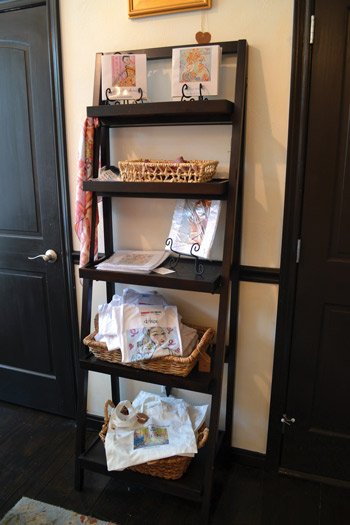 Who knew? Well, now you know! You can meet the very humble, playful and beautiful Katrina Howarth during the next ArtWalk on July 11th at 217 23rd Street.
Get to know Howarth and her art. She will soften every edge you didn't know you had and you might be tempted to have some tea and scones!
About the Artist:
Howarth was born in Scotland to an artist mother and engineer father. After studying art in Cypress and Barcelona she moved to the United States in 1995 and now lives in Galveston.
She is joined by her husband Todd, and her three beautiful daughters Mirabella, Sophia and Lily. They continue to inspire her each and every day. Howarth and her daughters are also largely involved in the Galveston Ballet, with yet more inspiration for her art coming from little girls in full costume and makeup dancing on stage.
We are honored to have Howarth representing herself here in Galveston.
Please visit her gallery at 217 23rd Street. She is available by phone at (713)550-6431 and via her website at www.thehowarthgallery.com. Subscribe to her blog and she will keep you updated with all her latest works and musings. Howarth is also on facebook at www.facebook.com/howarthgallery.
---