Galveston Arts Center (GAC) announces the return of the Life Drawing Studio held on Mondays, 5:30-7:30pm, in GAC's spacious studio classroom. This is an opportunity for artists to practice drawing or painting the figure from a live model.
Pre-registration is required and come in 4-week blocks for $40. Participants can choose block dates June 5th-26th, July 17th-August 7th, August 28th-September 25th, October 16th-November 6th, or a combination thereof.
For centuries, drawing the human figure from a live model has been at the foundation of art programs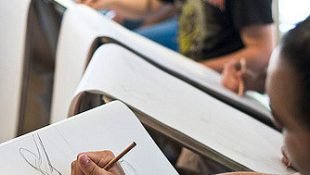 throughout the world. Life drawing skills are essential for artists interested in portrait painting, character design, comics/manga, game design, illustration, animation, fashion design, anatomical drawing, or just learning to "see" like an artist.
Unlike formal classes, this is an artist-led activity where participants work at their own pace in their preferred medium. Tips and advice are available from the facilitating artists, making this beneficial for students of all levels. Live models pose for short and longer poses of up to 90-minutes and may appear in costume, semi-clothed, or nude.
Artists are encouraged to bring their own materials, and art supplies are always available in the ArtWorks Museum Store on the first floor. The spacious, well-lit studio is equipped with eight standing easels and 16 adjustable-angle drafting tables. All media is welcome, including paints.
For visitors to the Island, or those just seeking single classes, GAC offers a $12 refundable drop-in option. It is advisable to call ahead as classes may not be guaranteed.
The galleries and the ArtWorks Museum Store are open to the public Tuesday-Saturday, 11am-5pm, and Sunday, 12 noon-5pm. Admission is free at all times.
GAC is the organizer of ArtWalk, which takes place every six weeks in Downtown Galveston. The ArtWalk brochure, which lists participating venues, hours, information, and map, can be downloaded at galvestonartscenter.org.