Galveston Historical Foundation Events
Galveston Historical Foundation (GHF) offers many events that are open to the public. Tickets and reservations can be made online at galvestonhistory.org or by calling (409)765-7834.
Events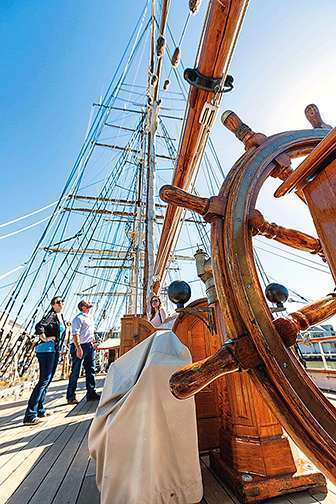 March 23rd (7-11pm) – 17th C. Historical Food Event at Tall Ship Elissa – Join this event to learn more about what 17th-century sailors ate on ships through the Ship Biscuit & Salted Beef Research Project. The event includes entrance to the Texas Seaport Museum, that has the tall ship Elissa which housed the food items from the research project, presentations from our researchers, and a complimentary beer tasting of a historical brew made from a real 17th-century recipe. Ticket are $24 and includes 3 complimentary beer tastings. Must be over 21. This will be held at LISSA at Texas Seaport Museum, 2100 Harborside Dr., Downtown Galveston. Tickets are available at eventbrite.com.
April 5th-8th (10am-9pm) – Tall Ships Galveston – This new festival will host tours of the participating ships, numerous special events, sail away excursions, music, food and fun in a family-friendly format. Galveston Island will serve as the first port in the 2018 challenge, which will see participating ships race across the Gulf of Mexico as they visit other participating cities throughout the month of April.
April 7th (5:30-7:30pm) – Plankowners' Captain's Table: Tall Ships Galveston – "Your presence is requested for an evening of drinks, food, and more at our exclusive Captain's Table night!" Enjoy dining with the captains of our festival Tall Ships, live music, an exciting live auction featuring original works of art from regional artists, private access onboard one of our visiting Tall Ships, open bar and much more. Proceeds from this event go directly towards Galveston Historical Foundation 1877 Tall Ship ELISSA, the official Tall Ship of Texas. This will be held at 2000 Harborside Dr. Tickets are $250.
April 23rd (10am-5pm) – Free Day at Texas Seaport Museum – In celebration of Henry Fowler Watt's, who commissioned the construction of the iron barque ELISSA, 178th birthday, Galveston Historical Foundation is inviting the public to the Texas Seaport Museum for complimentary admission to the National Historic Landmark.
May 5th – 6th and 12th-13th (all day) – Galveston Historic Homes Tour – Galveston Historical Foundation opens the doors to Galveston's architectural history through public tours of privately owned homes during its annual Galveston Historic Homes Tour. Large, small, and everything in between, the 2018 tour will have something for everyone! Tickets are on sale at galvestonhistory.com.
OnGoing
Bishop's Palace Tours
The Bishop's Palace (a.k.a. Gresham House) is a contributing building in the East End Historic District, a National Historic Landmark. Bishop's Palace is recognized as one of America's finest examples of Victorian exuberance and Gilded-Age extravagance and is listed by the U.S. Department of the Interior as a National Historic Landmark. Bishop's Palace is located at 1402 Broadway Ave. J.
Available Daily (11am-5pm) – Bishop's Palace Audio Tours – Powered by Acoustiguide, the Audio Tour allows visitors to see historical images not seen by previous tours on a handheld, high-resolution screen. Tickets are $6-$11.
March 24th, April 7th, 21st (11am-1pm) – Basement to Attic Tours – Offering participants a rare look into parts of the 1892 home that are typically off-limits, the Bishop's Palace Basement to Attic Tour features Mrs. Gresham's studio and an exclusive third-floor view to a truly one of a kind panoramic of the Gulf of Mexico.