---
By Kimber Fountain
When one considers the evolution of the human species, what probably comes to mind for most people is the adaptation of our physical bodies. We are bigger, stronger and live longer than ever before, and we have yet to figure out why exactly we still have tail bones and wisdom teeth. By no means is this where the triumphant progression of people over the sands of time ends, and it is fascinating to fully realize through the lens of our everyday lives that everything, from fashion to cars to the way we live, has changed and continues to do so. But all of those changes can be most pointedly examined when we embrace the one thing that has both fueled this evolution and been drastically affected by it: the change in our perspective. Two hundred years ago the sound of a car driving by your house would have been a shocking anomaly, but today the sound of traffic is so normal, it could even be considered natural.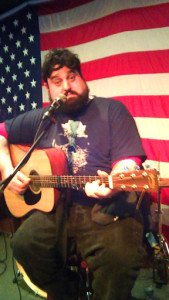 When we superimpose the idea of this shifting perspective onto music, of course at first it is obvious. There is a reason we have "Oldies" radio stations and deem anything that is instrumental "Classical." Music is the art form that can most easily be pigeonholed into an identity that stems solely from the generation in which it was born, and with the rise of electronic beats and auto-tune, modern music is often cynically classified as soulless and artless. One local singer/songwriter, however, has found that sweet spot, the place where electronics and artistry meet at last.
Matt Mejia entered the music scene 15 years ago with an invitation from his brother to sing for a band he had joined. It was a heavy metal band, and executing that vocal style is quite simply one of the most difficult to master. "It taught me discipline and precision," Matt remembers, but within that genre he also felt himself "very limited and very restrained." So he took his acquired skills and went "from that to wanting to do all things," he says.
He found an outlet for expanding his musical interests with the founding of "Come See My Dead Person" (CSMDP), a band that originated in Galveston and soon became a local favorite. With CSMDP, he journeyed through the realms of composition and dynamics. "We had a set amount of songs, and we played for four years," and although that may seem to some as a recipe for stagnation, Matt instead used it as a catalyst for growth and expansion. "I just continued to ask myself, 'What can I do with these?'" he says, "and so I expanded on them and found the ability to express even more within the confines of those songs."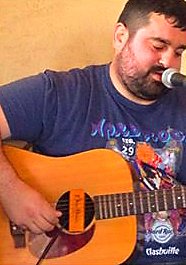 This experimental expansion was further propelled by his love for Blues and R&B music, whose technical and compositional elements he used to embellish his own work. "In those genres, you have to leave space and create tension," Matt explains, "You have to do [musically] what has to be done to get your message across." And that message is one that inspires Matt as deeply as his music.
"Everyone knows the flavor of sadness," he muses. "It is the job of musicians to uplift – to get lower than them and then bring them back up." Matt continues, "All proper arts have to have empathy, that is what makes it real. There is a camaraderie in it, it is like saying, 'I have felt this way so it's okay for them to feel that way, too.'"
Currently, Matt is immersed in several different projects and performances, including acoustic sets as well as shows with a three-piece Blues/R&B Band that includes bassist Ray Herod and drummer Justin Brouliard. He is also recording a studio album to be released sometime late this summer with the help of Glenn Chambers at The Tape Shed and local Producer and Promoter Jeb Adame. Matt is playing all of the instruments for the album except drums, and is enjoying having "absolute control over how I want it to sound." He adds, "I have played acoustic for so long, but in a studio setting you can express more."
It is his collaboration with local rapper Flynn Donovan, however, that has catapulted his sound into a modern commentary on the shifting perspective of the human mind. In Matt's first attempt at electronic music, he has paired with Donovan in a project called "The Babe," a surprisingly seamless combination of Matt's soulful, ethereal voice and Flynn's insanely intricate output of synthesized music and articulate flow. "He completely changed my approach to music, and he gave me the confidence to go to Austin and record my album."
Live performances of "The Babe" exude a baffling and almost other-worldly sound, with a seemingly contradictory combination of intoxicating Blues-style melancholy brandished with simulated electronic beats and punctuated by Donovan's articulate flow. The result is a fusion of the synthetic with the organic, undulating rhythms of technology coupled with that bittersweet yearning that only a human being can attain. "It is an expression of what humans are now," says Matt Mejia. "We are all organic beings, but we are inundated with technology." He continues, "because of where our brains are, these sounds are natural to us now, just as natural as birds and the sound of a car driving by…"
Matt can be reached for booking inquiries at matt@csmdp.com. Find videos of him and "The Babe" on YouTube, and look for him this summer across local venues as he promotes the release of his new album.