Written by Sharis Roe DeJaynes, photos by Sharis Roe DeJaynes and Kristen Tigrett
New to Galveston at the corner of 27th St. and Broadway, is Seasons Gourmet Food & Grocer. Sole owner Johnathan McCutcheon and Floor Manager Kristen Tigrett were generous hosts as I sat with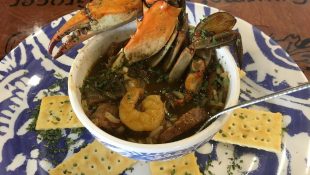 them and talked for hours about all things Seasons. "When you come here, we want you to feel like it's your second home," says John. That it did, and I was there until closing. Proof positive!
John purchased the property, and after a lengthy process with the City, he finally opened nearly 10 months ago. Seasons opened as an organic grocery store, restaurant, and bar. "Galvestonians didn't immediately take to the organic produce and meats part, so we chose to pull back and focus on the restaurant and bar side of things, for now," says John.
But keeping to their mission, they stay organic and use locally sourced produce in the foods they prepare. The hope is that once they are further established, the produce, meats, and fish will come back. They still carry groceries, just currently limited to dry goods. They have a nice selection of loose leaf teas, coffees, seasonings, and more of their very own name brand products. John expresses, "We are open to referrals to stock what customers want and will do everything in our power to get it on the shelf for them."
Not only do they have a beautiful dining room and bar area inside, Seasons boasts a beautiful, large covered patio with two 137" projector screens and other TVs. Local musicians provide live entertainment on Friday and Saturday evenings.
Seasons has the largest craft beer selection on the island, with 250+ beers and 16 crafts on tap including Galveston brews. They have a wonderful selection of more than 100 prestigious and local wines as well. They're not short on choices.
Getting to the food, Seasons has a full-service deli where they cut meat and cheese by the pound and serve freshly made sandwiches. In addition to menu items such as salads, sandwiches, burgers, and wings, their entrée selection features delectable beef stroganoff, whole crab creole gumbo, grass fed prime sirloin, and specialty chicken dishes. "We have a loyal following, and there is something for everyone on the menu," says John.
Seasons also delivers. Their entire menu, including deli meats and cheeses, and even beer can be delivered directly to your home or establishment. Call ahead for take-out at any time as well.
The food is fresh, from scratch, and made to order. Hand cut fries, hand battered wings, and everything else that touches the plate, is made-to-order. Nothing is pre-prepared. They make everything in-house including sauces like Alfredo, garlic butter, and lemon garlic.
Current weekly specials: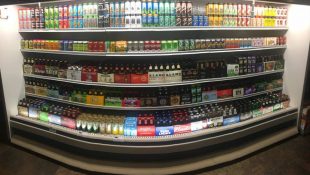 Happy Hour food and drink specials, Monday through Friday, 4-7pm

Saturdays, starting at 2pm, all-you-can-eat crawfish for $30

Sundays, all day, all-you-can-eat wings for $12.99

Wednesdays, date night, two entrees and a bottle of wine for $39.99

Daily lunch specials
Seasons offers 10% discount to UTMB and Texas A&M students as well as 50% discount to all active uniformed police.
In addition to the well thought out menu and upscale, yet relaxed, interior, Seasons boasts a kids' corner featuring free x-box play. "I try to put myself in the shoes of every guest who walks in the door including the kids. We provide a safe environment within close proximity of dining parents, where children can relax and play age appropriate games for free, no quarters necessary," says John, a kid at heart. John wishes to thank Lone Star Comics for donating to the children's literacy rack as well. Kids will feel right at home at Seasons.
About John:
John was born in Houston, Texas. Home-schooled and an Eagle Scout, he quickly grew into an entrepreneur. His father owns a computer business, with a degree in electrical engineering and computer science from LSU. His mother dedicated herself to keeping the home happy and healthy.
"My parents were very supportive, and at the age of 15, I bought a firework stand and my first season's inventory. We worked summers and winters in the fireworks business, hence "Seasons," the name. I bought a few more stands then sold them at 17 years old. After that, I got an associate's degree at Lone Star Community college and was awarded a scholarship to Tulane," John prides.
At Tulane he studied international relations, history, and law. His only brother, Sam, was diagnosed with Leukemia, so he moved back to Galveston. Sam is in remission now and is currently in film school. "He's the artist; I'm the businessman." As such, John has an appreciation for art and commissioned local artists Adam Garrison to do the mural on the patio and Catherine Stroud to do the mural in the dining room.
In addition to Seasons, John holds an insurance license and sells property, casualty, life, health, and annuity insurance. He also holds a real estate license and is a general contractor while trading stocks and bonds on the side. John is currently 27 years of age. Impressive!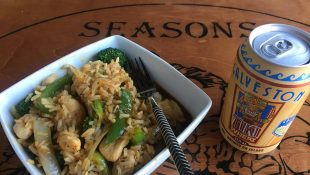 John is a very hands-on owner and dedicated to customer service. "We truly listen. Without guests, there is no us. Without guests coming through our doors telling us what they're looking for and what they want, we don't know, we can only guess," said John. "We want our guests to have the best experience and get what they were looking for. Right now what my guests want is the bar and restaurant, so I'm here to give it to them."
Given he is a licensed general contractor, he built in and built out nearly everything in the store. He's happy to be "Broadway Strong" and is doing his best to represent what Galveston is about. He has the tenacity and business sense to adapt, grow, and even reinvent. He's here to stay.
As for Seasons' future plans, an upper deck is in the works for more space to enjoy the outdoors. A full bar and online ordering is in the works as well. Seasons fully intends to bring back the organic produce and meat selection at some point. We suspect it won't be long with their ever-growing customer support.
Stay tuned and make a point to enjoy the Seasons family with your whole family. You'll be refreshed by the upscale yet relaxed atmosphere, the affable staff, the service, and of course, the fresh new food and drinks. "When you come here, you are family," says John.
Seasons is located at 2701 Broadway, on the corner of 27th St. and Broadway. Hours are 11am–12 midnight, seven days a week. The kitchen is open until 9pm Sunday-Thursday and 10pm Fridays and Saturdays.
Stay up-to-date by following Seasons on Facebook at facebook.com/seasonsgalveston1. For delivery, take out, or special requests, call Seasons at (409)443-5800.