Do you want 5 million people to see your artwork every year? Project SIT, a program of the Artist Boat, will beautify 70 concrete benches with hand painted mosaic tile by December 2016. The benches form a trail along Galveston's historic Seawall that interpret the ecology, economy, and history of the Texas Coast.
For MORE INFO.
Submit a design for Project SIT by May 22! Your art might be viewed by millions of tourists and will educate them for years to come!
Artist Boat is hosting a call for entries to complete 33 benches. Each artist will create an original image depicting one of the predetermined themes, incorporating educational text and scientific accuracy. Selected artists will receive a $300 stipend. Project SIT, a program of the Artist Boat, will beautify 70 concrete benches with hand painted mosaic tile by December 2016. The benches form a trail along Galveston's historic Seawall that interpret the ecology, economy, and history of the Texas Coast.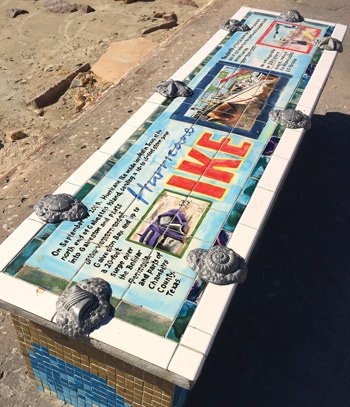 Possible Themes
Energy from the Sea – Oil and Gas Industry (Narrow)
What Am I Swimming With – shrimp and blue crab life cycle (Narrow)
Fish Frenzy – Commercial Fisheries (Narrow)
A Sea of Shrimp – Shrimp Fisheries (Narrow)
Streaming of the Gulf – currents of the Gulf of Mexico (Narrow)
Galveston Seawall: Protection and Promenade (Wide)
Shifting Sands – Sand Dunes (Wide)
GOT Coast? – Geography of the Texas Coast (Wide)
Oxygen from our Oceans – Phytoplankton (Wide)
Origin of Crab, Fish, and Shrimp – Zooplankton (Wide)
It's Good to have Goods – Shipping Industry (Narrow)
Catch A Wave – Monarch Migration (Narrow)
Fall Out – Oat Mottes and Bird Migration (Narrow)
Where is the Shoreline – Sea Level Rise (Narrow)
Ultimate Fight – Invasive vs. Native (Narrow)
Annoying Assets – Oyster Biology (Narrow)
Souls of Galveston – History of Migration (Narrow)
A Merry Yarn of Galveston Pirates (Narrow)
Flotsam and Jetsam – Marine Debris and Microplastics (Narrow)
Germans Among Us – Fort Crockett and WWII (Narrow)
East Meets West – Yellowfin Tuna Populations, spawning, and migrations (narrow)
Down on the Bayou – Bayous of Galveston Bay (Narrow)
33 States in our Watershed – Dead Zone (Narrow)
Black Mangroves – migration, habitat, adaptations (Narrow)
What is an Estuary? (Narrow)
The Only Thing that is Constant is Change – Barrier Islands (Narrow)
Boating on the Bay – Recreational kayaking, sailing, power boating (narrow)
Odor in the Air, Beware – Red Tide (Narrow)
Where's the light? – Photic and aphotic zone (Narrow)
It Comes in Waves – Ocean Tides, Lunar Cycle, Intertidal zones (Narrow)
Gotcha! Or Caught You Coming!- Hurricane Tracking (Narrow)
Harness the Power of Wind – Sail Boats, Wind Turbines, Seed Dispersal (Narrow)
Water, Water Everywhere, Nor any Drop to Drink – Salinity of the Bay and Gulf (Narrow)
The artist chosen for Project SIT will receive a $300 stipend. Each artist will be responsible for picking up tiles and glaze materials from Artist Boat's office, painting and returning them to Artist Boat on the appointed date to be professionally installed. Artist Boat is responsible for providing each artist with all materials necessary to fabricate each mosaic and then firing and installing the tiles on each bench.
Project Guidelines
Here is a visual template of the bench. The image surface is 12 3/4" x 68". Each tile is 4 1/4" x 4 1/4". Circles represent Skate Stoppers that may obscure small sections of your image.
Bench sites and themes are decided beforehand. Project SIT is an educational program; each design is required to incorporate informative text in the composition and accurate scientific information. Text and design are subject to edits.
Important Dates
May 23: Proposals Postmarked
June 6: Selections Announced
June 6-12: Pick Up Tiles and Glaze
July 12: Return Glazed Tiles
July 30: Installations
Selection Process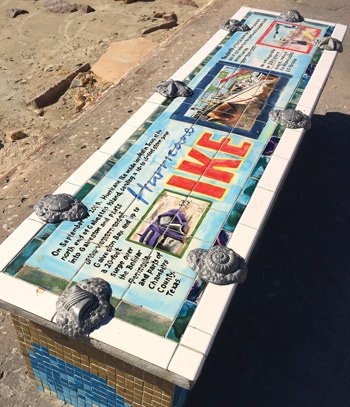 A selection panel of 5-7 voting members including scientists, artists, and arts professionals will choose artists from submitted proposals. Work will be selected based on execution, technique, originality, organization, and correct interpretation of theme, appropriateness, scientific accuracy, and educational relevance.
Rules & Guidelines
The Artist Boat reserves the right to reject any or all applications and proposals, to reject any finalist, to waive formalities in application or proposals, or terminate the selection process for any project without prior notice. The Artist boat and the Project SIT Committee reserve the right to make selection from Juried Image Registry in addition to submitted applications in the event that insufficient or inappropriate applications are received, or to terminate any project at any time. Application to any project advertised by the Artist Boat and the Project SIT Committee agree to all applicable rules and guidelines. The Artist Boat retains the copyright of all completed designs and reserves the right to use the design in any and all future publications. A complete copy of the rules and guidelines is available at www.artistboat.org.
For additional information, please visit the Artist Boat website at www.artistboat.org.  You may download the application form here. Proposals due May 22. Contact Amanda Rinehart at arinehart@artistboat.org or 409-770-0722.