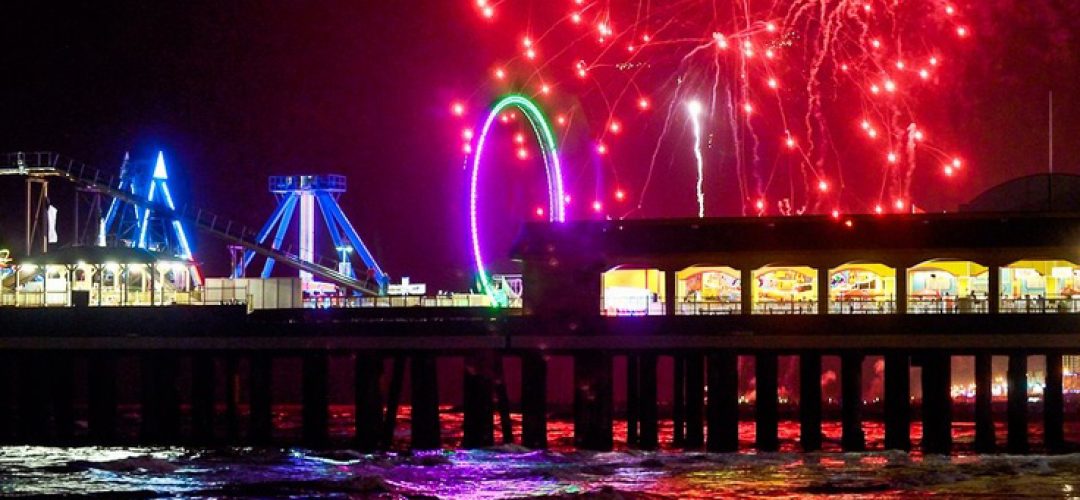 There are no two better words to go along with summer than free and fun. All summer long, Galveston Island will offer plenty of events that fit both, including free fireworks shows, eco tours, and sandcastle building lessons.
Beachfront Fireworks Shows
Starting Sunday, June 4th, visitors to the island can catch free fireworks shows over the Gulf of Mexico every Sunday evening for the rest of the summer. The shows will take place at 9pm at the intersection of 37th Street and Seawall Boulevard, and will continue thru September 3rd.
Beach Family Challenge East Beach
The Galveston Park Board is hosting a series of  Family Beach Challenges throughout the summer. Families are invited to go head to head in a series of competitions including giant Jenga, sack races and more – all to win some fantastic prizes. These events are free to the public and structured for groups of four people. The family with the most points at the end of the day will receive a $500 gift card, plus tickets to island attractions.
Free Sandcastle Building Lessons at Stewart Beach
Beginning in June, visitors to Stewart Beach can participate in "Sandcastle Days" events to receive free sandcastle building lessons from a professional sandcastle builder. The events will take place June 4, July 8, July 22, July 29 and August 5.
Bucket Brigade Tours
Throughout the summer, you can hit the beach to participate in a Bucket Brigade – an interactive beach tour that provides hands-on exploration of the creatures and features found in Galveston's coastal and marine ecosystems. Beginning Memorial Day Weekend tours will be offered Wednesday-Sunday throughout the summer. The 45-minute tours are held at 9:30 a.m., 10:30 a.m., 11:30 a.m., 1:30 p.m., 2:30 p.m. and 3:30 p.m. Tours are offered at a variety of locations along Galveston beaches, including Stewart Beach and 61st Street. More locations will be offered in the summer. Those wishing to participate can sign up for a tour near the lifeguard station at the tour location, where you will see the Bucket Brigade Tours sign.
Travel Tip: If you're looking for a way to save on accommodations in Galveston this summer, consider staying mid-week. Rates in Galveston are significantly lower for those choosing to book their overnight stays Sunday through Thursday. For deep discounts on attractions, checkout Galveston Island Pass!
For more information on Galveston Island visit www.galveston.com or call 1-888-GAL-ISLE.