Have no idea what to do with your children all summer? Rosenberg Library has your problems solved!
Rosenberg Library is located Downtown at 2310 Sealy St., Galveston. For more info call (409)763-8854 or go to
rosenberg-library.org
. All events are free and open to the public.
Children
Two "Paws to Read" Programs This Summer
Beginning readers can practice reading skills with book-loving dogs. They are friendly, kind, magiand very non-judgmental. Check in at the children's desk to get signed up for a turn. Two summer sessions will be held:
Mondays, June 11th, August 13th (11am-12pm) – "Paws to Read" with Cory

Every Thursday (6-7pm) – "Paws to Read" with Oliver
Every Wednesday (9:30-9:50am) – Babytime –
This cozy storytime is filled with lapsit songs, baby bounces, and short but sweet stories. Babytime is the perfect opportunity to read, sing, and bond with your little one.
Every Wednesday (10-10:30am) – Storytime –
This is a fun and energetic storytime featuring storytelling, action rhymes, music, puppets, and movement. Preschoolers are welcome.
Mondays-Saturdays, June 4th-August 11th – Kidz Pac Pickup –
Rosenberg Library and the Galveston County Food Bank are working to ensure that hungry kids are fed during the summer. Collect one free Kidz Pac per week during library hours at the Circulation Desk. A waiver must be signed by a parent or guardian prior to pickup.
Mondays, June 11th-August 6th (5-7pm) – Chess for Kids –
Stop by the Children's Department to learn how to play the game of chess or brush up on your chess skills. This is hosted by George Laiacona.
Tuesdays, June 12th-July 17th (2:30pm) – Bluebonnet Book Club –
This is an introduction and celebration of the 2018/2019 master list of the Bluebonnet Award nominees. Which one do you think should win? We divide the list of 20 books and feature a few at each session. Book fun correlates with books introduced that session and includes a variety of activities such as readers' theatre, food, word and book games, hands-on activities, writing, crafts, and more. This is perfect for grades 3-6.
June 18th (2:30-5:30pm) – Drop-In Rock Painting –
Drop by the Children's Department to create your own unique rock painting.
June 21st (11am) – Kirk Marsh Comedy Reading Show –
Join this engaging comedy show that includes juggling, unconventional magic, and outlandish audience participation with special performer Kirk Marsh.
June 25th (2:30-5:30pm) – Drop-In Games –
Drop-in to play games of all kinds, such as Clue, Monopoly, Apples to Apples, Quelf Jr., Connect Four, Hungry Hungry Hippos, Lego Creationary, Twister, Operation, Jenga, Hedbanz, and more.
June 28th (2:30pm) – Alternative Rock with Ranger Lisa –
Rock on with Ranger Lisa from Galveston Island State Park as she discusses the Anthropocene era which is filled with plastic debris.
June 29th (2-5pm) and June 30th (10am-1pm) – Drop-In Stop Motion Animation –
The Edge of Imagination Station helps participants of any skill level create their own animated short film using materials such as chalk, paper, and clay.
July 2nd (2:30-5:30pm) – Drop-In Art Studio –
Drop-in to discover your inner artist and create your very own masterpiece.
July 5th (2-8pm), July 6th (10am-5pm), July 7th (2-5pm) – Escape Room –
Find the clues, break the codes, and escape the room. To participate, you must be between 6-13 years old. Sessions start every 30 minutes.
July 10th (11am) – Lucas Miller the Singing Zoologist –
Learn about photosynthesis, monarch butterfly migrations, ocean ecology, native wildlife, and much more with the singing zoologist Lucas Miller.
July 12th (7pm) – Dinosaur George –
Learn about these monumental creatures with a show of (pre)historic proportions by expert Dinosaur George.
July 16th (2:30-5:30pm) – Drop-In Tech Time –
Can you build a machine that blows a bubble? Drop by the Children's Department and tinker with circuits, magnets, and power bits to create a Bubble Bot using LittleBits.
July 18th (10am) – Storytime: Arts Alive! Rockstar Review –
Children and their caregivers are invited to embark on a journey of the imagination with Arts Alive. Get moving and have fun on this incredible adventure.
July 19th (2:30pm) – Rhythms of the Reef –
Experience the rhythms of the ocean reefs with Kelly Drinnen from the Flower Garden Banks National Marine Sanctuary.
July 20th (3pm) – Hampstead Stage Company presents Treasure Island –
Hampstead Stage Company of New Hampshire is back with another exciting live action theater production. You do not want to miss this showcase of Treasure Island.
July 23rd (2:30-5:30pm) – Drop-In Recycled Instruments –
Rock out at the library any create instruments out of recycled materials.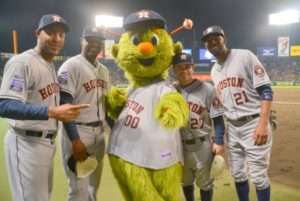 July 26th (11am) – Orbit from the Houston Astros –
Enjoy an out of this world, out of this ballpark program to celebrate reading with Orbit from the Houston Astros.
July 30th (2:30-5:30pm) – Drop-In Write Stuff –
Do you have the 'write' stuff? Find out by dropping by the Children's Department.
August 2nd (2pm) – Rock Climbing for Kids –
Come learn all about the sport of rock climbing with 'Tuesday from Momentum Climbing Gym.'
August 4th (2:30pm) – Wild Things Zoofari –
Wild animals in the library? Come check out exotic animals and learn about cool creatures from around the world.
August 9th (6pm) – Hands-On Chemistry Roadshow Workshop –
This is a fabulous opportunity for kids 10 and older to work with Dr. Jim Pennington, chemistry professor from Texas A&M College Station. No previous experience in chemistry is needed. Registration is required.
August 10th (10:30am) – Texas A&M University Chemistry Road Show –
This is an explosive experience not to be missed. Send the summer off with a BANG. Dr. Jim Pennington, chemistry professor with Texas A&M College Station wows the crowd with wild and crazy experiments.
August 11th (9am-6pm) – Summer Reading Club Ends!
This is the last day to pick up prizes.
Teens (Ages 13-18)
The 2018 Teen Summer Reading Program is starts June 4th and goes through August 13th. Teens can register for the Summer Reading Program at the 2nd floor Reference Desk at the Rosenberg Library. Just for signing up, you get a free hardcover book and a scratch ticket that may give you a small or large prize. This ticket also serves as a raffle ticket towards the end-of-summer raffle prize drawings. Make sure to fill it out and check out what you could win at the Reference Desk. In addition, every program you attend gets you another scratch ticket and an opportunity for a prize.
Every Monday June 4th-August 13th (1-4pm) – Teen Gaming –
Board games – cooperative, strategic, and more, as well as Smash Bros. and Mario Kart on the Wii U will be available.
Every Wednesday June 6th-August 15th (1-4pm except July 4th) – Teen Tabletop RPG –
Comeplay a pen-and-paper RPG like Dungeons and Dragons. Space is limited to the first six to arrive.
June 8th, August 3rd (1-3pm) – Artists' Alley Crafting Workshop –
Come create something out of Perler beads. Whether it's Mario, the Tardis, comic book/anime characters, or your own creation – you can make whatever you'd like. You can turn it into a magnet or keychain or just put it on the wall.
July 13th, August 10th (1-3pm) – Anime Club – Anime, Pocky, soda, and a related craft – this will be lots of fun.
June 22nd, July 6th (1-3:15pm) – Finally Friday Movie Night –
The new Jurassic Park movie releases this day so see the original "Jurassic Park" (PG-13) that started it all. There will be free snacks and soda.
June 27th and 29th (1-4pm) – Video Game Tournament: Mario Kart 8
– Do you think you have what it takes to win our Mario Kart tournament? Face your foes in a double elimination tournament and compete for a prize. June 29th will be Mario Kart 8. July 27th will be Super Smash Bros.
July 20th (1-2pm) – Minute to Win It –
Do you have what it takes to flip plastic bottles and land them, stack cups in a pyramid and break it back down, or separate 50 pieces of candy into separate bowls by color – all within 60 seconds? Then come participate in challenges and win prizes.
August 17th – Teen Summer Reading Finale Party –
It's the end of summer – let's wrap it up with a pizza party. We'll play games, eat pizza, listen to music, watch funny videos – and draw names for the Summer Reading Program raffle prizes. You don't have to be present to win a raffle, but it'll be more fun if you are.

Adults
Every Tuesday and Thursday (10-11am and 4-5pm) – EBook Drop-in Training Sessions –
Come and get-hands on assistance downloading ebooks with your tablet, phone, or other smart devices. A librarian will assist you with setup, troubleshooting, and accessing library electronic resources such as e-books, e-audiobooks, and other streaming content.
Computer Training Classes
June 19th-21st, 26th-28th (10am-12 noon) – Basic Computer Skills –
During these three classes, you will learn the basics of how to use a computer. This introductory course will cover many things including the different purposes of each button on the mouse and keyboard, how to open a program from the desktop and start menu, how to reach a website, and instructors will walk you through the process of creating your own email account.
June 19th-21st (5-7pm) – Resume Building with Word –
During these three classes, you will gain the knowledge needed for creating Word documents and building resumés.
June 26th, 28th (11am-12 noon) – How to Access & Search the Internet –
Come learn about the internet, search engines, how to find information on the web, and more.
June 25th (6-7pm) – Enter the Microsoft Office –
Want to know more about programs for making all sorts of documents and presentations? Become familiar with the basics of Word, PowerPoint, Excel and Publisher.
Other Programs
July 15th (6-8:30pm) – Summer Cinema: "Wonder Woman" –
Get in from out the heat and watch a movie! There will be snacks and refreshments.
June 18th, July 16th (6:30-7:30pm) – Adult Trivia Night –
Put together a team of two or more and come enjoy our trivia night. No team? Meet new teammates here.
June 23rd (3-4pm) – KoumanKe'le African Dance and Drum Ensemble –
The Rosenberg Library is proud to welcome KoumanKe'le, African Dance and Drum Ensemble. KoumanKe'le, a Texas based cultural dance company, is a dynamic and energetic performance troupe that presents traditional West, South, and Central African Dance and culture and its transitions in this country. Snacks and refreshments will be served.
June 28th (4:30-6pm) – Coastal Crafts with Perler Bead Coasters –
Perler beads make great coasters, or key chains, and you can get creative with the collection of designs, or create your own pattern.
July 18th – Wire Wrapping Jewelry with Annette Kinslow will be held.