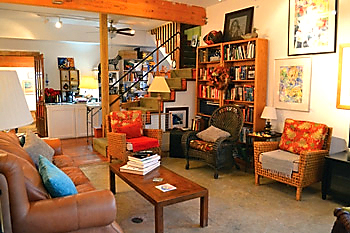 Written and Photographed by Sharis Roe DeJaynes
February is a month for love, and always a month for art! Exuding happiness, warmth, and class, artist Susan Tyler is truly in it for the love of art.
Painting since the eighth grade, Tyler adds "I studied art at Sam Houston back in the late 60's, lacking 3 hours of completing a BFA degree. I bowed to life's circumstances as they changed my plans and took me away from art as a career. While at Sam Houston I studied under Charles Pebworth, Harry Aschan, Stanly Lee, and Lois Streeter. Once I received formal education in art, I could never let go of my dream to paint. I am particularly interested in creating work that expresses emotion with color. Needless to say my teachers from Sam Houston greatly influenced me, but I am also struck by the mesmerizing use of light and color displayed in the work of the impressionists and post impressionists. My goal is not to become a great artist, but to paint for painting's sake. It lights my soul and gives meaning to my days."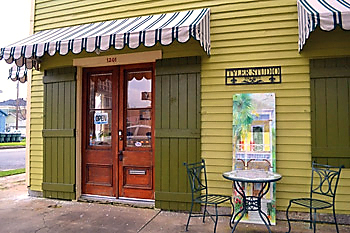 Tyler was born in St. Louis, Missouri. She has lived in the Houston area since 1967, and came to Galveston in 1997. She worked as a nurse at St. Joe's, and then came to UTMB as a Geriatric Nurse Practitioner. She retired as an Administrator from UTMB, after 20 years. Her grandmother, her late brother, and niece are artists as well. "It runs in the family," she said. Speaking about her grandmother, Tyler goes on, "in my mind's eye, she said 'paint a tree.' So I did, and painted the branches like brown sticks. She said 'No, Susan, paint the leaves.' She made me paint every little leaf. I still remember it. My grandmother was quite an artist. She painted all the statues for the catholic churches in the Riverside, California area…all those beautiful blessed mothers."
And what about showing her own art? Tyler Studio has always been a dream for Susan Tyler. Rather than continuing to show her work in other galleries, she opened her own studio and gallery. Not only to display her own art, her goal was to provide an environment to nurture fine art; providing all artists, writers and other creatives to meet and exchange ideas as well as display their work. She has succeeded. Tyler Studio was born and officially opened in January of 2014.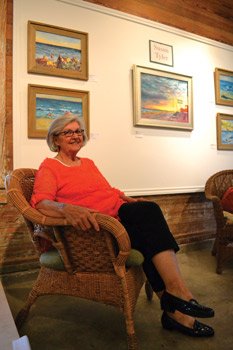 In March of 2013, Susan Tyler purchased the lovely building on the corner of 12th and Postoffice Streets, right across the street from the historical and well-known Purity Ice Cream building. Tyler purchased it from Dr. Avery, a psychiatrist at UTMB. Avery was also an artist and had done much to the space; it was his studio as well. Already set up, Tyler moved right in and opened Tyler Studio. She paints and lives there as well, with her partner and the sweetest rescued dogs (they'd paint too if they could). Her 1893 building was originally a pharmacy. With its original pine wood walls, it's a beautiful sight. Surviving many storms and 5.5 feet of water during hurricane Ike, the building's history and ambiance lends itself perfectly to displaying fine art.
Tyler always wanted other artists in the studio/gallery with her. She hand selects well-known local/regional artists to exhibit for specific shows and exhibits her own paintings as well. Local artist Sallie Anderson was Tyler's mentor in setting up her studio. Anderson displays her paintings and jewelry in the studio as well. Also, on continuous display is Tyler's late brother Michael's art, rounding out the beautiful collection of art on view.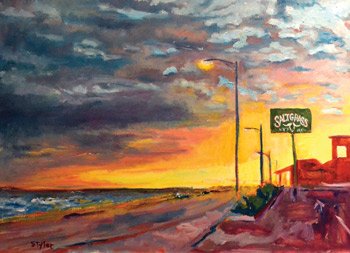 Yes, Susan Tyler is truly in it 'for the love of art.' Get on her mailing list and keep up with Tyler Studio events. Go enjoy Tyler Studio in person. Sit and have a chat, look through the gallery, get to know the artists, have a coffee on the beautiful patio outside, and of course, buy some art. The happiness, warmth and class in the building is palpable!
About Tyler Studio:
Tyler Studio is fashioned after the Parisian Gertrude Stein Salon of the early 1900s; a place where artists, writers and other creative people meet and exchange ideas, critique interpretations of art and display their work.
The current featured artist is Eddie Filer, with a display celebrating the achievements of African Americans. Filer has taught art in public schools, gives painting workshops, and is currently an adjunct art instructor at Galveston College. His show runs through February 20th. Other artists currently on exhibit are Ruth Downes, Michael Tyler, Sallie Anderson, Randall Cogburn, and Susan Tyler.
Every third Saturday of the month the studio hosts open model sessions for artists, for a nominal fee. Stay tuned for Poetry nights as well. The studio also participates in ArtWalk. Stay up to date and view current works by Susan Tyler and current gallery artists online via their website at www.tylerstudio.org or on Facebook at www.facebook.com/tylerstudio.org.
Tyler Studio is located at 1201 Postoffice Street. Normal business hours are Wednesday-Saturday, 2-5pm, and by appointment. For more info call (409)771-8371.