In Galveston, digging in the sand isn't just for building sand castles. Thanks to The Bucket Brigade program, sponsored by Artist Boat and the Galveston Park Board, the beach can be an exciting classroom where participants can learn about the important relationship between the coastal ecosystem and the people who visit it.
Join the fun at these free Bucket Brigade Interpretive Beach Tours and explore the creatures and features that make Galveston's coastal and marine ecosystems so special. Tours last approximately one hour and involve hands-on activities to give visitors an appreciation for Galveston's beaches. Bucket Brigade Tours explore questions such as: "Why is the water brown?" "How is sargassum a good thing?" and "How do I connect to the ocean?"
"In Galveston, the beach's ecosystem is teeming with life," said Artist Boat Executive Director Karla Klay. "We believe that the more the public knows about how humans are connected to the marine environment, the more likely it is they will become good stewards of it."
Bucket Brigade tours are offered Wednesday-Sunday throughout the summer. The 45-minute tours are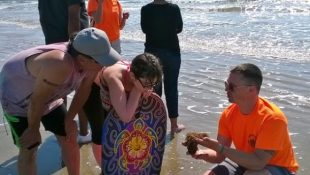 held at 9:30am, 10:30am, 11:30am, 1:30pm, 2:30pm, and 3:30pm.
Tours are offered at a variety of locations along Galveston beaches, including at Stewart Beach (Beach Patrol Tower 6) and 61st St. (Tower 61). Sign up is on location, with a maximum of 20 participants per tour. Larger groups are welcome with advanced notice. Those wishing to participate can sign up for a tour near the lifeguard station at the tour location, where you will see the Bucket Brigade Tours sign.
The Bucket Brigade, in conjunction with the Galveston Island Park Board of Trustees, provides free interpretive tours to beach-goers on Galveston Island. The Bucket Brigade's goal is to increase public understanding of the positive role of sargassum and turbid water in the marine and coastal ecosystems.
Bucket Brigade will also highlight the impact everyone can have on coastal ecosystems through marine debris and pollution, and has the potential to directly impact thousands of visitors including those from far away and right here in the Galveston Bay watershed. Tours last approximately one hour and involve hands-on activities to give visitors an appreciation for Galveston's different but not "dirty" beaches. Bucket Brigade is made possible thanks to a grant from the Texas Coastal Management Program through the Texas General Land Office.
More info can be found at artistboat.org/events/category/bucket-brigade or by calling the Artist Boat office at (409)770-0722.