300 Miles of Extreme Sailing at It's Best
Picture this: Waves crash as sailors hang on for dear life and hope that their ships don't topple over. White foam engulfs the vessels. This is no movie; it's a description of the very real events involved in the 11th annual Great Texas Catamaran Race, a 300-mile open-ocean catamaran race along the Texas coast from South Padre Island to Galveston.
Whether you are a sailor or someone who appreciates the beauty of sailing, this race is fun for all ages to watch.
"Organizers say the race, also known as the GT300, is the most challenging catamaran race in the world. Catamarans are two-hulled sailboats commonly referred to as Hobie Cats, and sailors battle rough seas and storms to simply finish the race. Only four of 16 boats finished the race in 2011. The others abandoned due to breakdowns and injuries. Three years ago, the event made headlines when a severe storm hit near Corpus Christi. Two catamarans were disabled, and the Coast Guard had to rescue some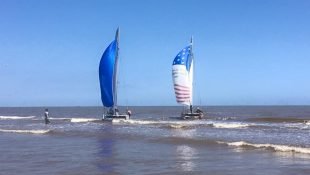 sailors. It's a race not for the fearful, and attracts top-notch sailors from around the country willing to take on offshore racing during the windy month of June," stated Sean Chaffin.
The Great Texas Catamaran Race is an off-shore beach catamaran race along the Texas Coast. Starting in South Padre Island and finishing in Galveston, the race will cover approximately 300 miles along the Texas coast over the Father's Day weekend. The race will be conducted in four stages with each stage starting and ending on the beach.
For site seeing, a stop at any of the locations below make for some of the best viewing of any of the race. Sailors will stop along the way. "The boats start and finish on the beach, so there is great action watching these boats starting from and coming back to the beach," says race founder and competitor Steve Piche. Expected places to view the boats along the Gulf of the race are:
Wednesday, June 14th – South Padre Island to Mustang Island (103 miles)

Thursday, June 15th – Mustang Island State Park to Matagorda (101 miles)

Friday, June 16th – Matagorda to Surfside (60 miles)

Saturday, June 17th – Surfside to East Beach in Galveston (40 miles)
The conclusion of the race and the awards ceremony as sailors finish up the grueling competition will begin around 2pm on Galveston's East Beach.
The Great Texas Catamaran Race is one of the premier long distance beach cat races in the country. This is distance racing at its best. In its 15th year and is again expected to attract world class racing teams. Awards for each class will be given in addition to the First to Finish trophy.
For more info on the race or to watch the live internet streaming, go to GT300.com.