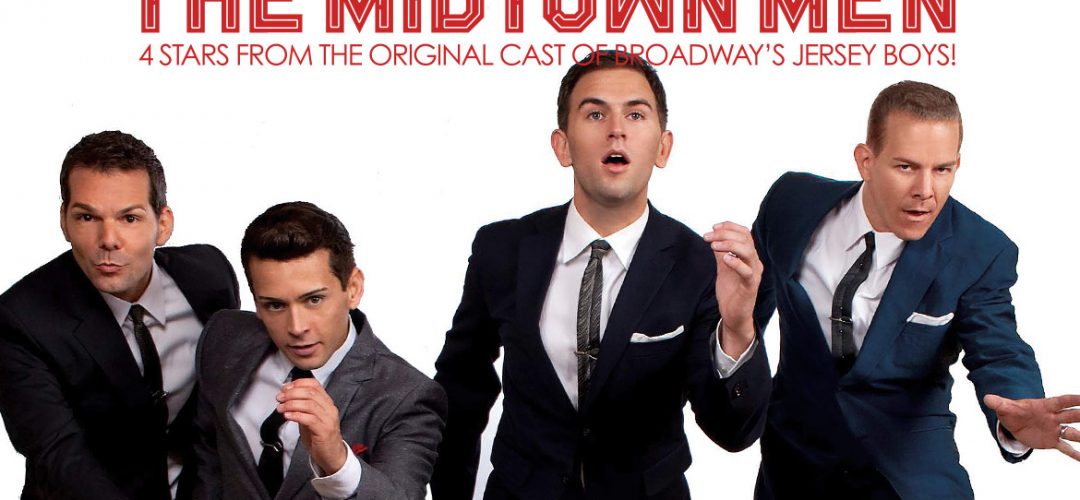 As a premier entertainment showplace for acclaimed international stars, iconic American artists, and celebrated regional performers, The Grand 1894 Opera House continues to produce an annual performing arts season that delivers "living in the moment" entertainment experiences that capture the imagination of its audiences.
Contact The Grand's box office at (409)765-1894, (800)821-1894, or visit The Grand at www.thegrand.com.
"The Midtown Men"
Saturday, April 29th, 8pm
This sensational production reunites Four Stars from the Original Cast of Broadway's "Jersey Boys." Tony Award winner Christian Hoff, Michael Longoria, Daniel Reichard, and Tony Award nominee J. Robert Spencer, star in this one-of-a-kind concert experience celebrating the music that defined the 1960's. Experience their lively renditions of timeless 1960's hits of The Beatles, The Mamas and the Papas, The Four Seasons, Motown, and The Beach Boys. More than just a tribute to a bygone era, their performance of your favorite 1960's hits will show you – or remind you – of what it was like to see those groundbreaking artists live onstage. This is not a performance of, nor affiliated with the show "Jersey Boys."

"ARTRAGEOUS"
Saturday, May 6th, 8pm
Art & Music Go Wild! Experience the excitement of watching a team of artists create giant paintings that spring to life at electric speed right before your eyes! Delight your senses with the spirit and action of amazing vocals, creative choreography, high-energy live music, and unforgettable audience interaction.
ARTRAGEOUS is a show for the entire family and the journey of a life-time!
Arlo Guthrie
Saturday, May 13th, 8pm
The career of veteran singer-songwriter Arlo Guthrie exploded in 1967 at the Newport Folk Festival, when he performed his quirky protest song, "Alice's Restaurant." The song was credited with helping to foster a new generation's commitment to social awareness and activism.
As a member of American folk music royalty, Guthrie relives those classic, inspirational songs and shares timeless anecdotes from a life campaigning for social justice.
This is sure to be a sell-out!
Clear to Partly Crazy
Saturday, June 24th, 2pm and 8pm
Announcing the premiere of Jaston Williams in his one-man show "Clear to Partly Crazy," where he holds forth on subjects all Texans understand: cheerleading, tornadoes, and certifiably insane blood relatives. Travel with him from grandstands to storm cellars to the occasional mental institution…laughing all the way!
Vince Gill
Thursday, June 29th, 7:30pm
One of the most popular and most recorded singers of the past quarter century, superstar Vince Gill has become the measure of excellence in country music. His vocal performances are spellbinding, his songwriting emotionally powerful, and his guitar-playing world-class. Gill, along with his top-notch band, will be performing at Galveston's Grand 1894 Opera House.
"Ezra Charles: The Story of Boogie Woogie"
Sunday, July 9th, 3pm
"Nobody doesn't like boogie woogie!" is Ezra Charles' jumping-off point, as he weaves the history of this bouncing, jiving piano format. Peppering the dialogue with his own stories of personal interaction with the Masters, he performs many of the most famous standards of this genre as he explains the relationship between Blues, Jazz, Ragtime, and what was originally called "Texas-Style Piano." Accompanied by his son Jakob on percussion, they recreate the excitement of this favorite piano sound from a century ago.
"Riders in the Sky: Salute to Roy Rogers"
Saturday, July 29th, 8pm
For more than thirty-five years Riders In The Sky have been keepers of the flame passed on by the Sons of the Pioneers, Gene Autry, and Roy Rogers, reviving and revitalizing the genre. And while remaining true to the integrity of Western music, they have themselves become modern-day icons by branding the genre with their own legendary wacky humor and way-out Western wit, and all along encouraging buckaroos and buckarettes to live life "The Cowboy Way!"
Dixie's Tupperware Party
Saturday, August 12th, 8pm
NBC's "The Today Show" exclaimed, "It's Not your Grandma's Tupperware Party" and with good reason. This hilarious one-person comedy has become one of the most successful off-Broadway tours of the last decade. Dixie Longate, the fast-talking Tupperware Lady, packed up her catalogues, left her children in an Alabama trailer park, and now travels across the US and around the world throwing good ol' fashioned Tupperware Parties.
2017 Summer Season Subscription
Select two or more of the Summer Season performances and create your own mini-subscription package.
Please note: The performances of ARTRAGEOUS (May 6th) and "Arlo Guthrie's Running Down The Road Tour" (May 13th) may be included in your Summer Package.