April Rosenberg Library Museum's Treasure of the Month:
Herbert Allaire Robertson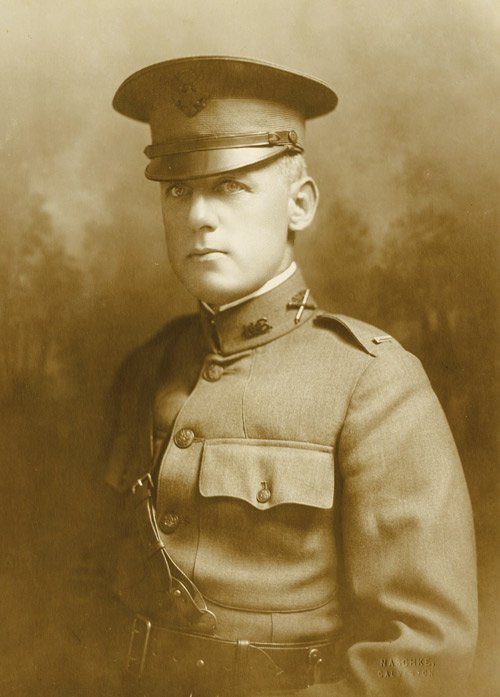 This month marks the 100th Anniversary of the United States' entry into World War I. Rosenberg Library honors Captain Herbert Allaire Robertson of Galveston as its Treasure of the Month and will exhibit items related to this fallen Galvestonian during April. The library will also open a larger WWI exhibit on its fourth floor on April 20th.
Born in Galveston in 1877, Herbert Allaire Robertson (1877-1920) was an accountant at Hutchings, Sealy & Co. bank for 25 years and was manager of the Galveston Clearing House Association. During the First World War, Robertson was appointed commanding officer of Supply Troop, Seventh Regiment of the Texas National Guard. He was tragically killed when a fellow Guardsman, Private J.C. Tyler, accidentally shot him at the Fort Crockett guard station. Tyler was on sentry duty during the early morning hours of July 31st, 1920. Captain Robertson was driving in his automobile when Tyler gave four separate commands to stop. When Robertson continued and passed the sentry, his vehicle was shot at in accordance with military policy.
Private Tyler was placed under arrest, although several witnesses testified that he had indeed given multiple warnings before firing his weapon.
Herbert Robertson's funeral took place on August 3rd at Trinity Episcopal Church where he had been a member of the choir. He was buried with full military honors by the American Legion Argonne Post No. 20. Robertson was a member of the Scottish Rite Harmony Lodge, the Sons of the American Revolution, and the Benevolent and Protective Order of the Elks.
More Info
The Treasure of the Month is located on the library's second floor near the East Entrance.It can be viewed during regular library hours, 9am-6pm Monday-Saturday. For more info contact the Museum Office at (409)763-8854 x 125 or go to rosenberg-library-museum.org.