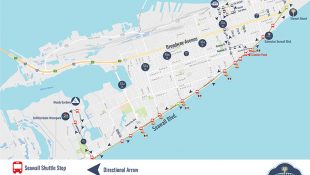 As we welcome summer on Galveston Island, the hours of operation for the Galveston Rubber Wheel Trolleys ("Galveston Trolleys") have been set for the 2018 summer season.
Current operating hours are as follows: Monday through Thursday, the trolleys will operate each day from 11 a.m. to 7 p.m. On weekends, Friday through Sunday, they will operate each day from 10 a.m. to 10 p.m.
Beginning Memorial Day through Labor Day, the Galveston Trolleys will return to their peak season hours of 10 a.m. to 10 p.m. seven days a week.
As a reminder, the fee to ride is $1 for adults, while minors who are accompanied by adults can ride for free. Riders will need to bring exact change to place in the fare box; drivers do not have the ability to make change for riders. The trolleys pass each stop on the trolley route every 30 minutes. Those interested in utilizing the service can visit the website at www.galvestontrolley.com for a complete list of stops, and the history of trolleys on the Island.
INTERESTED IN RIDING?
We look forward to seeing you and your family use the Galveston Trolley. Please keep the following in mind when you make plans to ride:
Fee: $1 for adults, minors accompanied by adults ride free

CASH ONLY: Please bring exact change to ride

Stops will take you from Stewart Beach along the Seawall to Moody Gardens as well as down 25th Street to numerous stops throughout our historic downtown

The Galveston Trolley runs Monday through Thursday from 11 a.m. to 7 p.m. and Friday through Sunday from 10 a.m. to 10 p.m. from now until Memorial Day, with the exception of the holidays mentioned above. From Memorial Day to Labor Day, the trolleys will run from 10 a.m. to 10 p.m. daily.

A list of stops can be found online at www.galvestontrolley.com