American Hero's Week –

Every day, August 13th-19th, is American Hero's Week at Schlitterbahn Waterpark. The park is open 10am-7pm daily.
Members of the Military, Veterans, Police, Firefighters & EMTs are admitted FREE!
Tickets for spouses and dependent children are available for 50% off the gate price. Just bring a valid military/employee ID to the ticket window on the day of your visit to take advantage of this exclusive offer.
---
Schlitterbahn Waterpark Galveston is the hottest, coolest, and most thrilling destination for your family. You will be thrilled by the large collection of thrilling water slides, wave rivers, and water coasters. There are also longer, more thrilling slides, and zip lining. There is always free parking, free tubes, and picnics are welcome.
There is free parking, free tubes, and picnics and coolers are welcome. Tubes are always free.
A one-mile river connects three distinct sections of Schlitterbahn in Galveston. The water park is home to four high thrill speed slides including Rohr!, Cliffhanger, and the immersive Screaming Serpents body slide.
Surfenburg has raft rides and water coasters with great picnic pavilions and the Tiki Tikes.
Bahnzai Pipeline, three intermediate water flumes, twist and turn through curves and tunnels before landing in the splash pool. These three body slides are fun for guests of all ages.
The world's TALLEST water coaster MASSIV Monster Blaster can be found in the Blastenhoff section with a wave pool, Shipwreck Harbor, and a swim-up bar.
Grab a bodyboard and surf ocean-like waves. A rapid moving sheet of water rushes across a soft, wave-shaped surface creating an endless wave to ride. Guests at the park surf Boogie Bahn any operating day, and professional surfers challenge the wave during the Boogie Bahn Classic surf competition.
On the Cliffhangers, you can freefall from a height of 81 feet and reach speeds approaching 40 mph. This high thrill freefall body slide is located in Blastenhoff.
Dragon Blaster water slides you can experience the up and down thrills of a roller coaster on two different slides that utilize the patented "Master Blaster" technology to propel riders uphill with jets of water. Drop 20 feet then race through a series of dips, tunnels, twists, and turns.
On the blue twisting Faust and Furious, you can swish from 60 feet in the air through a steep spiral down two 300-foot speed slides for the ultimate downhill race.
Guada Loopy Water Slides lets you can hop in a tube from 40 feet in the air to begin a 390-foot journey in the dark on two twisting enclosed tube slides.
The famous Kristal River is a traditional lazy river float through calm waters and currents around the entire Surfenberg area. This endless river connects to Whitewater River and Torrent River and is part of the Transportainment River System, which allows guests to float throughout the entire park without ever leaving the water.
If you want something a little more thrilling, move to the Torrent River where you will journey through a tidal wave river where giant waves break around every corner as you travel around the entire Wasserfest area.
Most thrilling of all, is the river Whitewater River. Ride up the Aquaveyer™ to begin a thrilling river tubing adventure through rapids and whitewater.
Screaming Serpents rides are a water slide where you swish back and forth as you slide through the bellies of two giant sea serpents. Fog, sound and light effects make the ride a totally immersive experience that ends with a splash as you exit through the 8-foot-tall fanged mouths of the creatures.
Schlitterbahn Waterpark park is open daily through August 26th. Tickets can be purchased at the gate or in advance. For more info, ticket, and a full list of events go to schlitterbahn.com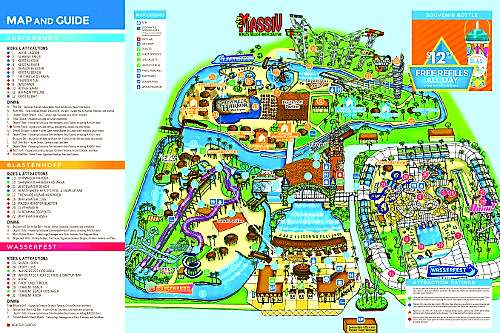 Be sure to bring in the ad in this edition of "Island Guide" for a discount!