Painting Her Soul
By Terry Card
What makes the René Wiley Gallery successful?
Located at Postoffice Street and 22nd, Galveston's renowned attraction, the Artwalk, draws thousands of people every 6 weeks to the galleries that line Postoffice Street.
The location helps – but what really makes the René Wiley Gallery so successful – is René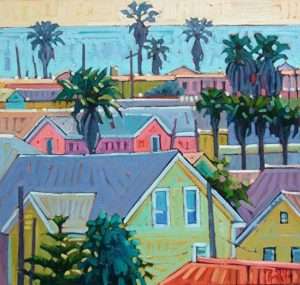 Wiley. She paints with her soul. Her distinctive style developed as she says "by putting stuff in that means something to me – taking out the unnecessary – and discarding the advice of others, including teachers." The use of  geometric patterns of light ingrained into her Galveston landscapes combines with her use of warm colors for the background, especially orange, which she overlays with cool colors. Her use of complementary colors and the thickness of her brush strokes create a very vibrant color palette.
The business end of the gallery is run by her husband, Captain Ben Wiley. As their children say "Daddy can run the business, but he can't paint. Momma can paint!"
And oh, how Momma can paint!
René told a story about a longtime childhood friend who now lives in Louisiana. René's friend was telling René about a new friend she had over to her house, and as soon as the woman walked into the living room she stopped dead and exclaimed, "Is that a René you have on your wall? Oh my God, is it an original?" The woman could not believe it when René's friend showed her five other originals she had, until she explained about their longtime friendship.
René was astounded that the woman knew her paintings. Ben was not surprised, since they have buyers from all over the world.
René was born in Houston and attended Sam Houston State College in Huntsville ,majoring in Art with a minor in nutrition. Her mother was an impressionist painter so René comes by her painting talent honestly. Her father was a businessman.
Ben was born in Austin and moved from there to Houston/Pasadena . After studying electrical work he became a contractor. This was followed by a stint in the car business. By 2000, after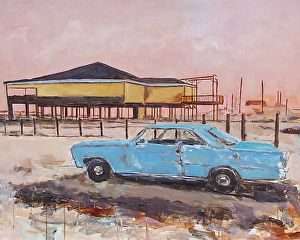 becoming a fishing guide on a part-time basis he formed a partnership with a priest, bought a boat and went into the fishing guide business full time. For this reason the Wiley family moved from Conroe to Sea Isle on Galveston Island. After opening the gallery, they decided to move into the city in 2012 to a house on 18th Street. Then three years ago on René's urging, they bought a farm house on 2 acres in Hitchcock close to their family, which they are currently renovating.
The gallery opened in April 2009. Prior to that, René showed her work by placing it on consignment with other galleries in Galveston. Standard practice is a 50/50 split with the gallery on any paintings sold. After Ike, the Pilate Studio that had occupied the space did not Renéw their lease, so the owner, Mr. Brown, who wanted a gallery to lease the space, came to a long term agreement with René and Ben. With the help of the owner, they renovated the space and opened for business. Initially, René tried to make the gallery her studio, but after a month, René's mom got sick, so René moved her studio to Hitchcock, to paint and look after her mom. At this point, Ben retired from his business and took over the day to day running of the gallery.
René, who is a prolific painter, had hundreds of paintings ready for sale on opening, and Ben said that because of that, the gallery made one year's expenses in the first month. Most of their sales are to first, second and third time homeowners as well as to those who have a second home in Galveston. Ninety-five percent of clients are René Wiley collectors of her original paintings as well as giclee prints of her paintings. In addition the Gallery supports many local charities by donating paintings for auction. On occasion she also does commissioned paintings, like George Mitchell's portrait.
ArtWalk is, in René's opinion, a Two Thumbs up event for the Gallery. René spends six weeks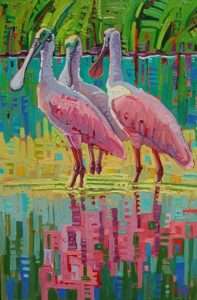 painting a new show before each ArtWalk. ArtWalk creates a deadline for her, which she finds to be a good energizer. She paints all day every day for ten months of the year before taking two months off to spend time with her children and grandchildren, most of whom live close to her in the Hitchcock area. As Captain Ben says about his wife, "she paints thousands and thousands of hours. In addition to being a hard worker, she is very humble and as the song goes – she doesn't know she's beautiful. Just don't tell her anything you don't want others to know, because she can't keep secrets. And the grandkids all fight to be with her."
The other artists who show at the gallery have been with them since they opened. There are, of course their daughters Rachel Wiley-Janota and Samantha Wiley, plus James D. Phillips, Brenda J. Bunten-Schloesser, Darlene Wall and Dale Hooks. Each works in a different medium but they are all very good at producing works that sell. As Ben says, they are a gallery – not a museum.
Ben not only runs the gallery, he is involved in all aspects of the business, including advertising. Their program is cumulative, not one off. They advertise in the same magazines every month and every year, providing different paintings for publication each time. They also have a website and Facebook page.
For René, there are certain memories of her work that stay with her. Her mother, also a painter, encouraged her, but because of their very different styles, René was pleasantly shocked when one day her Mother bought an original abstract painting she did of birds. Her mother had never bought anything of hers before. They made a giclee print of the painting for René's sister-in-law and an extra one they hung in the gallery. Within two hours of hanging the print, two women from very different walks-of-life entered the gallery. The poorer lady said that if she had the money, she would buy the print immediately. "It speaks to me!" The rich lady had the exact same reaction. It meant a lot to René that two people of very different backgrounds could love her art with the same passion.
René Wiley Gallery is located at 2128 Postoffice Street and is open every day from 11am to 6pm. For more information, phone 409-750-9077.