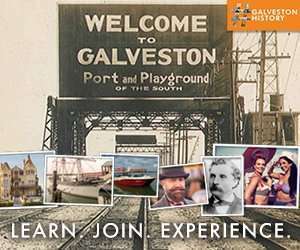 Affaire d'art: A Growing Creative State
By Tammy Thomas-Cooke, Photos by Christa Schreckengost
Affaire d'art never fails to impress, their elegant, stark white façade and crystal clear windows make the perfect frame for the art within; it's rotation of installations keep it new and fresh year in and year out.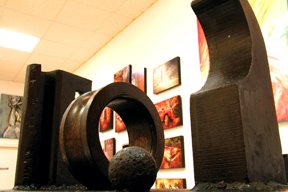 The current installation is a collection named "Figures," with some of the pieces subtly embodying the theme, i.e. "Spooning" oil painting by Sharis DeJaynes. With pale pastels and neutrals gently undulating and swaying on the canvas, a casual observer might have the impression that this was a painting of waves on the shore, but upon further inspection, the tenderness and warmth of lovers in repose, delicately whispers its name.
A few steps away another nude by DeJaynes "Once in a Blue Moon" graces the wall; this one is painted in luxurious blues and blacks.
The oil "Rouge" by Alicia Boles leaps from the canvas in a riot of red, the figure painted with the confidence and energy that matches the young artist. Alicia Boles is primarily a photographer, but her paintings speak volumes of the pent up energy that only an artist could convey.
There are many more styles of art on display such as the breathtaking mixed media, "Ethiopian," a haunting depiction of a woman in thought by Veronica Dyer.
Pastel offering by Carolyne Ratliff, "Farmer's Market" quietly hangs amid all the chaos of color, yet holds its own because of the artist's use of shadow and light.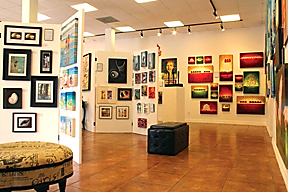 Sculpted figures balance on tall columns, from the reclaimed metal, minimalist works by Jim Adams to the ceramic, "Withering Liberty" by Natasha Gallagher.
Mosaics and photography pieces are scattered throughout the gallery. Of particular interest is the triptych by Galveston artist, Irene Amet entitled "Bird Mirror."
Statement jewelry pieces complete the tour of the gallery. One of a kind, handcrafted wearable works of art are available at surprisingly reasonable prices.
Recently Affaire d'art has been sold by Sharis DeJaynes and purchased by Alicia Boles and Nikki Thompson. Boles has been the assistant manager of the gallery since January 1, 2014 and together with Thompson purchased Affaire d'art effective the end of April. The gallery will continue to operate under the same name, business philosophy and location.
In January, 2012, Sharis DeJaynes opened Affaire d'art, to expose and market local, national and international artists. "Dreams do come true! The gallery's growth since inception has exceeded expectations. The talent the gallery has attracted and represents, as well as the public's glowing approval has been phenomenal," said DeJaynes.
The gallery exhibits a diverse group of original fine art from qualified artists from 10 nations of the world, including works from local Galveston artists, artists from across the State of Texas and other distant states. Forty-six artists are proud to provide a striking multidimensional collection of art for discriminating art collectors and art enthusiasts.
"I could not be happier transferring one of my dreams to Boles and Thompson. Their energy and enthusiasm, involvement in the art community and their combined business expertise will ensure the gallery's continued successful creative venture and enhance Galveston's art community. I have the utmost faith in and regard for Boles and Thompson, and will continue to support them in any way I can," says DeJaynes.
"This is such an exciting time for us. It has been a dream of ours to open a gallery in Galveston and bring our community together through art. We are truly blessed by this opportunity to bridge various artist communities and provide its artists greater exposure to new markets. We look forward to seeing this dream through to fruition," says Boles and Thompson.
DeJaynes looks forward to renewed focus on her own art, among her many other endeavors. Paintings, books and other works by DeJaynes will continue to be on exhibit at Affaire d'art.
All in all, Affaire d'art International Fine Art Gallery is a must see anytime and every time one happens to be in Galveston.
Affair d'art
2227 Postoffice St., downtown Galveston
(409)789-0079
affairedart.com