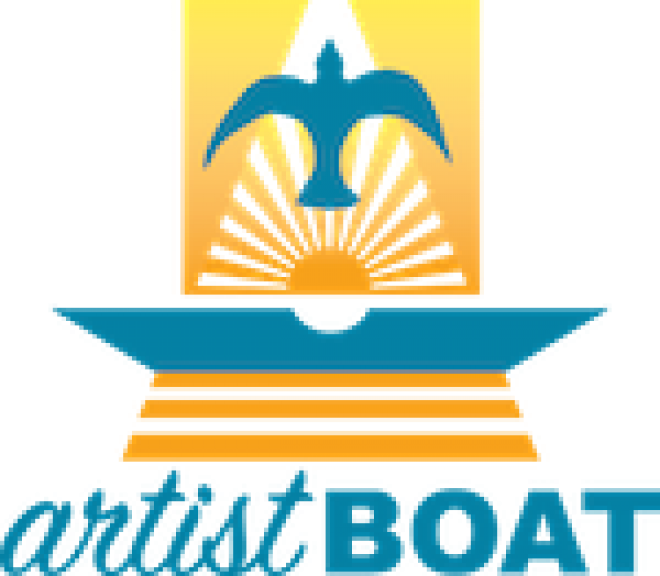 Artist Boat's purpose is protecting our Gulf Coast through land conservation and with fun, educational, inspiring adventures that spark creativity, awareness, and action.
Since its inception, over 100,000 participants have helped bring 40,000 students to estuaries by kayak, foot, or vessel; created over 50+ public artworks; conserved over 600+ acres on west Galveston Island forming the Coastal Heritage Preserve and creating a place for the future Gulf Coast Environmental Education Center; restored over 50 acres of dunes and prairies to assure recovery of these ecosystems following Hurricane Ike; formed the Bucket Brigade comprised of a Marine Debris Task Force; conducted interpretive tours; and beautified buckets for trash, recycle centers, and more on Galveston beaches.
For more info call (409)770-0722, email residency@artistboat.org, or go to artistboat.org.
Kayak Tours
Several different kinds of kayak tours are available. Kayak tour schedules are available at artistboat.org.
Eco-Art Kayak Tours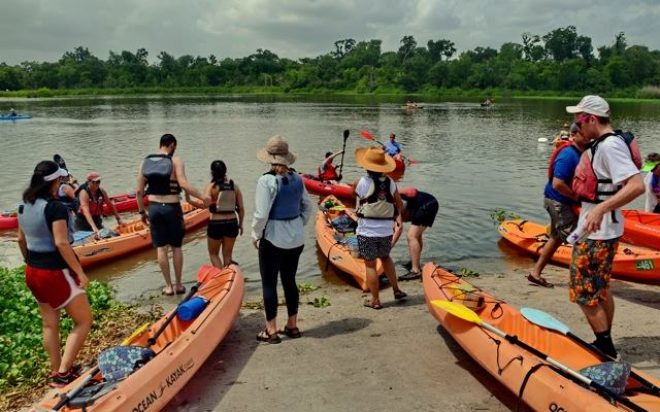 Artist Boat Eco-Art Kayak Adventures take participants on guided tours of some of the most beautiful places along the coast of Galveston Bay. During your adventure you will discover that the coast is unique, beautiful, and alive from the seat of your kayak!
Your guides are knowledgeable scientists and artists, and through their watchful eye and guidance, you can discover myriad bird and fish species as you glide along the water's surface. Take a break from exploring marshes, seagrass beds, and rookery islands to learn watercoloring techniques, interpret our ecosystems' natural processes, and create a plein-air watercolor painting. Never painted before? Not to worry, we'll teach you everything you need to know, provide all of the art supplies and a short demonstration of watercolor techniques.
Eco-Art Kayak Adventures are perfect for the entire family or for group activities. Private group trips are also available. Ages 5 and up do well on a 2 hour adventure and ages 7 and up are recommended for the longer 4 hour tour.
Coastal Heritage Preserve
Explore restored and natural marshes protecting one of the most pristine examples of a coastal prairie complex on Galveston Island. Galveston Bay is a unique place in the nation where the Trinity Bay meets the Gulf of Mexico.Participants will come away with a deep understanding of the dynamic methods used to restore and conserve habitats on the Upper Texas Coast.
Christmas Bay Coastal Preserve
A place for the adventurous as well as the romantic.  This bay hosts the largest area of natural seagrass beds in Galveston Bay. Relax while you slowly drift to witness long legged waders.  
East End Lagoon
An easy paddle in natural wetlands adjacent to the entry of the 2nd largest port in the United States.   Enjoyed by locals and visitors alike, practice your paddling skills as you explore the area's black mangroves. Be on the lookout for shorebirds and the hundreds of species of migrating birds that can be found at various times of the year.
Cypress Swamp
An area of the lower Trinity River offers mystery and mazes in 20,000 acres of brackish and freshwater marshes, as well as bald cypress trees.  Among tall trees once harvested to build homes on Galveston Island, one might witness sleeping owls, resting bobcats, and sunning alligators.
Armand Bayou Nature Preserve
Armand Bayou is home to more than 370 species of birds, reptiles, and amphibians. It lies along the Central Flyway, the largest migratory bird route in North America, and is home to dozens of alligators.
You'll enjoy a kayak paddle lesson before your Kayak Adventure Tour, a watercolor lesson during break and observe birds, fish, and other wildlife in their natural habitat throughout.
Other Events
Sea Citizens Orientation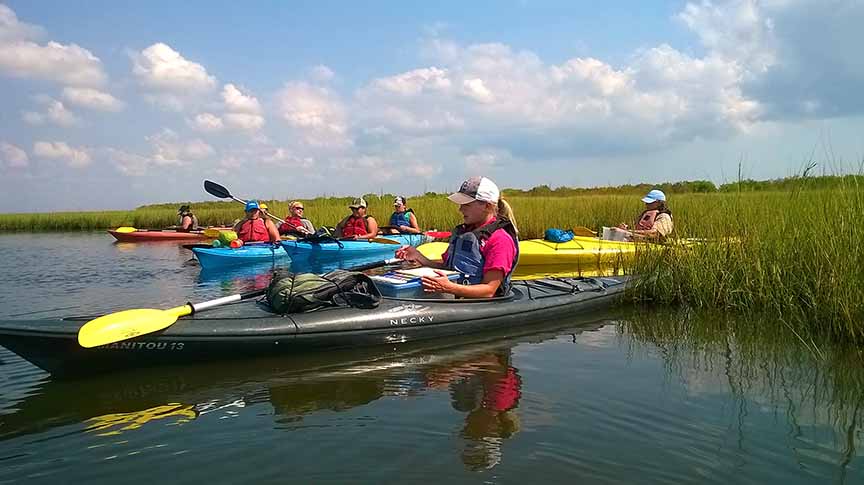 Where's your heart? Sea lover? Land lover? Bird lover? Join Artist Boat for their upcoming Sea Citizen Orientation! Sea Citizens are Artist Boat's team of dedicated volunteers who help make Artist Boat's mission and vision a reality. Sea Citizens are volunteer leaders, taking a more active role in Artist Boat programs than coming to a single volunteer event. Whether your interest is in restoring habitat, educating the public with Bucket Brigade or Public Kayak Adventures, helping with events and outreach, or helping with the day-to-day tasks that keep Artist Boat's office running, there is an opportunity for you. You can help protect the beautiful Gulf Coast and Artist Boat's naturalists can show you how.
Sea Citizens Orientations are March 17th, April 12th, May 26th, June 9th, August 11th, and October 11th at 9-11am. Orientations are held at the Artist Boat office, 2627 Avenue O in Galveston.
Volunteer Workdays at the Coastal Heritage Preserve
Make your mark on the Artist Boat Coastal Heritage Preserve! At a Volunteer Workday you can help preserve and restore the native coastal prairie ecosystem. Activities might include planting native grasses, laying down seeds, taking care of our native plant nursery, removing or treating for invasive species, and more. Events are open to the public but you must RSVP to the Habitat and Stewardship Program Manager, stewardship@artistboat.org,  in advance to participate.
Workdays are March 15th, April 5th, 14th, 19th, and May 3rd, 17th, 9am-12 noon.
ACA Kayak Instructor Development Workshop
March 14th-17th, The American Canoe Association Kayak Instructor Development Workshop (IDW) will be hosted by Artist Boat at the TAMUG Sail Team Center in Galveston, Texas.
Level 2 Certification is the main focus, but Level 1 Certification can be attained. There is also an opportunity to achieve Level 3 Skills ("Rolling Class"), with an additional day and fee. Please call the Artist Boat office for more details. The IDW is designed to teach participants how to instruct others on proper paddling techniques and perform rescues. Following successful completion of the course, participants will have professional kayak training and be certified instructors with the American Canoe Association. Pre-registration is required. Call (409)770-0722 for more information and to register. You can also email Amanda at arinehart@artistboat.org.
You will learn to perform paddling skills consistently with demonstration quality, demonstrate effective teaching skills, demonstrate technical knowledge of paddlesport, demonstrate appropriate safety and rescue ability, and demonstrate effective group course management and positive interpersonal skills.
Eco-Art Spring Break Camps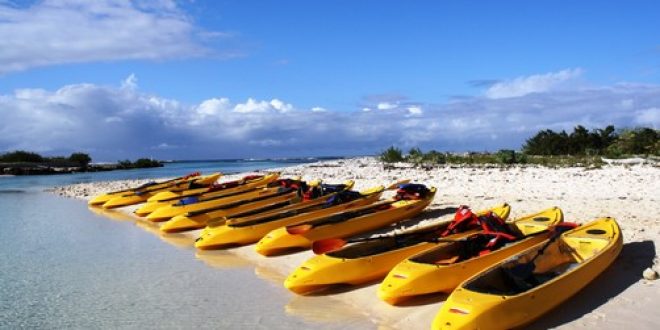 Spring Break Camps will be held March 11th-15th.
Join Artist Boat for Spring or Summer Adventures! The Eco-Art Residencies programs are delivered to students through after-school programs, summer programs, or during the school year, with the end result being a work of art that demonstrates the knowledge gained during the program. The scope, scale, and price of the residencies are customized for the needs of the campus community. Residencies have culminated in the creation of small take-home projects and large murals, mosaics, and native scapes that become permanent installations on campuses, serving as learning legacies for years to come. Residencies utilize STEAM-based learning and Social-Emotional Learning strategies. Artist Boat has won national recognition for its educational programs and is a leader in outdoor educational experiences for small groups led by scientists and artists.
Call Artist Boat at (409)770-0722 to book your program or email arinehart@artistboat.org. Also, you can go to artistboat.org/eco-art-camps for details.
Beautify the Bucket Spring 2019
With approximately 150 beautified trash barrels already on Galveston beaches, the latest competition adds to Artist Boat's public art efforts to encourage people to throw their trash in the can, not the sand. The Beautify the Bucket Competition is designed to allow citizens to take an active role in beautifying Galveston's beaches in a way that also encourages better stewardship behaviors in others. Anyone can participate: individuals or groups, children and adults alike.
All barrels in the Spring 2019 competition will be displayed and judged on Saturday, April 13th from 8am-12 noon at Menard Park in Galveston. Winners will be announced at 12 noon, and you can come out to view all barrels and vote on your favorite!
Registration is open now. Find Beautify the Bucket Registration forms, pick up dates and deadlines at artistboat.org/beautify-the-bucket.
Beach Clean Up Day
Make a morning of it ! Join in on the Beach Clean up April 13th by registering with The General Land Office at glo.texas.gov/adopt-a-beach/index.html.
Oceans Day June 8th: Start Collecting Trash for Art Now
As part of the Artist Boat World Oceans Day Festival, Artist Boat is hosting a Marine Debris Art Contest, June 8th, open to ocean-lovers of all ages!
Create your masterpiece with the medium of your choice and utilizing aquatic trash that has been taken out of our waterways. Highlight the need for proper disposal of trash and the impact we have on our ocean.
Stay tuned to learn more about the Art Contest and Festival. They are adding information to the website as it unfolds.  
Support Artist Boat Just By Shopping at Kroger
Choose Artist Boat as your organization to support as part of Kroger's Community Rewards Program and support Artist Boat just by doing your normal shopping. Simply visit kroger.com and create an account with your Kroger Card. On the Community page select Artist Boat with its NPO number 49997 and you are set!  If you have the Kroger App, click "more and "community rewards", enter "Artist Boat" and you're in! Thanks for taking the time to do this.