Bird migration season and cooler temps are in full swing on the Island, and Artist Boat is inviting you to add a unique coastal experience to your fall adventures!
Happy Fall ya'll! It's a deal you can't pass up. This is a $75 savings to use towards the purchase of a 4-Hour Eco-Art Kayak Adventure.  From now, until October 31st, you can Buy One Eco-Art Kayak Adventure, Get One Eco-Art Kayak Adventure Free. You may choose any 4-hour trip listed on the calendar, through Dec. 15th, 2019.
Biologists and artists will guide you through these coastal estuaries teeming with wildlife to learn all about the Texas Gulf Coast up close and personal in a human-powered vessel. You'll receive a free paddle lesson, learn to plein-air watercolor, and take home a little piece of Galveston. We have all your gear. No experience necessary.
Artist Boat is a regional leader in public-eco-art to inspire people to conserve our Gulf Coast. Eco-art is any form of art with an ecology theme that raises awareness about environmental issues and protection.
HOW TO REDEEM
Follow the instructions below to take advantage of this offer now and add an Eco-Art Kayak Adventure to your Fall Fun.
You must purchase your 4-hour Eco-Art Kayak Adventure by 11:59pm on Thursday, October 31st to enjoy your adventure between now and December 15th, 2019. Pick any 4 Hour Eco-Art Adventure listed on the calendar.
After you've entered all of your information, you will be asked to Please Review your information. Mid-page, to the right of Your Order, select COUPON, from the VOUCHER TYPE drop down menu and enter CODE: BOGO4FALL and Click Redeem for this Special Limited Time Offer.
If you have any concerns or challenges with signing up, please give s a call and we'll help you out. (409) 770-0722. We can't wait to see you!
Click the button below to register.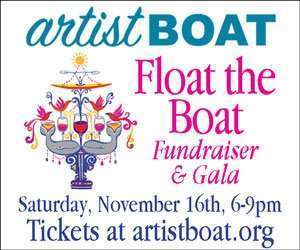 Party like a Rock Star with Artist Boat
As Artist Boat marks its 16th anniversary, a warm welcome is extended to the community to join us in honoring the West Galveston Island Property Owners Association at Float the Boat, Artist Boat's annual fundraiser and gala. Held at The Trolley Station on November 16, 2019, this year's theme is "Shapes of the Sea".
Artist Boat promises: To protect our Gulf Coast through land conservation and fun, educational, inspiring adventures that spark creativity, awareness, and action.
With your support, Artist Boat is able to preserve land, educate youth and improve resiliency in the Galveston-Houston region:
Invested $11,500,000 in grant funding to conserve 690 acres of coastal prairie, salt marsh and wetlands on Galveston Island's West End, forming The Coastal Heritage Preserve
Engaged 152,752 people in the Galveston-Houston region with unique coastal adventures
Beautified 70 Galveston Seawall benches teaching us our natural history with fun and informative artwork
Educated 90,279 students and teachers who have benefitted from hands-on learning taught by Artist Boat's professional artists and biologists, connecting them to the marine environment and their coastal heritage
Engaged 10,909 learners in restoring over 70 acres of coastal prairie and dunes
Giving to Artist Boat changes the world! Tickets are $125 for reserved seating and $85 for standing room only.
All guests enjoy a gourmet plated dinner, beer, wine & signature cocktails, live & silent auction, live music, an ocean-themed masquerade costume contest and more.
Purchase tickets online at https://www.artistboat.org/float-the-boat/ . Unable to attend but still want to contribute? Purchase a kayak raffle ticket or make a donation online.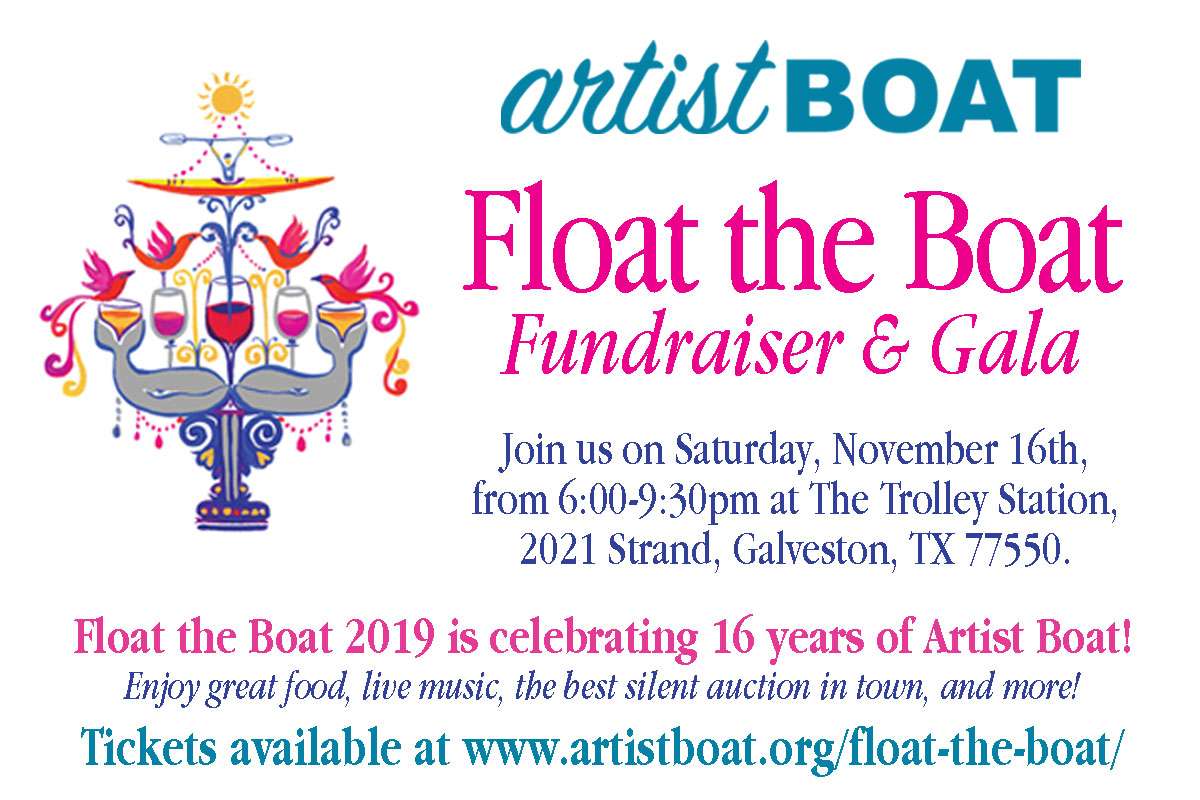 Artist Boat is a non-profit organization providing hands-on, minds-on, and feet-in experiential learning for people of all ages through Eco-Art Programs that allow them to interact and learn about marine and coastal environments. Programs take place in kayaks, aboard vessels, by foot, on campuses, in classrooms, and in places of natural significance.
Artist Boat's mission is to promote awareness and preservation of coastal margins and the marine environment through the disciplines of the sciences and the arts. Artist Boat hosts a variety of activities throughout the year including kayak adventures, youth programs, and more.
Artist Boat has won national recognition for its educational programs and is a leader in outdoor educational experiences for small groups led by scientists and artists.
Holiday Break Camps
Artist Boat protects our Gulf Coast through land conservation and fun, educational, inspiring adventures that spark creativity, awareness, and action. Art meets science in these Artist Boat's Eco-Art Camp sessions. Campers will experience true science and art enrichment with the creation of Eco-Art. Each camper will create high-quality art projects which illustrate all that they have learned throughout the camp. Children can take half-day or full-day classes. Eco-Art Camps are open to students age 5-12 years.  Cost is $40 per half-day, $80 per full-day camp sessions. Registration required at artistboat.org/eco-art-camps/. Classes are:
December 23rd: Whale of a Time (9am-12 noon) and Fish Frenzy (1-4pm)

December 26th: Shark Mania (9am-12 noon) and Off the Deep End (1-4pm)

December 27th: Marine Inverts (9am-12 noon) and Fish Frenzy (1-4pm)

December 30th: Whale of a Time (9am-12 noon) and Shark Mania (1-4pm)

December 31st: Off the Deep End (9am-12 noon) and Marine Inverts (1-4pm)

January 2nd: Fish Frenzy (9am-12 noon) and Whale of a Time (1-4pm)

January 3rd: Shark Mania (9am-12 noon) and Whale of a Time (1-4pm)
Kayak Tours
Several different kinds of kayak tours are available. Kayak tour schedules are available at artistboat.org. Eco-Art Kayak Tours, Coastal Heritage Preserve, Christmas Bay Coastal Preserve, East End Lagoon, Cypress Swamp, and Armand Bayou Nature Preserve tours are available. For a daily schedule of available tours go to the website.