---
By Rob Lucey
Being on an island, we are surrounded by water. With warm weather here, it can be nice to jump "in" the water, but sometimes you'd rather get "on" the water. For those who don't own a boat, all is not lost. You can still gain that crucial floating fix by crewing, renting or chartering.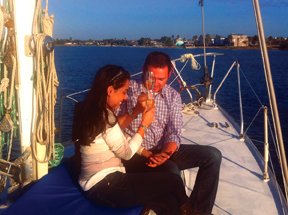 Down with FWB
Your best option for a bit of float time is what's known as FWB – Friends with Boats. Most boat owners are looking for a good excuse to cast off their dock lines. In fact, many feel guilty having invested so much in their boats only to see them spend way too much time sitting in the slip, on a trailer or gathering dust in a garage.
So be the excuse they're seeking.
You probably know a boater – or more likely several. According to the U.S. Coast Guard's National Recreational Boating Survey, 13.1 percent of Texas households own a boat, and that rate is higher in coastal areas. Ask around your social network and find out who those boaters are.
Once you've honed in on your target, simply engage him or her in a conversation about their pride and joy. Boaters never tire of talking about their boats. As the conversation winds down, if they haven't already invited you for an outing, just drop the subtlety and ask, "So when are you going to invite me out on your boat?"
After you've scored that invite, follow a bit of etiquette. On any boat, ask what you can bring. Snacks and beverages are often welcome. If you're heading out on a powerboat, offer to pay for fuel. On many boats, black soled shoes are a no-no, since they can leave marks on the deck. Ask about this and any other considerations before you head for the water.
Understand whether you'll be a passenger there to enjoy the ride, or a crew member. If the latter, offer to help as much as possible and request clear instructions. Uncleating a dock line is fairly simple, but hauling or slacking sheets and halyards on a sailboat requires a bit of knowledge. The more knowledge you gain, the more likely it is you'll be welcomed on future outings.
Join the Club
If you don't already know a boater, consider joining a boating organization. Most welcome non-boat owners.
The laid back Galveston Boat Club (www.galvestonboatclub.com) was formed in 1927 as the Galveston Outboard Motorboat Club, but quickly grew to include sailing and rowing boaters as well before changing its name. In the mid-50s, GBC purchased its land at 7002 Ave. O where it has built a clubhouse with a pool, playground and, of course, boat storage sheds, a boat ramp and docks extending into Offatts Bayou.
For a more formal experience, cross the Causeway and head to the Clear Lake area where several clubs are located, including the Houston Yacht Club (www.houstonyachtclub.com) and Lakewood Yacht Club (www.lakewoodyachtclub.com), host of the Harvest Moon Regatta sailing from Galveston to Port Aransas each October. Members of these clubs are always looking for eager crew to tend lines or serve as ballast on the rails during regular sailing regattas. A commitment to learning the ropes earns more sea time.
For some, the waves on the bay on a windy day are a bit extreme. If a bit of exercise on the lake is more your style, consider joining the Bay Area Rowing Club, based out of a boat house in Clear Lake Park (www.barchouston.org).
Or boating could be an opportunity to meet members of the opposite sex. The Texas Association of Single Sailors (www.sailtass.com) has weekly social meet-ups and frequent outings from Galveston, Kemah and Houston, as well as opportunities for sailing lessons and regattas.
Rental Options
When FWB fails, you can still get onboard by spending a few dollars. The friendly folks at Caribbean Breeze Boat Rental
(www.galvestonboatrentals.com) have been getting people on the water since the company launched in 2002. General Manager John Wilson says they moved from their original location on Offatts Bayou to the Galveston Yacht Basin, 715 N. Holiday Dr., a couple of years ago. They now operate six pontoon boats and six traditional v-hull fishing boats ranging from small vessels suitable for a couple up to a party boat big enough for 14 people.
"Renters either need to have some experience driving a motorboat or we offer a basic lesson which puts people on the water in the boat they're going to be in for 30 minutes before they rent," Wilson says. "So there's no excuse for someone not to get out on a boat."
Rentals start at $160 for two hours plus fuel and taxes. The training for novices is $50. If the thought of a crash course in boating is too daunting, the company does have licensed skippers available to take parties out.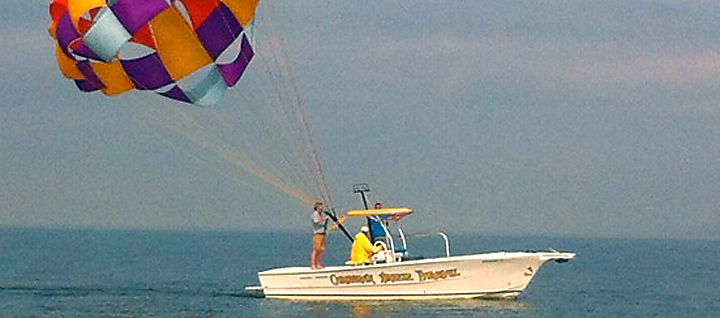 Caribbean Breeze, which operates February through November, also rents out four jet skis, an assortment of kayaks, tubes, fishing tackle, rods and other gear. Plus, three years ago, the company added a diesel boat for parasailing off the beach, in the Gulf or over the bay. Although reservations are not required, if you call ahead you can verify that the boat you want will be fueled up and ready at the dock when you arrive.
If you're looking for a quieter outing, consider joining one of the guided kayak adventure trips organized by Artist Boat (artistboat.org). The non-profit Eco-Art group promotes awareness and preservation of the marine environment. One of its biggest initiatives involves taking groups on four-hour paddling trips to explore the bay side of the island with breaks for art lessons and ecological observations.
Community Sailing Center
A brand new option on the island is Sea Scout Base Galveston (ssbgalveston.org), the towering new facility at 7509 Broadway with docks on Offatts Bayou. The base boasts fleets of small Sonar and FJ sailboats, kayaks and 40-foot schooners – and it isn't just an adventure camp for Boy Scouts, Venture and Sea Scouts. The base also houses the BaySmart Marine and Maritime Education program, an Events Center, and the Galveston Community Youth Sailing Center, a program teaching nautical and sailing skills to area residents.
The sailing center caters to high school sailing teams and to individuals and families who purchase memberships. Membership benefits include US Sailing certified boating courses, Wednesday night races, open sailing Saturdays and schooner Sundays. Members can also check out boats anytime, once qualified. "We have a good time sailing," said Capt. Mike Janota, community sailing director. "I want kids to like being here. I want this to be their hangout."
The facility and many boats are also designed to accommodate boaters with disabilities, so there really is no excuse not to get out on the water. The base hosted the US Sailing Disabled National Championships last year.
Sail Training
A unique way to experience the ocean waves in Galveston is to join the crew of the historic tall ship Elissa, berthed at the Texas Sea Port Museum. The 19th century vessel is restored as a fully functional example of the island's maritime history, and it requires many hands to maintain her in that condition.
Each year, dozens of volunteers sign on for sail training. They spend many weekends bonding as a crew and learning knots, traditional tall ship commands, sailing skills and nautical history. The hardy sailors who complete the course and put in a required number of maintenance hours on the ship are rewarded with the rare experience of sailing the square-rigged barque into the Gulf of Mexico during her annual day sails.
Visit www.galvestonhistory.org/support/volunteer to sign up for information about the next sail training class.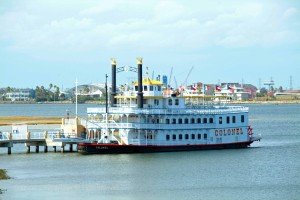 Tour Boats, Charters and Ferries
If all else fails, one of the easiest ways to gain a few hours on the water is to buy a ticket and board a tour boat. In Galveston, these include the Colonel paddle wheeler operating out of Moody Gardens (www.moodygardens.com/attractions/colonel_paddlewheel_boat/) and the Sea Gull II providing harbor tours from the Texas Seaport Museum (www.galvestonhistory.org/attractions/maritime-heritage/seagull-ii-harbor-tour-dolphin-watch). Tours may include information about the island's maritime history and marine biology, as well as opportunities to spot sea birds and the ever-popular pods of dolphins.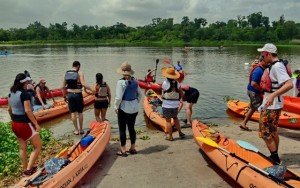 For a closer encounter with marine life, consider chartering one of the nearly three dozen fishing boats from the fleet at the Galveston Yacht Basin and other marinas around the island. Most offer half- and full-day outings for parties of up to six fishermen (www.galveston.com/fishingcharters/). A small fleet of larger "party boats" carrying dozens of passengers operates out of Pier 19 (galvestonpartyboatsinc.com or www.galveston.com/texsuntwo/). All include gear and assistance with baiting hooks, but smaller boats generally provide more individual attention, better odds of catching fish and fewer entanglements with somebody standing elbow-to-elbow next to you.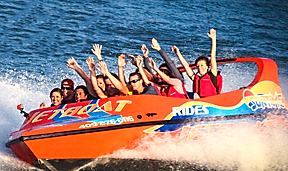 If you want a bit more adrenaline with your harbor tour, jump aboard Spin Time, the Sun Time Watersports jet boat blasting off from Pier 21 (suntimewatersports.com).
And a final option to get out onto the water? Drive, walk or pedal onto the Bolivar Ferry for a free ride between the Island and Bolivar Peninsula (www.txdot.gov/driver/travel/ferry-schedules.html). Enjoy views of the Bolivar Lighthouse and the cargo ships anchored and motoring up the ship channel. Plus, you might get lucky and spot one of those pods of dolphins.