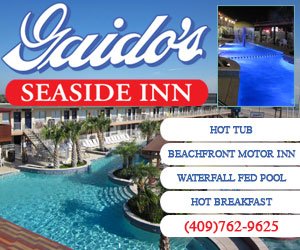 In Galveston, digging in the sand isn't just for building sand castles. Thanks to The Bucket Brigade program, sponsored by Artist Boat and the Galveston Park Board, the beach can be an exciting classroom where participants can learn about the important relationship between the coastal ecosystem and the people who visit it.
"In Galveston, the beach's ecosystem is teeming with life," said Artist Boat Executive Director Karla Klay. "We believe that the more the public knows about how humans are connected to the marine environment, the more likely it is they will become good stewards of it."
The Bucket Brigade tours are free. Beginning Memorial Day Weekend, they will be offered daily throughout the summer.
The 45-minute tours are held at 9:30am, 10:30am, 11:30am, 1:30pm, 2:30pm, and 3:30pm. They are offered at a variety of locations along Galveston beaches including Stewart Beach, East Beach, and sites along the Seawall. Those wishing to participate can sign up for a tour near the lifeguard station at each tour location.
More info can be found at the Bucket Brigade website at www.artistboat.org or by calling the Artist Boat office at (409)770-0722.