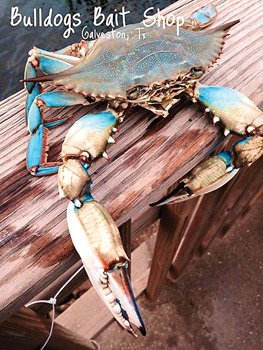 By Terry Card
Bulldogs! Rave internet reviews – "Awesome!" "Super Friendly!" "Great prices!" "Great local knowledge for fishing spots and the right bait!" "More than willing to give valuable tips to his customers!"
Pages and pages of reviews describe the astounding service and knowledge provided by "Bulldog" Davis and his wife Trina, affectionately known as "Miss Bulldog."
And it's not only advice for fishing, Bulldog is famous for tips given on where the locals eat, recipes for soups that will make your cold better, where there's a great place to stay at a good price, and on and on.
Although the shop is fairly new, started in 2012, Bulldog started fishing at just two years old in all the rivers around St. Louis while camping with his father, and has been in love with it ever since, gaining a world of knowledge over the years at every style and type of fishing – but his favorite is salt water fishing.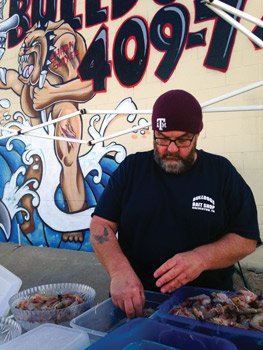 Bulldog was born in St. Louis, Missouri, and "Miss Bulldog" was born in the Houston area. They met after he finished high school, and with a bunch of his buddies, decided they could find jobs related to the 70's oil boom around Pasadena. At about the same time, Trina graduated from college and with the economy collapsing when oil prices tanked, they both had to find work in other areas. While delivering Pepsi to a convenience store in Huntsville, he met Trina who was setting up a new store for the owner, and the rest, as they say, is history. This year is their 30th wedding anniversary and along the way they've had two children, a daughter who is a singer/songwriter in Nashville, and a son who is an Engineering graduate of Texas A&M in Galveston.
With their daughter being a musician on the rise, in 1987 they moved to Nashville to help her further her career. Bulldog left his job with Pepsi when they moved, and decided to go into car sales. This was a perfect fit for him, and he became the go-to man to close sales being lost by others. Although he obviously had a very successful career in car sales, he had always wanted to open his own bait shop. Before moving to Nashville, they lived in Conroe, which for an avid fisherman is not far from Galveston. Wanting to do the salt water fishing he loved, he and his family would make the trek to Galveston on a regular basis. During those visits, he kept his dream of opening a bait shop alive, meeting with Galveston officials to determine what the requirements were, looking for potential sites, and drawing plans for a bait shop.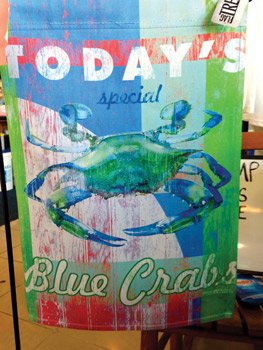 While living in Nashville, he continued fishing, but still had his dream, and sometimes life just leads you in the right direction. After graduating high school, his son wanted to get into engineering and applied to three schools, two out of state and Texas A&M in Galveston. When his son made the decision to attend college in Galveston, it provided the impetus that pushed Bulldog and Trina to sell their home of 13 years and risk everything in pursuit of Bulldog's lifelong dream of opening a bait shop.
However, in life nothing is easy, and as many have discovered, it can be extremely expensive, frustrating, and time consuming to start a new business. First of all, zoning bylaws restrict the areas where bait shops can be located. Although Bulldog had been searching for the right location during all the years he had been coming to Galveston, and corresponding with the Galveston officials, nothing appropriate had developed. So in the meantime, Bulldog decided that the best thing he could do was to work in a local bait shop, which he did for one year. During that time he developed relationships with the local fishermen, shrimpers, crabbers, and oystermen.
Then one day Trina came home very excited because a location they thought would be ideal for a bait shop had come on the rental market. They phoned the owner before the paint was hardly dry on the sign, and the deal was done for their west side 61st Street location, adjacent to Offats Bayou.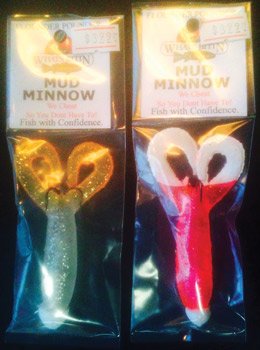 They were not even sure if they would be able to get the business started after being turned down for a small business loan, given the tight credit situation with banks after the 2008 financial crisis. But, using every last penny of their savings, they finally got the shop off the ground. The first year was extremely hard financially and sometimes depressing when having to listen to all the naysayers. But in some ways not getting a loan was a blessing, because everything had to be paid as you go. As a result, they had no debt then, nor do they have any now.
They had to build the business from the ground up. Every piece of equipment and the inventory in the shop had to be bought and organized. Out back, piping to supply the salt water pumped 24/7 into newly acquired fresh bait tanks had to be built, and most importantly, they had to develop a customer base. Finally near the end of the first year, Bulldog realized that everything was going to be alright as more and more repeat customers came into the store.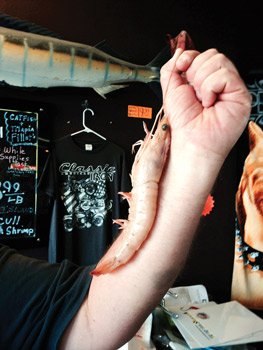 With all his fishing background and knowledge, combined with his sales ability, Bulldog keeps his customers more than happy with his mixture of down home personality, willingness to give valuable tips and advice, and by keeping his prices as low as possible, while supplying fishermen with fresh bait from the tanks. The bait varies over the season, but includes live croaker, mullet, squid, crab, whiting, sting ray, and bloody shark. Any last minute fishing items like Chicken Boy and Flounder Pounder lures, and various hooks and lines, are also available.
In addition to being home of the $5.99 per pound shrimp and other fresh seafood options, the shop provides a variety of beverages and snacks, beach souvenirs, grill seasonings, Bulldog's proprietary hot sauce, Bulldog T-shirts, and hats.
Bulldog is the front end man, but every business needs a good back end, which is the backbone of any business, financially. In an offsite office on the Seawall, Trina, in addition to doing the books, deals with the filings required for Texas Parks and Wildlife, the City and County of Galveston, the Agriculture department, and the State. She also makes all the orders required for the shop, for bait, fishing supplies, boutique inventory, and most every day has to shop for the smaller items that cannot be filled through large suppliers. In addition to this, she is regularly at the bait shop, especially during spring break when customers are lined up out the door. After spring break, Bulldog and "Miss Bulldog" will hire anywhere from one to three additional seasonal workers. In addition to everything else, "Miss Bulldog" is a member of the Galveston Women's Networking group.
Bulldogs Bait Shop is located at 1813 61st Street, (409)740-2220. They are open from 'early morning to the last fisherman knocking on the door' during the season.
Bulldogs is the place to go for bait and seafood in Galveston! None better!