By Terry Card
Effervescent and bubbly! Like a good champagne! This transplanted artist/entrepreneur from Miami has created a unique business in Downtown Galveston on 22nd St. between Postoffice and Market St.
Her parents both worked for Pan American Airlines and were away from home almost constantly. As a consequence, Amy Owens was raised mostly by her grandparents. At 17 years old she had an opportunity to stay with friends in Austin, moved there and fell in love with Texas and Texans, whom she found to be extremely polite. At first, she had trouble with being called ma'am at 17, but noticed that she missed it when traveling in other states. She thoroughly enjoyed the music scene in Austin. However, the siren call of the beaches and ocean was in her Miami blood. She chose for this and other reasons to attend TAMUG (Texas A&M University at Galveston) where she met her husband-to-be, who is now a member of the Galveston Police Department.
When her oldest son was 4 years old, as an island resident she was looking for things to do with her child. There were plenty of events and attractions for tourists, but she wanted something unique where mothers could spend time doing something interesting with each other and with their children. It struck her that the best way to invite conversation amongst all would be to sit around a table painting, just like sitting at the dining room table talking at meal time. This allowed the kids to do their thing, while their mothers enjoyed good conversation. It also allowed her to contribute something to her adopted community in conjunction with local businesses and residents.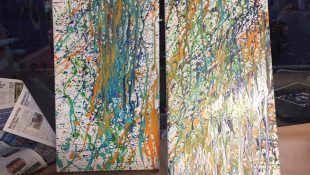 With these things in mind, in June 2015, she opened Clay Cup Studios. At the studio, projects for Moms (and some Dads) and their children include pottery and wine glass painting while sitting around talking. For Dads, in conjunction with one of her business associations, local craft brewery, Galveston Island Brewery, Dads are encouraged to paint their growlers and take them to the brewery and tap room on Stewart Rd. to get them filled.
Clay Cup Studios hosts many bachelorette parties. The parties are held in a separate room where wine glass painting, and wine brought by the group, intermingled with conversation and laughter, creates a delightful time for the participants. Women can also bring wine and food anytime they like during the daytime. Special wine nights for groups can also be arranged. For those who do not want to supply their food, Clay Cup Studios has many relationships with local businesses, including Hey Mikey's, Galveston Island Brewery, The Kitchen Chick, Tin Cup Bar and Driving Range, Maceo's Spice Company (home of the muffuletta), and Mama Teresa's Flying Pizza. In fact, 98% of Clay Cup Studios suppliers are local.
Welcoming teens is part of her program. They are encouraged to just hang out, but if they wish, then creativity can lead to art therapy, giving them a quiet place, relieving some of the stresses associated with daily life. Amy encourages everyone to work from one simple thought and creating from that. Total absorption in a project that is a personal creation takes the focus away from problems. Her customer base is 95% local with an even split between children and adults. From her point of view, she is providing a messy room away from home where families can converse while creating artwork and enjoying the conviviality of their family and others in a non-smoking environment.
The space occupied now was once a restaurant and before that a Subway outlet. It had not been used for years after Ike hit it. Amy did many of the renovations herself with her husband's help, wielding a jackhammer, putting up walls, and adding rooms and cabinets. Her mother and a friend are 50% silent partners. Amy is solely responsible for running the business, and it has been successful because of her hard work.
She would like to increase her traffic because she has a goal of supporting her parents in their retirement and wants to be able to give more to Galveston, the community she loves, in addition to her program of Kindness Murals children paint around town for the benefit of less well-off children. She thinks that Clay Cup Studios has a lack of exposure because of its island location. Her mainland competition with its larger customer base is able to develop a brand name. To help counter that she hopes to obtain a beer and wine license in the future and develop further associations with local restaurants for providing catered food. At the present time, she houses many artists but wants to do even more for the art community and the community in general. She has reached out to all members of the community and last year held a ceremony for those of the Jewish faith who do Bible studies during Hanukkah and Passover.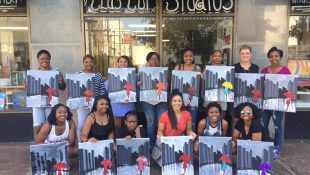 In addition to the walk-in environment she encourages for mothers, fathers, teens, and children, she holds monthly social events. Some are general but others will focus separately on children, pre-teens, family, or adults.
Each month she holds art classes that will concentrate, for example, on countryside scenes one month, caricatures the next month, or any myriad of other art platforms. Associated with each of these events, Amy has a guest contemporary artist to demonstrate and guide the classes.
On children's night, she holds canvas classes for 5 to 9-year-olds where they can paint a themed canvas any way they like. This month's theme, for example, was for Father's Day with a car outline for the children to paint.
On pre-teen night, kids can come in and hang out or paint on canvas or clay models.
Family night is held Tuesdays. Each family sits around a table, talking and painting figurines or whatever else they want, getting to spend time with each other. For families, there is also Date Night, where for $45 each family is given one large project to do together, interacting, conversing, eating, and drinking.
For adults, there are many events including ArtWalk with wine and sangria on the house, glass painting, the Bachelorette parties, special events for United Way, an event for UTMB professors and students four times per year, Sorority groups, Growler Night, Glass Fusion – where people get to wear goggles and use tools to break glass and make the pieces into platters, plaques, beer mugs, or other objects, pottery making, and even making wood signs with your favorite sayings, pictures, or caricatures.
Clay Cup Studios is located at 406 22nd St. in Downtown Galveston. For more info go to their website at claycupstudios.com, email them at claycupstudios@yahoo.com, or call (409)762-2529.