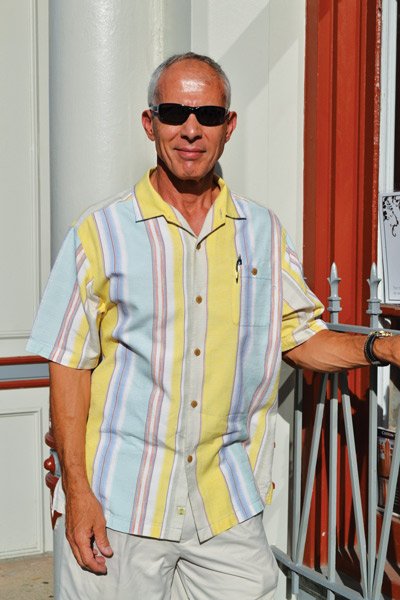 Written and Photographed by Sharis Roe DeJaynes
Custom wooden surfboards by Dan Martinez simply glorify surf culture. Styled after Hawaiian and Californian surfboards, Martinez does not disappoint, bringing a nostalgic appreciation of what the surfboard symbolizes…a culture.
"Having been raised in Northern California, I spent my early years surfing at many of the most famous surf spots in the world. Places where the old-fashioned 'Woody' surf van was a common sight. So I guess it's only natural that I began making custom wooden surfboards as a sort of artistic therapy in order to shake off the stress of the work day and immerse myself in the simplicity of creating each surfboard's sleek lines by using the natural beauty of wood," says Martinez. He initially decided on designing Hawaiian gun format boards with their pointed nose, pointed tail and more streamlined for fast Hawaiian waves but has produced long boards as well.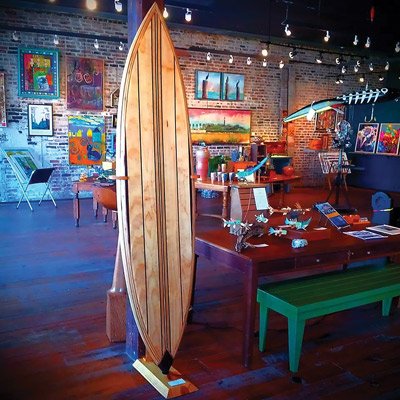 Martinez retired 5 years ago from the energy business and renewed his love of designing surfboards. After a trip to Hawaii, he was inspired by a local Hawaiian designer who was creating surfboards out of the local Koa wood. About a year and a half later, Martinez perfected his own process.
"The creation process begins by selecting wood that will enhance and complement the design concept. Strips of laminated exotic woods are selected for their distinguishing characteristics and hand cut to preserve and highlight their natural grain," says Martinez. A torsion box process is used to provide the board with an overall shape, thickness and contour. This provides a lightweight, but strong skeleton. The laminated wooden strips are glued together, then pressed and bent over the ribs and spar. The wooden rails are also laminated together to provide a solid form around the board. The board is then hand planed and sanded to provide the final shape. A removable fin box is hollowed out and inserted to the rear of the board. An air vent is then added. Final steps are epoxy glassing and buffing. Over 400 hours goes into each board. They are a true labor of love, for surfing, and surf culture.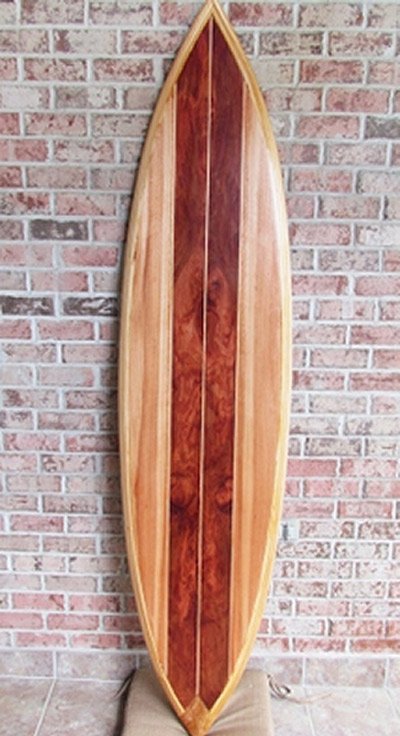 "Something about wood – the look, the feel and smell attracts me. There are tens of thousands of species of wood on the planet, each so unique and so beautiful when finished in the right way," says Martinez. He works with around 150 types of wood at a given time based on the market and availability. Unique and unusual woods are his preference. Like a kid in a candy store, he frequents and purchases select wood from Houston Hardwoods which brings in wood from all over the world.
Of special note: Martinez's surfboards are functional, not just a piece of art! Certainly, one would hate to scratch it up, but to know you could 'wax that stick and take it for a spin' makes them all the more special. His surfboards also come with stands, should you desire, and a certificate of authenticity.
As a reminder of your past or your future, infuse yourself or your coastal décor with a custom surfboard by Dan Martinez.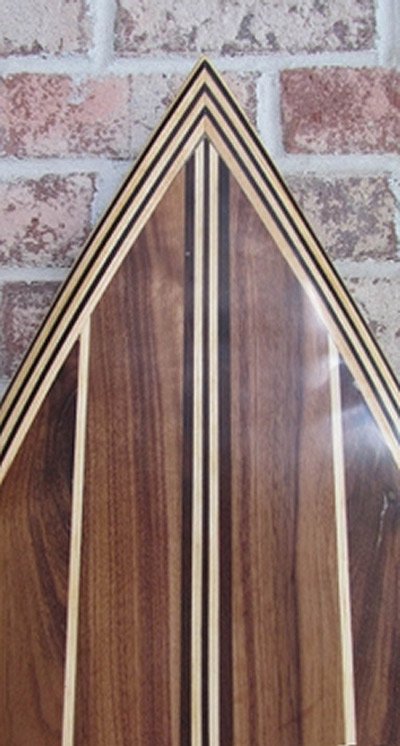 About the Artist:
Martinez was born in Berkeley, California and spent much of his young life in that area. After high school, Martinez moved to Houston and attended the University of Houston completing a business degree in Production Logistics Management. He began his career at Shell Oil Company and retired in 2010 from Shell after 33 years of service. He serves on the Executive Committee of Big West Oil, an independent refinery in Salt Lake City, Utah.
Martinez, and his wife Cheri, live in The Woodlands, Texas. They have one son, Zac, who graduated from Baylor University, and one daughter, Riley, who currently attends Baylor in their pre-med program. They also own a home here in Galveston at Pirates Beach, where Martinez proudly displays a few of his custom boards. He continues to surf wherever and whenever he can.
Martinez also specializes in furniture such as cabinets, tables, and grandfather clocks. Currently on display at Affaire d'Art is a spectacular table made of Texas mesquite with an ambrosia walnut base.
Martinez is represented by Estelle Stair Gallery in Rockport, Texas. His surfboards and furniture are also on continuous display and represented by Affaire d'Art Fine Art Gallery, and Affaire d'Art Gifts and Gallery here in Galveston. He can be reached directly by e-mailing martinezdan725@gmail.com or via the galleries mentioned.
About Affaire d'Art:
Affaire d'Art is a fine art gallery representing local, national and international artists. The gallery showcases a diverse selection of original works in fine art mediums including painting, drawing, photography, 2D mixed media, and sculpture.
Affaire d'Art is located at 2227 Postoffice Street, in downtown Galveston. Visit www.affairedart.com and www.facebook.com/affairedart or call (409)789-0079 for more info.