Daily (2pm): Colonel Paddlewheel Boat – Live the high-life on an hour-long cruise aboard a replica of an 1800s paddlewheel boat. Dinner and private cruises are available for groups of 65 or more. Cruise times subject to change due to weather conditions. Please call (409)683-4200 to check schedule status.
Dinner Cruises Aboard Colonel Paddlewheel Boat – Enjoy beautiful views of Offatts Bayou, plus a dinner buffet, dancing and a cash bar. Boarding begins at 7pm and cruise departs at 8pm. Cost is $65 per person and $55 for kids ages 4-12. Reservations are required by Wednesday prior to the scheduled cruise date at (409)683-4419. Go to moodygardens.com for scheduled dinner cruises.
Daily (1pm and 3pm): Penguin Encounter – The Moody Gardens Public Penguin Encounter is a 45-minute program designed to allow guests to get up close to one of the penguins from the Aquarium Pyramid South Atlantic Exhibit. Led by a Moody Gardens biologist, the experience starts at the front of the exhibit and takes guests behind the scenes to the penguin food preparation kitchen; and to the back of the chilly penguin exhibit while discussing penguin biology, conservation, training, enrichment, and care. Tickets are Monday-Friday $55 per person, and Saturday-Sunday $75 per person. Participants must also purchase admission to the Aquarium Pyramid. Children 12 and under must be accompanied by an adult. June 1st-August 11th, tours will be daily at 1pm and 3pm. To schedule an appointment, please call (409)683-4102.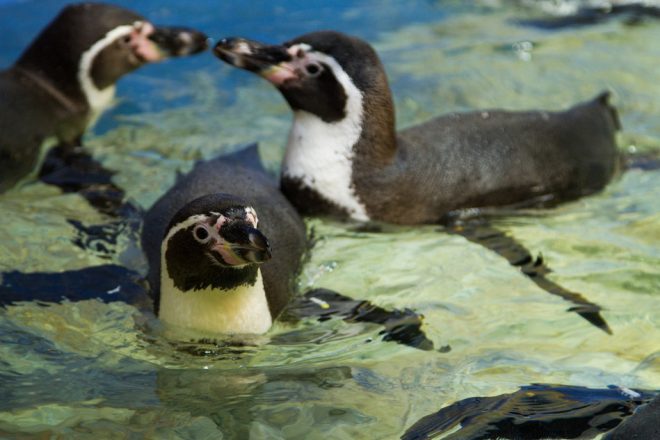 The Seal and Penguin Experience Package – Experience what it's like to be a keeper at the South Atlantic and North Pacific exhibits for a day. Participants will experience what it is like to take care of the penguins and seals that call Moody Gardens their home in this 4-hour behind the scenes adventure. The morning will be spent assisting the biologists cleaning the penguin exhibit, preparing their diet, watching training sessions, and meeting a seal, feeding the penguins, and creating a piece of penguin art for you to remember your experience with. Please contact (409)683-4102 or e-mail dolsen@moodygardens.org for more info. Cost is $250 per person.
Daily (1:30pm): Great River Otter Experience – Join an otter biologist as they take you behind the scenes of the otter exhibit for the rare opportunity to meet our Giant River Otters. Learn about otter biology, conservation and how these amazing animals are cared for in their private interior exhibit area. After this 45 minute encounter behind the scenes, you can then join the biologist on the training platform during the 2:30pm "You Otter Know" public presentation. For more information, contact otters@moodygardens.org. Tickets are $75 per person. To schedule an appointment please email pkolvig@moodygardens.org. Tickets are Monday-Friday $375 per group, Saturday-Sunday $425 per group.