Written and Photographed by Sharis Roe DeJaynes
It is not easy for a single artist to own a studio and gallery, but Elizabeth Punches is doing just that and surviving, not starving. Passionate and fearless yet gentle and warm, Punches brings great color to the arts and galleries in Galveston.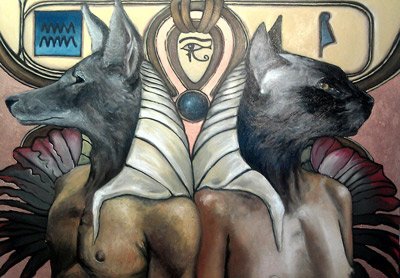 Though trained in different mediums, Punches paints exclusively with oils on constructed wood panels with stretched linen over them and prepped with her special blend of rabbit skin glue. Through the materials she uses and original practice from the Masters, she is highly attentive to ensuring her paintings are built to last for many generations. Using commercial grade materials as a base, she creates her own colors and textures using other mediums. "My palette for each painting is chosen specifically for that painting, though I have my favorite colors as any artist does," she says. She prefers to paint large format pieces and is very versatile as to subject matter – she can paint nearly anything.
"Most of my subject matter stems from a situation I'm going through, an intense observation or simply from what I feel needs to be said at that point in time. I purposely stay away from hot topics, as those seem to be temporary and fleeting. And, I love mermaids," Punches says. Many of her themes are based on psychological allegory, and are classical and realistic in style. Gerhard Richter is one of her strongest influencers in terms of bringing old techniques to a contemporary setting. He is a catalyst and she refers to him often.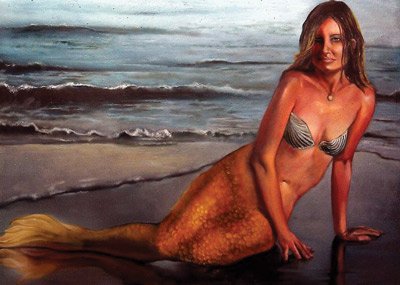 After exhibiting in many cities, having had a gallery in Maine, and working as an Art Director at Allure Gallery here in Galveston, Punches no longer creates art purely for the sake of exhibiting and selling it. Though it is true she has a business to run and her body to feed, she has taken the "necessity" out of the equation and focuses solely on her creations alone which in turn sustains her monetarily, by default. Her biggest stream of income is commissioned work, portraits, or otherwise. She focuses on one commissioned piece at a time every day, and queues up other commission requests behind it. She feels she owes dedicated concentration to each piece she creates, and it shows in her work. She sells original paintings only, no prints – a school of thought, many artists adhere to.
Punches' past experience as a graphic artist working for a sign company has led her to being commissioned for menu boards or signage for many downtown Galveston businesses as well, including MOD Coffee House and Board Game Island. She is currently working on a huge menu board for Board Game Island and the new owners. "Hand lettering is always challenging but rewarding," she says.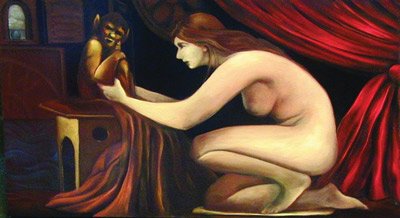 "My idea for downtown Galveston is that every location would have some sort of visible art, so when people come into downtown it doesn't read so industrial, rather it reads as a community of people who live and work here," Punches expresses with a passion.
Apart from her commissioned work, Punches is starting work for her upcoming solo show at The Proletariat in March. It is sure to be a fascinating exhibition in the very building she lives in.
Punches welcomes anyone into her studio at any time. "If the doors are open, come on in," she says. Bring a coffee, sit down with her, and listen to her fascinating stories about her art. You'll feel like you've traveled her journey with her and may find yourself immersed enough to commission a painting of your own!
About the Artist & Gallery:
Punches was born and grew up in Oklahoma City, Oklahoma, and has been painting since a very early age. Her mother managed restaurants for 20 years, and her father worked in the oil fields. Both parents were artists as well. Her grandfather was a carpenter and taught her how to chip carve when she was 10. Punches moved often with her parents, and having been married for 21 years to a psychology professor, she traveled much with him as well due to his career.
After attending a few different schools in different states, Punches received her Bachelor of Fine Arts degree from Virginia Intermont College. Prior to moving to Galveston in 2007, she spent 7 years in northern Maine and had a studio and gallery there. Punches opened her gallery in Galveston in June of 2011. She lives at The National Hotel Artist Lofts among other artists. She has one younger brother and three children.
When not in her studio, Punches contracts with a restoration and conservation services company. She most recently worked on a project restoring the Williams Administration Building at Texas A&M. She was also brought in on the painting phase of the Simon Theater in Brenham, Texas.
Elizabeth Punches Studio & Gallery is located at 403 22nd Street in Galveston. It is open Thursday-Saturday, 12 noon(ish)-7pm and by appointment. Visit the gallery during ArtWalk, November 28th until 9:30pm. Also visit www.facebook.com/ElizabethPunchesStuidioAndGallery. You can contact Punches by phone at (740)624-7797.