A Memorable & Fun Fishing Experience
By Terry Card
As a captain of a charter fishing boat, just when you think you have seen it all – something new comes around the corner. One day Captain Dan received a call from an Asian gentleman booking a six-hour offshore fishing charter for himself and five companions. He was told that they would leave at 6am and that all fishing gear could be supplied as he requested, since his group had flown in from Asia the previous day.
It was a good day to fish; the water was dead flat, and promptly at 6am the party showed up. Much to Captain Dan's astonishment, they were all wearing business suits and carrying briefcases. No one could speak English except the fellow who booked the trip so Captain Dan figured he would have a difficult time on this trip. After a one hour trip to the site he had picked, they fished for half an hour, caught two fish, and then when they started getting sick in absolutely flat water, requested that Captain Dan return to the dock.
Dan Green was taught how to fish from a very young age by his mother. Born in Lumberton, Texas near Beaumont, after his mother and father split, Dan and his mother moved to his grandfather's house in San Leon, Texas, and it was here through his mother and grandfather, he learned about casting and fishing. He spent hours fishing off the pier in front of the house. He thinks he was hooked on fishing at three years old when he caught a 22" redfish off that pier. He went to the high school on 7th St. near the Top Water Grill in San Leon, before taking Maritime Management at TAMUG.
However, he was anxious to do real business management, and before he graduated, he decided to strike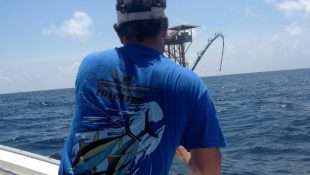 out on his own, forming a company at 18 years old called EZ Catch. His Mom cosigned a loan to get him started, and with the money, he purchased a 25-foot Boston Whaler. Prior to that, to gain experience, he was a deckhand for one year for two fishing charters in Galveston. He then applied for and received his captain's license complying with the U.S. Coast Guard requirement of 350 days on water and successfully completing a series of written examinations. He then applied to Texas Parks and Wildlife to buy his guide license.
At first he ran his charter company out of Freeport and trailered his boat from San Leon each day. After three or four years, and having serious problems with the trailer, he decided to sell and try his luck in Galveston. For a while he ran boats as captain for various owners, splitting the profits until he could get himself established. He formed Fishin Addiction Charters in March of 2010.
Captain Dan selected Galveston because of the tourism industry. He runs far more trips here than he could generate in Freeport: 160 trips in 2015 and 180 in 2016 compared to 50 trips in Freeport. Galveston Bay and Jetty trips constitute about 75% of his trips with oil rigs and offshore outings making up the other 25%. His customer base is about 60-70% tourist with the remaining 30-40% local. The tourists mostly go for Bay and Jetty fishing while the locals like offshore fishing.
Captain Dan has two boats. He has a 25-foot Gulf Coast that holds four people and is used for Bay fishing. He does not have a deckhand for these trips. On his 36-foot Contender with three 250 HP motors he does have a deckhand because the boat holds six people, and the trips are longer going out to the Jetties and offshore. The deckhand allows him to provide his customers with extra attention and help, a service that is much appreciated. The other things that customers like is the excellent equipment he has, the spaciousness of the boats, his competitive pricing, and that he applies no reservation fees (he does not charge the credit card up front). And sometimes his deckhand provides humor. On one trip when the rain was pelting down, the deckhand put on a slicker to keep dry. While trying to unhook a line caught on the leg of an oil rig, he fell in the water, ensuring himself of a good soaking. After everyone on board picked themselves off the deck from laughing so hard, they took pity on him and fished him out of the water.
Captain Dan is the sole owner of the company. In the future he would like to add another boat with a new captain, but that will be put on hold for a while. He will be getting married soon, and that of course, comes first.
With August coming, he expects that his clients will haul in plentiful amount of Reds and Bull Reds, as well as Spanish and King Mackerel and Black Tip Shark from the jetties and off the beach.
It was fishing off the beach one time that Captain Dan had his weirdest experience as a captain. His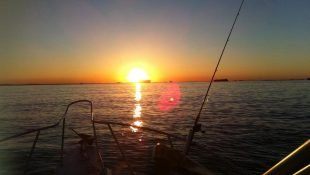 customer spent about 15 minutes fighting a Spinner Shark, finally bringing him to the side of the boat. Just as they were leaning over to haul the shark in, another Spinner Shark of the same size came up and bit a huge chunk out of the shark that had been caught. Everyone jumped back – very quickly!
In the Bay, August will produce excellent catches of Speckled Trout, and Whiting.
Later in the year, in October and November, the Bay and Sea Wolf Park will yield great quantities of flounder, Captain Dan's favorite eating fish. His lure of choice for flounder is a 3" Gulp Curl Tail.
Captain Dan's favorite fighting fish is the Amberjack, and his lure of choice for Amberjack is a seven ounce Snapper Slapper. With that lure, while lying about 60 miles offshore, he caught a 93lb Amberjack after a long and arduous fight. Amberjack is not only a great fighting fish, it is also good eating.
Not only is the fishing experience great with Fishin Addiction Charters, but the captain and crew try to make it a fun outing. Alcohol is allowed on board, but no glass bottles.
For a fishing charter adventure with a personable, experienced captain, call Fishin Addiction Charters at (832)640-1133, go to their Facebook page, or gulfoffshorefishing.com. All pricing and tours available are listed online or Captain Dan will be happy to provide any and all information for you to charter a fishing trip tailored to your needs.