By Rob Lucey
Fans of the "Back to the Future" movies have been drooling for a hoverboard since the late 1980s. Now, it's finally a reality – at least over the waters of Offatts Bayou.
Extreme Watersports Galveston is providing hydro-powered flyboard and hoverboard rides off a dock at 1723 61st St. Both are the invention of French world champion jet ski racer Franky Zapata. They funnel the power of a jet ski through a fire hose to a board, propelling the rider on top of the board through the air and water.
Invented in 2011, the devices have been catching on as the latest extreme sport. "One of my buddies e-mailed me a video that was going viral, and I said 'man we've got to go do this,'" recalls Rodney Nelson, a Galveston financial advisor for the past 14 years. "But the nearest place I could find to try them out was some place like Cancun. I couldn't find anyplace in the United States. I ended up contacting the company, and three days later I got a call from the new distributor in Austin."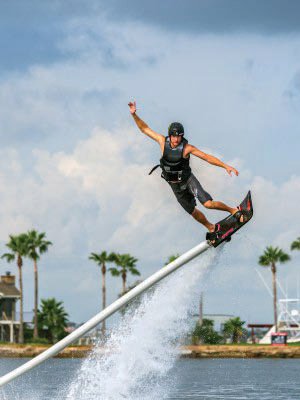 Within a week, Nelson was in Austin negotiating to open a rental and distribution company in Galveston. He got so caught up in the paperwork, he nearly forgot to take his first test drive. At the end of the day, he finally hopped onboard.
"It was just crazy amazing freedom," Nelson recalls. "I didn't pop out of the water and fly like Iron Man, but getting six feet out of the water is exhilarating. You're defying gravity. It's hard to put into words. Every time we teach somebody and they come back to the dock with a grin from ear to ear, it makes me feel great."
In May 2013, less than a year after it was introduced in the United States, Nelson launched Extreme Watersports Galveston with his first flyboard and the jet skis to power it. The flyboard features two jets of water positioned under a pair of boats mounted on the board. "It has two jets that send you straight up in the air," Nelson says. "We're putting the power of a jet ski on the bottom of your feet."
Zapata's company, Zapata Racing, introduced the new Hoverboard in August 2014 and Nelson added it to his arsenal this spring. It has a single jet on the back of the board for more forward propulsion like a souped up skateboard on the water. As the rider jets around over the water on either board, the trailing hose tows the jet ski along to provide the propulsion.
Both devices have spawned competitive extreme sports with riders performing elaborate tricks. Nelson (who now routinely flies 40 feet up over the water) competed in the second North American Flyboard Championship in Louisiana this June. At the events, competitors pull off as many tricks as they can in a set amount of time, including corkscrews, back flips, double and triple flips, and other moves with more being invented all the time. Riders can compete all the way up to the international level. The fourth Flyboard World Cup will be held in December in Dubai.
For those who are getting their feet wet for the first time, Extreme Watersports offers a 15-minute Pilot Course for $29 with one of the four certified flight instructors on staff. A five-minute video is followed by five minutes of instruction on the dock and five minutes in the water. "Then we go right into flight time," Nelson says. "Our goal is to get you at least 3 to 6 feet out of the water into the air and getting the basic maneuverability of the flight board down. Most individuals have been able to do that. Some pick it up really quick."
Customers have ranged from age 12 to 70. Nelson said the only limitations on who can try the sport are that riders must weigh at least 80 pounds and no more than 350 pounds, according to the manufacturer's specs. It also helps to have good balance. People who've experienced other board sports like snowboards, skateboards, or surfboards often pick it up a bit quicker, but some people are surprised at how easily they catch on.
"I was a horrible skateboarder, but I think I do this fairly well," Nelson says.
Prices for flight time start at $99 for a 20-minute ride. In addition to the Flyboard and Hoverboard rentals and sales, the business rents out its fleet of jet skis and added a new electric vessel in mid-July – the Go-Float boats are like pedal boats with an electric motor instead of pedals for power. Besides renting them, Nelson is a dealer for the vessels. "I think they would be fun for people who live on canals," he says. "They're like golf carts for the water. They'd be great for dock hopping."
Extreme Watersports is open 11am-5pm, Sunday-Thursday, and 10am-6pm Friday and Saturday.
The company shares its dock with the Galveston Paddleboard Center, which rents Stand Up Paddleboards (SUPs) and kayaks, as well as providing lessons and camps. That means families can find a watersport to suite every member of the family on one dock. What's next for Extreme Watersports? Zapata-Racing has just invented a Jetpack!
Extreme Watersports Galveston is located at 1723 61st St., Galveston, (409)539-3455, extremewatersportsgalveston.com.