The Friends of Rosenberg Library's Annual Book Sale is March 23rd-25
Proceeds benefit the mission and programs of the Rosenberg Library.
The Members Only preview is Thursday, March 23 from 5:00 – 7:30pm and memberships may be purchased at the door.
The book sale is open to the public starting Friday 12:00- 5:45pm and Saturday:10am – 4pm.
There will be books, CD's, DVD's and more starting at $1.00 for sale.
Rosenberg Library is located at 2310 Sealy Ave. in #downtownGalveston.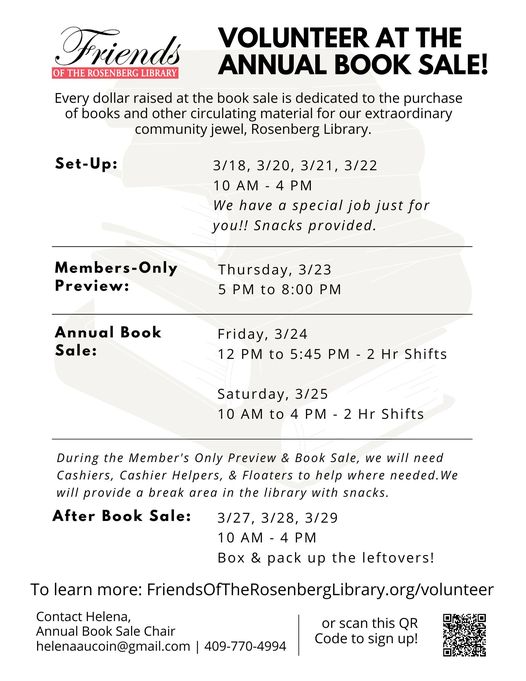 Members Only Preview Sale*
March 23, 2023 – 5:00 PM – 8:00 PM
At the Rosenberg Library (Address: 2310 Sealy Ave, Galveston, TX 77550)
Annual Book Sale – open to the public!
March 24, 2023 – 12:00 PM – 5:45 PM
March 25, 2023 – 10:00 AM – 4:00 PM
At the Rosenberg Library (Address: 2310 Sealy Ave, Galveston, TX 77550)
Learn more about this event: https://www.friendsoftherosenberglibrary.org/annual-book…