Setting a New Standard for an Old Favorite
Featuring Gaido's, Nick's, and the new Redfish Pool Bar
By Kimber Fountain, Photos by Christa Schreckengost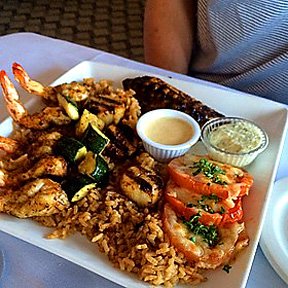 One family, four generations, and with over one hundred years of service. These qualities alone are enough to firmly establish the Gaido legacy forever, but the newest generation at the helm of this historic establishment is not resting on the family laurels. Instead, they are upping the ante, raising the bar, and setting a new standard, not only for themselves, but for the whole of Galveston dining. Steeped in time-honored tradition and brimming with confidence and passion, the fresh faces of the Gaido family are successfully leading this Island icon from great to greater.
Fourth generation scions Casey and Nicholas Gaido are currently directing operations of Gaido's and Nick's, respectively. The pair is the first of their family to have attended culinary school, and both have taken remarkable strides towards elevating the profile of the two restaurants, while simultaneously adhering to the classic fare and quality for which the family is known.
Both the original Gaido's restaurant and Nick's (formerly Casey's) have undergone stunning renovations and menu overhauls, and have recently welcomed the new Redfish Pool Bar to their restaurant family. An expert mixologist and a renowned chef are also part of the new mix, adding a fresh and unique edge to the already beloved cocktail and food menus. Overall, the two young Gaidos are simply doing what Galvestonians do best: using history and tradition as their catalyst for creative improvement and constant innovation.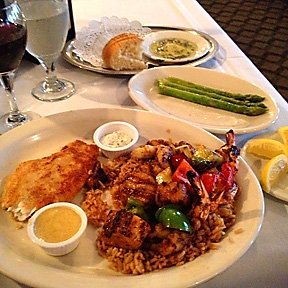 Gaido's
Gaido's first opened its doors to the public in 1911, as a small café over the Gulf adjacent to Murdoch's Bath House. Its proprietor was San Giacinto Gaido, who, at the age of two, immigrated to Galveston from Italy with his mother and siblings after the passing of his father. He found his calling after taking several odd jobs around town which ultimately led him to a position as a server in a local restaurant.  During this time he was determined to own his own business. His keen ear for customer preference and commitment to quality were the definitive customs responsible for both the immediate and continued success of Gaido's. Subsequent generations over the past century have held unflinchingly to S.G.'s hallmarks, and by doing so, have maintained a customer base that is absolutely unwavering in its loyalty.
Although the wisdom passed down by the original Mr. Gaido is still ever-present within the business, the family has not endured a century of unprecedented change and cultural evolution by remaining static. Instead, they have boldly kept with the times, decade after decade, using their heritage as the foundation, and the current generation is no exception. Casey Gaido, graduate of both the University of Texas at Austin and the Culinary Institute of America, took over operations three years ago. His unwavering dedication to the family legacy has overseen massive structural improvements and a fresh interpretation of the Gaido palate, which he describes as a combination of "southern deep frying, Southwest open-flame grilling, and Creole flavor."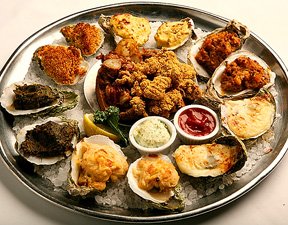 Over the past year the interior of the restaurant has undergone significant improvements in the foyer and bar area. Carpet was removed and replaced with gorgeous custom tile that significantly intensifies the ambiance. Kewpie Gaido's famous crystal collection has for many years been a substantial part of the décor, nestled in display cases that flank the perimeter of the dining rooms that are interwoven with nostalgic photographs and memories. Those display cases have been updated and streamlined, and the improved lighting seems to have given the crystal new life as it now glows brilliantly, adding a perfect counterpart to the panoramic Gulf views it parallels. Along the South wall of the corridor that leads from the bar to the main dining room, local historian and long-time Gaido's employee Adam Vargas has assembled a beautiful and heartfelt tribute to the Island's history, with gilded frames of Galveston's golden age and tales of Islanders past. And even more significant improvements are currently being planned which include expansion and the addition of a covered outdoor patio.
In the kitchen, tradition continues with the perpetuation of classic favorites, many named after the former Gaido's chefs and cooks responsible for their creation. Watkin's Bisque and Brooks' Gumbo will forever be the new standard to compare all seafood soups, and the Shrimp Pegues, bacon-wrapped shrimp with a brown sugar, chipotle glaze, has been a house favorite for almost fifty years. Newer additions are quickly gaining popularity as well, such as the 16 ounce Cowboy Ribeye and the Crabmeat Cheesecake, a baked delicacy that pairs a decadent blend of succulent crab and cream cheese with a Creole Meuniere sauce (summer season only).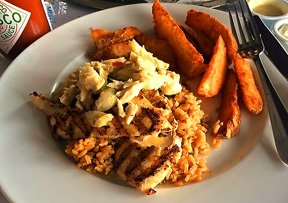 With fall comes the return of oyster season, and also the debut of culinary wizard Ross Warhol, the new Executive Chef of the Pelican Club, Gaido's adjacent, members' only supper club. Warhol developed his skills by assisting in the top three restaurants in the world, honing his mastery which will soon be melded with the Gaido tradition. Warhol comes directly to Galveston from Chautaqua, New York, where he directed the kitchen at the Atheneum Hotel, and where his work was described as "excellent and even artful" (Buffalo News).
Along with their cuisine, Gaido's has also become increasingly known over the years for their specialty bar drinks, such as the Wooden Shoe, a blend of Blue Bell Vanilla ice cream with coconut and chocolate liqeuers. But recently, even the bar is receiving a revamp with the addition of Peter Clifton, Gaido's new Beverage Director and an expert mixologist whose creativity is surpassed only by his passion for the creation of a perfect and complete dining experience, which always includes accompanying beverages. "I really enjoy crafting cocktails that pair with food," says Clifton, and he is also currently in the process of modifying the wine list to mirror the culture of Galveston. "This is a place with such diversity, so I am looking to expand our selection to include wines from all over the world." Although all of the classic drinks will still be available, Clifton has infused an enormous amount of creativity into a new cocktail menu that will debut on November 15th. A sneak peek at his new concoctions includes the Beso Sandia, a sensational mix of tequila, muddled watermelon, basil, and balsamic vinaigrette; a Pina Colada Martini made from Malibu Rum, banana liqeuer, and pineapple juice; and a Beer Margarita designed to enhance the agave flavor of the tequila, served in a glass rimmed with hops.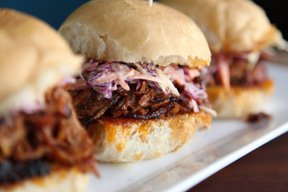 On Saturdays and Sundays, from 12 noon-3pm, Gaido's hosts another of Clifton's creations, a Bloody Mary Bar. In addition to revitalizing their house-made Bloody Mary mix, he makes available a veritable smorgasbord of toppings that guests can add at will. These toppings include all the 'morning after' standards such as olives and celery, but also offers novel suggestions such as cheddar cheese, bacon fat, garlic oil, pickled asparagus, and much more. Along with Martini Mondays and Wine Wednesdays, when guests receive a 15% discount on select wines, Clifton will soon be introducing another Gaido's first, a Happy Hour that includes both food and drink specials.
Mike Gaido, who led the second generation of this restaurant family, once said, "If your food is really good, guests will find you no matter where you are located and drive a long distance, often right past your competition, to dine with you." Over the years guests of the Gaidos' have parlayed this statement into a self-fulfilling prophecy, as many of their patrons drive to Galveston solely to dine in this unique, hometown establishment.  It is certain that San Giacinto Gaido now looks fondly down on the heir of his legacy, as Casey Gaido and his new team catapult the restaurant into the future. The lifeblood of this family institution has always been in its ability to stay relevant while not sacrificing its ideals of impeccable quality, and their newfound niche of creativity and flair will continue Gaido's most impressive tradition: establishing the benchmark for the best of Galveston dining.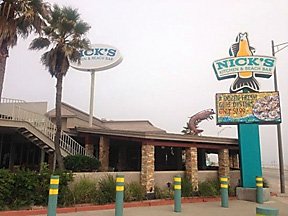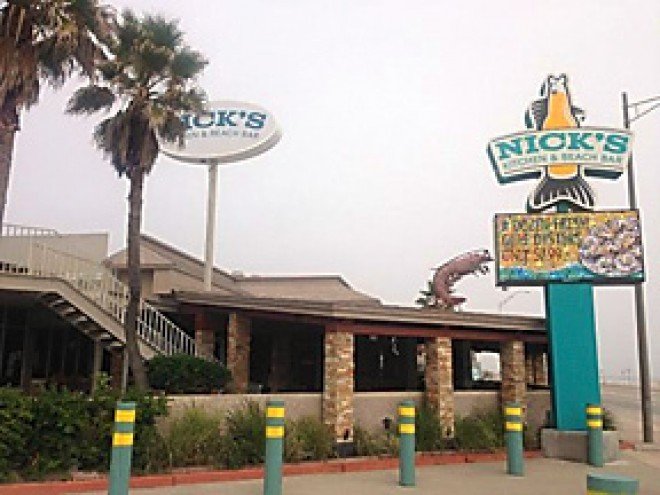 Nick's Kitchen & the New Redfish Pool Bar
Gaido's was moved from its original location at Murdoch's to its current location in the 1940s, and this resulted in the opening of the Pelican Club and a small café next door. In 1987 the café was renamed Casey's, and this past year it became Nick's Kitchen & Beach Bar. But the name is only one of many changes to this casual, sister restaurant. Headed by Executive Chef Nicholas Gaido, Baylor Alumni and also a graduate of the Culinary Institute of America, Nick's has also recently introduced several menu changes and gorgeous structural renovations that include the new Redfish Pool Bar.
The most dynamic improvement took place outdoors, where they have transformed the once sparse al fresco dining area into a luxurious resort-style lounge and dining space, complete with a brand new swimming pool, hot tub, and outdoor bar. Adorned with plasma screen TVs, granite bar tops, a waterfall, comfortable seating, and all the flavors and tastes of Nick's, the patio and Redfish Pool Bar significantly elevate the atmosphere of this casual eatery, providing guests with all of the quality of  Gaido's in a more relaxed but equally elegant setting. Pool side guests can still take advantage of the weekday happy hour, and can choose from an abbreviated, but still varied menu. The tropical atmosphere, signature Gulf views, and live music on the weekends create a perfect destination spot for visitors and locals alike who wish to enjoy all the best elements of the Island at once, and the pool is open to the public with any food or beverage purchase. Out front on the new patio, guests can choose for their view to be either the sprawling horizon or one of five big-screen televisions, and you can enjoy the full service and menu provided indoors.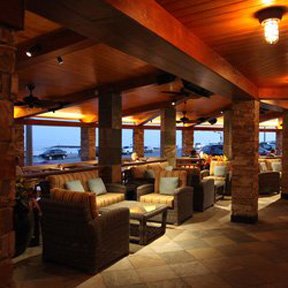 General Manager of Nick's, Mark Willcut, who has been with the Gaido family for over five years, says he is "excited about the new additions and the upgrades to the menu; we are making things just a little more upscale." He continues, "we are already known for making everything in house. All the soups, gumbos, sauces, and salad dressings are all homemade.  Even our desserts and bread are baked in house."  It is this basis that serves as the platform for the integrity of the Gaido's product, especially as they continue to try new things and adapt to modern tastes.
Nick's menu hinges on the same fresh Gulf shrimp and hand-filleted fish of its counterpart.  It includes all of the southern fried favorites and traditional dishes such as Redfish Ponchartrain, grilled to perfection and topped with a brown butter buerre blanc, lump crab, and crawfish tails. Other exciting specialties such as the Catfish Castilla and Fish Tacos join simpler fare such as entrée salads and Po Boys; and their burgers have a section all their own. Try the Cardiac Arrest Burger, topped with bacon, fried onion strings, cheddar, ranch, and barbecue sauce; or Kevin's Tres Quesos Burger, a patty seasoned with blackening spices and then topped with Cheddar, Swiss, and American cheeses.
Off-menu items are also regularly offered in the way of daily features, such as their famous Stuffed Flounder.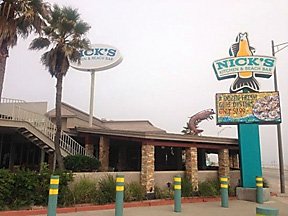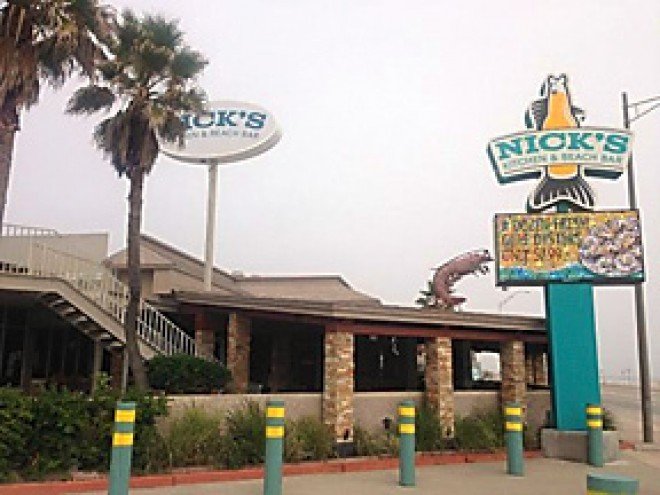 The selection of beverages at Nick's is as vast as the cuisine, and behind the bar they mix up several specialty cocktails and serve a selection of over sixty beers that includes popular local and craft varieties such as Saint Arnold's, 312, and Fireman's #4. Happy Hour runs Monday through Friday from 3pm to 7pm and features select appetizers for $5 and several beverage specials. 16oz draft beers are only $2, domestic pitchers are $6, premium import bottled beers are $3, and house wine, pina coladas, and mojitos are $4. Happy Hour is served all through the restaurant including the patio and Pool Bar. Nick's also offers Happy Hour during all Houston Texans football games.
Together, Nick's and Gaido's strike a perfect balance, offering guests the same outstanding quality of food and service in two significantly different, but equally engaging atmospheres.
As a whole, the Gaido family holds fast to their character of quality in a modern restaurant industry that seems obsessed more with the bottom line, than the integrity of their product. This high standard provides Galveston with a restaurant considered by many to be among the best in the country. "It is very unique in this day and age to do things on a quality-first basis," says Wilcutt of the Gaido's restaurants. "But they have always done their thing and they will keep continuing to do so, and that is what makes them great."
Open Monday through Friday 12pm-3pm and 5-9pm, Saturday and Sunday,11am-10pm.
The restaurant will also continue its holiday traditions by serving Thanksgiving dinner on November 28th from 12 noon to 8pm.
Their famous Crustless Pecan Pies are available for purchase year-round.
For reservations call (409)762-9625, gaidos.com.
Open Monday – Thursday 11am-9pm, Friday-Saturday 11am-10pm, Sunday 11am-9pm;
(409)762-9625, www.nicksgalveston.com
Both restaurants are located
on the 3800 block of Seawall Boulevard.