Springtime Is Coming To The Market
Every Thursday 3-7pm and Sunday 8am-1pm, Galveston's Own Farmers Market is held at The Bryan Museum Gardens, located at 1315 21st St. Come to the beautiful Conservatory and botanical gardens to relax and enjoy time and conversation with friends, family, and museum staff while shopping for locally grown produce, prepared foods, and edible farm products, plus live music, yoga, massage, crafting and Kids Corner!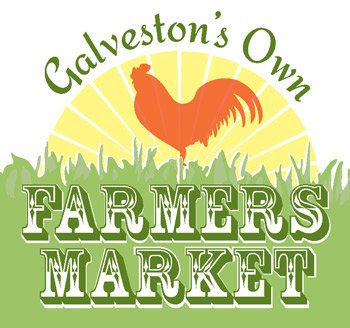 And don't forget – you don't have to travel far to help keep our planet green. Bring all of your rinsed and clean plastic, paper, glass and cardboard to GOFM market every Sunday and Thursday to our designated recycling bins!
The Thursday market features all of the perks that you've come to expect at the market plus the added charms of the Bryan Museum's "Wine at the Bryan" weekly event. The Sunday market also features wonderful goods and the charm of Bryan's courtyard. It is always free to browse and most events are free to participate.
Every Sunday (10am): Yoga Classes – There are yoga classes available every Sunday at the market. These classes are led by local yoga teachers. All classes are free to attend and anyone is welcome to participate.
May 5th (9am-12 noon): Adopt a Friend – GOFM is happy to announce a new GOFM partnership with the wonderful folks (and critters) from Galveston Island Humane Society! Every 1st Sunday, GIHS is offering $25 adoptions at the market and a selection of pets to cuddle. All pets are fixed, vaccinated, microchipped, and ready to go to their forever home with you. There are dogs, cats, and the occasional surprise pet!
May 11th, 25th (9am): Community Day – Join for a fun-filled day working in the dirt. There will be an Oleander Plant giveaway, breakfast foods, coffee, garden kid's crafts, Farm to Table (pick your own produce to take home), aand tips on garden maintenance and beautification. Be a part and get to take home some yummy produce. The Community Garden is located at Oppe Elementary, 2915 81st St., Galveston.
May 12th and 26th (9am-12 noon): The Friends of Rosenberg Library Book Sale & Give-Away takes place. Come to peruse the books or just get a free kids' book to take home. The Friends curate special selections each month of nature, cooking, and science-related books, and you'll also find plenty of fiction, children's literature, and general book goodness.
May 21st, June 18th (12 noon): Learn to Cook with WIC – This free cooking class is led by Chef Mary Bass. Students can eat a fresh meal for lunch, gain cooking knowledge, and create a recipe based on average monthly WIC benefits. RSVP to (409)938-7221. Children and babies are welcome.