By Rob Lucey
More than a third of U.S. households grow some of their own fruits and vegetables, up nearly 20 percent from a decade ago, according to the National Gardening Association. Add in those who enjoy flower gardens, perennials, succulents and other specialties, and you have a significant number of green thumbs in the populace.
For true gardening enthusiasts, vacation isn't a time to take a break from tending the beds, but a chance to visit other gardens during their travels. When visiting Galveston, that's an opportunity to see what grows in the island's semi-tropical climate with ample rainfall. From hotel and restaurant parking lots to residential yards, tropical foliage abounds.
The top stop for most horticulturists is the Moody Gardens Rainforest Pyramid ($21.95 adults, $17.95 children/seniors) where you can easily spend a few hours wandering through the 10-story-tall collection of more than 1,000 exotic (many endangered) plants from around the world, including palms, cycads, gingers, bromeliads, succulents, figs, ferns, orchids, fruit trees, and much more.
Mixed amongst the plant collections, visitors will also find resident rainforest animals such as exotic monkeys, sloths, fish, butterflies, birds, frogs, turtles, and bats. Allow time to sit on a bench and observe the flora and fauna while listening to the soothing sound of waterfalls. The gardens on the grounds surrounding the glass pyramid are also worth a wander, featuring palms, specimens of Norfolk Island Pines, a Banyan tree, a tropical shade garden, and assorted hibiscus.
But where else can horticulture enthusiasts go on the island to get their gardening fix? Here are some suggestions:
The International Oleander Society's Betty Head Oleander Garden Park
2624 Sealy, Galveston
This garden features more than 40 varieties of the official flower of Galveston, as well as related plumerias and periwinkles. A gazebo, fountain, and garden paths make for a relaxing place to visit.
In the early 1840s, pioneer residents were looking for plants to break up the flat monotonous landscape of the island. Joseph Osterman brought a schooner load of supplies from Jamaica including tubs containing the first palm trees and oleanders to be planted on the island. He gave the oleanders to his sister-in-law, Isadora Dyer. When they thrived, she shared them with neighbors and the rest is history.
"After the 1900 storm, they bloomed through the rubble of the storm," says Elizabeth "Betty" Head, a member of the Galveston-based International Oleander Society who was a driving force behind the establishment of the Oleander Garden Park, located behind the Moody Mansion and next door to the City Hall. "While the men re-built, the women propagated the oleanders to re-grow the island."
Head says she first became involved with the society a few years after its founding in 1967. "I was born on the island and I grew up with oleanders," she says. "I loved them and played with them as a child making leis and things with them."
The garden was first established seven years ago, just before Hurricane Ike struck. Once again, the oleanders bloomed after the storm waters receded. Head led efforts to complete the project while islanders were re-building.
Plants in the collection include several of the early Galveston varieties as well as more recent dwarf varieties and European imports. The society's 200 members include several from abroad including some from Germany who made presentations at the annual meeting held at Moody Gardens in May. "Oleanders are increasingly popular in Europe," Head says.
The park is open 10am-4pm daily. Visit Oleander.org for more information.
Kempner Park
2704 Ave. O, Galveston
Head says there are more than 100 varieties of oleanders grown on the island. Another favorite place she likes to visit to see them and other plants is Kempner Park, home of the historic Garten Verein ("garden club") built by residents of German descent in 1880. The five-acre grounds surrounding the octagonal dance pavilion originally included lawns, gardens, walkways, bowling greens, tennis courts, croquet grounds, and playgrounds.
The property was acquired by insurance executive Stanley Kempner in 1923 and deeded to the city in memory of his parents, Eliza and Harris Kempner.
In addition to walkways through the park, there is a fountain at the north end of the property.
Darragh Park and Robert Alderdice Park
15th Street and Church; 15th and Ball
Two neighborhood parks worth a visit are maintained by volunteers from the East End Historic District Association (EEHDA). After the historic Darragh House was destroyed by a fire in 1993, the Galveston Historical Foundation donated the lot to the EEHDA. Funds were donated to build a wrought iron gazebo to match the historic 1800s cast and wrought iron fence and gates from the original home. A path encircles the park for a relaxing stroll. In April 2009, after Hurricane Ike, neighborhood volunteers replanted the park with 2,500 plants.
Four blocks south on 15th Street, a small pocket park features one of Galveston's ornate Rosenberg Fountains. The treasured relic is one of 17 built with funds bequeathed to the city by philanthropist Henry Rosenberg in 1893. The drinking fountains were built around the city "for man and beast."
EEHDA also hosts an annual Fall Garden Tour as a fundraiser to support its beautification efforts. For $10, visitors can gain a glimpse into the gardens hidden behind many of the historic homes in the district. Past tours have included an old English cottage garden, a claw-foot tub filled with succulents and rosemary, a roof garden, unusual tropical plants, and whimsical outdoor art.
Community Gardens
For those more interested in learning about what kind of fruits and vegetables can be grown on a barrier island, several community gardens have been established in recent years. Part of the urban farming movement, these generally entail a vacant lot being filled with plots that community members can rent and use to grow a variety of vegetables, herbs, flowers, and fruits year-round. It's interesting to what the various gardeners choose to grow and the personal, often artistic, touches they incorporate in their beds.
Perhaps the most prominent is Deborah's Community Garden, featuring more than 40 raised beds located at 25th St. and Postoffice just a few blocks from The Strand. The garden is dedicated to the late Deborah Conrad, a community activist and business woman. In addition to their own 4 x 8-foot raised beds, members also tend the common areas and meet to share gardening tips. A chicken coop and pen with four milking goats are also part of the gardens.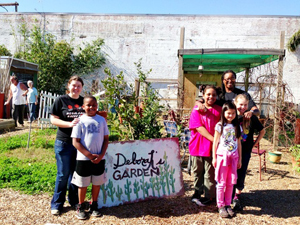 Visitors are always welcome to walk through the garden and enjoy viewing its seasonal bounty. Some members donate their surplus produce to area organizations that help the needy. Some produce and fruits are sold at Galveston's Farmer's Market on Sunday mornings.
One non-profit organization behind many of the island's community gardens is Seeding Galveston (www.seedinggalveston.com) whose mission is to create a sustainable agricultural program to benefit community residents and food banks. Two of their projects include a new garden at Ave. N and 33rd Street and another at St. Augustine of Hippo Church, 1410 Ave. M ½.
Other community garden locations include:
Wright Cuney Park, 718 41st St.
Menard Park, 2222 28th St.
Margaret Biehl Community Garden, 1410 41st St. Entrance on Ave. M ½
San Jacinto Neighborhood Garden, 2005 Ave. N ½
Sea Isle Planters Bunch in the Sea Isle subdivision on the island's West End recently built a community garden. The group also hosts an annual Garden Tour in May, featuring half a dozen private gardens on Galveston's West End.
Besides the annual East End Historic District and Seat Isle garden tours, the non-profit volunteer organization Clean Galveston has hosted a Back Yard Garden Tour for 22 years. This self-guided tour, usually held in early June, promotes Island beautification and helps inspire visitors with ideas they can bring to their own back yards. Check www.cleangalveston.org/events.html to see when the next tour date is set.
Garden Centers
If, after seeing all of the lush plants the island has to offer, you feel the need to take some of that exotic island foliage home with you, your best bets are the family-owned Tom's Thumb Nursery at 2014 45th St. or Flamingo Gardens at 814 61st St. Flamingo Gardens focuses mostly on palms and other larger landscape plants. Tom's Thumb has a wider variety of plants and gift items.
Master Gardeners
If you need a bit of advice for your own gardening efforts, the Galveston County Master Gardeners offer guided tours of their demonstration garden 9-11am on the first Thursday of each month or visitors are welcome to walk through at their own pace. The gardens are located just over the Causeway at 4102-B Main St. in La Marque.
Whether you have a green thumb or simply just want to admire the beauty of the tropical paradise of our island, Galveston is definitely the place to be.