By Terry Card
Who would ever expect they would be taken on a personal guided tour of historic Galveston by someone who not only is third generation BOI (Born on the Island), but is also an Adjunct History Professor at San Jacinto College? That is an impressive combination.
The customers of the Galveston Historic Tour company get the benefit of personal connections to larger than life characters of past generations and to people of the current generation through the owner and tour guide, Joseph Pellerin. Being a member of a long time BOI family, he can recount family stories that relate to the tour being offered, bringing history alive.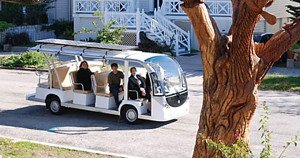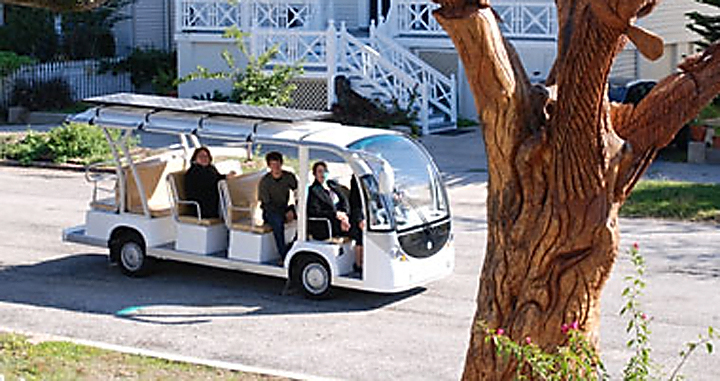 For example, Joseph's grandmother on his father's side entered Galveston in 1914 after enduring a long voyage from Russia. She was aided by Rabbi Cohen, one of Galveston's most revered historical figures, who not only helped many immigrants come to Galveston but also worked to gain aid for the destitute, and constantly visited hospitals to bring solace to all patients, no matter what religion. To Galvestonians, he was a force for righteousness and was beloved by all in his community.
His great grandfather on his father's side came to Galveston in 1920 and earned his living as a horse and carriage produce peddler. Joseph's great uncle was maitre d' at the famous Balinese Room, and his grandfather ran concessions at Stewart Beach for Sam Maceo, Galveston's most famous "Free State" era gangster, who brought top Hollywood entertainers to his Balinese room, the premiere nightclub and gambling venue of the time in Texas.
Thus, Joseph is able to make Galveston's history larger than life and growing up here, he can apprise customers of the restaurants where the locals eat, some of which include Mosquito Café, historic Sonny's, Sky Katz, Farley Girls, and Hey Mikey's, for ice cream plus many others.
Galveston Historic Tour was started in 2012 by Bobby Sanderson. Joseph worked for him and when Bobby decided to sell, bought the business from him in November 2012.
Galveston Historic Tours provides daily narrated tours all year round. The departure times are 11am, 1pm and 3pm from the Visitor Center parking lot located at the rear of Ashton Villa, 2328 Broadway. The tour bus is a twelve passenger open electric shuttle. Being open allows passengers to quickly jump off for pictures while providing unobstructed views of historic buildings and tree carvings wrought from the devastation left behind by Ike, and being electric, promotes a quiet ride while contributing positively to the environment. Each night the shuttle is recharged at the company office, which is located behind the electric company at 24th and Winnie St.
During inclement weather, the bus has a very clear plastic cover to protect the passengers from the elements, while still allowing excellent views during the tour.
Daily tour adult fares are $12, children 13 to 17 are $5. Children 5 years old and under are free. Payment may be made by cash, check, Visa, MasterCard or Discover Card.
In addition to the daily tours, there is a themed tour each month. For the summer months Galveston Historic Tours is offering two different themed tours.
The first is the 'Sin City of the South Tour,' an hour long tour which explores Galveston's "Free State" period which included bootlegging during prohibition, gambling and prostitution. The tour includes the old Red Light District, the site of the Balinese Room, where there is now a proposal to recreate the famous nightclub, and the Hotel Galvez, where the Maceos set up a barber shop where they purportedly began their bootlegging business.
This tour departs every Friday and Saturday at 6pm from the Ashton Villa parking lot and is $15 per person.
The second tour is the 'Prohibition Pub Trail Tour,' which includes "Prohibition" drinks at five downtown pubs. Many of the drinks provided during the tour were created during the era of the "Free State" of Galveston. A history of Galveston's "Free State" period will be recounted as customers on the tour enjoy a lager at Brews Brothers, Old Fashioneds at Murphy's, Manhattans at O'Malley's, Sidecars at Molly's, and Margaritas at the Old Cellar Bar.
The second tour is $50 per person including, transportation, tour, drinks and gratuity. Departure is every Friday and Saturday at 8pm from Ashton Villa parking lot. People on the tour must be 21 years old and have a valid ID. Reservations are required and can be made by calling (409)789-9911.
The other monthly themed tours include: January -The Battle of Galveston Trail, February – Galveston Black History Trail, March – Places of Worship, April – Texas Independence and the Republic, May – Local Figure Henry Rosenberg, September – 1900 Hurricane, October – Living Dead, November – Fire of 1885, and December – Victorian Christmas.
The history provided during the tour by a guide – a history professor conversant in Galveston's historical detail – is special. That he is also able to recall personal history drawn from his family's long association with the island and the eccentric characters that populated her both in the past and today, make Galveston Historic Tour unique.
Galveston Historical Tours
2328 Broadway, Galveston, (409) 789-9911
www.facebook.com/GalvestonHistoricTour