The author of "Galveston's Broadway Cemeteries," Kathleen Meca, will be hosting a cemetery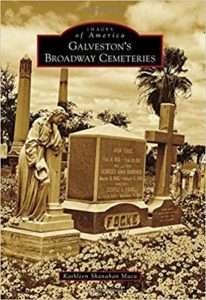 tour, held at Avenue K at 40th St. in Galveston, August 11th, 6-7pm. Cost is $35 and tickets can be purchased at eventbrite.com.
"My cemetery tours have been featured on 'Texas Country Reporter,' 'Texas Chronicles,' the local news, magazines and newspapers. I'm ready to show you that the true stories from the past really can be stranger than fiction, said Kathleen.
You will meet in the Historic Broadway Cemetery District, where you will be introduced to some of Galveston's past citizens, from heroes to villains, notorious to noteworthy. There's something for everyone: stunning artwork, hidden symbolism, Civil War history, surprising trivia and even one resident ghost!
Please note, there is very little shade in the cemeteries. Please consider wearing a hat or bringing an umbrella. There are uneven walking paths. No video or audio recording is allowed. There are no minimum age requirements for this tour but please keep in mind that cemeteries are not playgrounds, and children must be closely supervised at all times.
Please email any questions to kathleen@kathleenmaca.com.