Galveston Reads, a popular volunteer-driven "One Community, One Book" program operating under the organizational umbrella of the Rosenberg Library, provides an opportunity for all residents high school age through senior citizens to participate in a unique community-wide discussion by reading and sharing views about the same book.
From Wikipedia: Where the Crawdads Sing is a 2018 novel by Delia Owens. It has topped the The New York Times Fiction Best Sellers of 2019 for 27 non-consecutive weeks.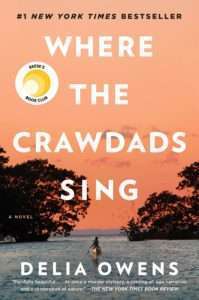 For years, rumors of the "Marsh Girl" have haunted Barkley Cove, a quiet town on the North Carolina coast. So in late 1969, when handsome Chase Andrews is found dead, the locals immediately suspect Kya Clark, the so-called Marsh Girl. But Kya is not what they say. Sensitive and intelligent, she has survived for years alone in the marsh that she calls home, finding friends in the gulls and lessons in the sand. Then the time comes when she yearns to be touched and loved. When two young men from town become intrigued by her wild beauty, Kya opens herself to a new life–until the unthinkable happens.
Where the Crawdads Sing is at once an exquisite ode to the natural world, a heartbreaking coming-of-age story, and a surprising tale of possible murder. Owens reminds us that we are forever shaped by the children we once were, and that we are all subject to the beautiful and violent secrets that nature keeps.
The Galveston Reads series promotes community involvement in Galveston County with a wide range of events, activities, and thoughtful discussions.
If you cannot attend but would still like to volunteer, contact Ash Welborn, or (409)763-8854 ext. 173. Meeting attendance is not required to participate.
Events are part of the Galveston Reads 2020 programs and are free and open to the public; volunteers are welcome. For more info go to galvestonreads.org/events/