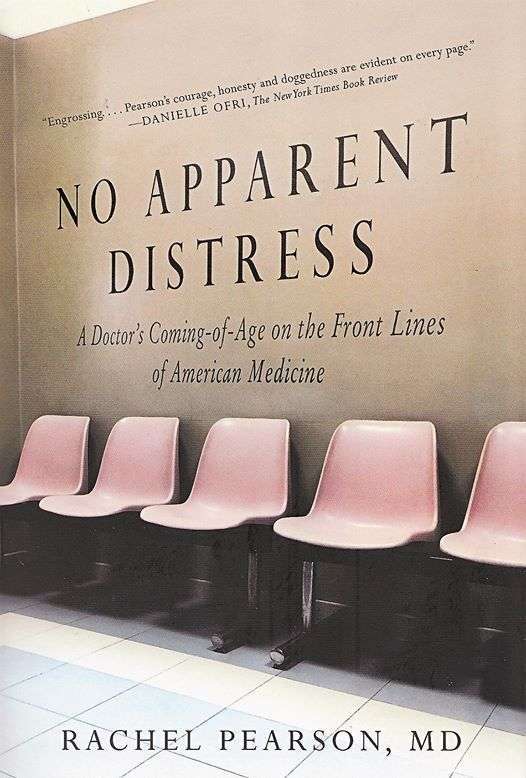 The 2019 Galveston Reads Book choice is "No Apparent Distress: A Doctor's Coming-of-Age on the Front Lines of American Medicine" by Rachel Pearson, MD.
As described by the publisher, this title is a "brutally frank memoir about doctors and patients in a health care system that puts the poor at risk." Their summary is as follows:
In medical charts, the term "N.A.D." (No Apparent Distress) is used for patients who appear stable. The phrase also aptly describes America's medical system when it comes to treating the underprivileged. Medical students learn on the bodies of the poor—and the poor suffer from their mistakes.
Rachel Pearson confronted these harsh realities when she started medical school in Galveston, Texas.
Pearson, herself from a working-class background, remains haunted by the suicide of a close friend, experiences firsthand the heartbreak of her own errors in a patient's care, and witnesses the ruinous effects of a hurricane on a Texas town's medical system.
In a free clinic where the motto is "All Are Welcome Here," she learns how to practice medicine with love and tenacity amidst the raging injustices of a system that favors the rich and the white. "No Apparent Distress" is at once an indictment of American health care and a deeply moving tale of one doctor's coming-of-age.
Galveston Reads At a Glance
Galveston Reads, a popular volunteer-driven "One Community, One Book" program operating under the organizational umbrella of the Rosenberg Library, provides an opportunity for all residents high school age through senior citizens to participate in a unique communitywide discussion by reading and sharing views about the same book.
The Galveston Reads series promotes community involvement in Galveston County with a wide range of events, activities, and thoughtful discussions.
If you cannot attend but would still like to volunteer, contact Dustan Archer, or (409)763-8854 ext. 140. Meeting attendance is not required to participate.
Galveston Reads Events
Monday, January 7th (6-7pm): Train the Trainer –

Join Dr. John Gorman for an introduction to the themes and discussion questions offered by "No Apparent Distress" by Rachel Pearson. This program is open to anyone wanting to lead a discussion of the book – why not organize one with your friends or co-workers and take advantage of this free training? This will be held in Wortham Auditorium on the 1st floor at the Rosenberg Library.

Thursday, January 17th (6:30-8:30pm): Galveston Reads Movie "Patch Adams" –

Join for a movie night out with "Patch Adams" (PG-13, 1998)! Popcorn and refreshments will be served. This will be held in Wortham Auditorium on the 1st floor at the Rosenberg Library.
Book Discussions
Saturday, January 19th (2-4pm) and Wednesday, January 23rd (1-3pm): Book Discussions –

At the first and second Galveston Reads book discussions, they will be chatting about this year's title, "No Apparent Distress" by Rachel Pearson, MD. Refreshments will be served. Be sure to be on the lookout for all of this years Galveston Reads programs! This will be held in the McCullough Room on the 2nd floor of the Rosenberg Library.

Wednesday, January 23rd (1-3pm): Book Discussion –

At the second Galveston Reads book discussion of the year, you will be chatting about this year's title, "No Apparent Distress," by Rachel Pearson, MD. This will be held in the McCullough Room on the 2nd floor. Refreshments will be served.

Other book discussions are:

Saturday, February 9th (10am): Book Discussion at Robbie Farmer Library at Moody Methodist Church, 2803 53rd St., Galveston

Monday, February 11th (6:30pm): Book Discussion at Robbie Farmer Library at Moody Methodist Church, 2803 53rd St., Galveston

Wednesday, February 13th (12 noon): Book Discussion at TAMUG, Pelican Island Campus Room: MAIN 201, 200 Seawolf Pkwy, Galveston

Wednesday, February 13th (7pm): Book Discussion at Unitarian Universalist Church, 502 Church St., Galveston
Other events include:
January 25th (10am-2pm): St. Vincent's Open House, located at 2817 Postoffice St., Downtown Galveston

February 12th (6pm): Music & Dance with Alligator Handshake at Bryan Museum Conservatory

February 21st (7pm): St. Vincent's Speaker Panel will be held at Rosenberg Library Harris Gallery

March 7th (7pm): Professors Discussion Panel will be held at Rosenberg Library Wortham Auditorium

March 16th (3pm): UTMB Doctor's Speak Panel will be held at Rosenberg Library Wortham Auditorium

March 18th (7pm): Author Visit and Presentation: Rachel Pearson will speak, field questions, and sign copies of her book at Galveston